Land Rover Defender Restoration by VIEZU
Land Rover has been a trusted and prestigious car manufacturer since the 1940s. Since then, their vehicles are revered for their reliability and off-road capability. The 1990s saw the launch of the classic Land Rover Defender. Land Rover said that their newest model "represents 70 years of innovation and improvement, honouring the vehicle's history for rugged solidarity while thoroughly remaining a Defender for the 21st century." Land Rover has released a number of Defenders in their time, and we have worked on many of these models.
VIEZU can improve your Defender experience.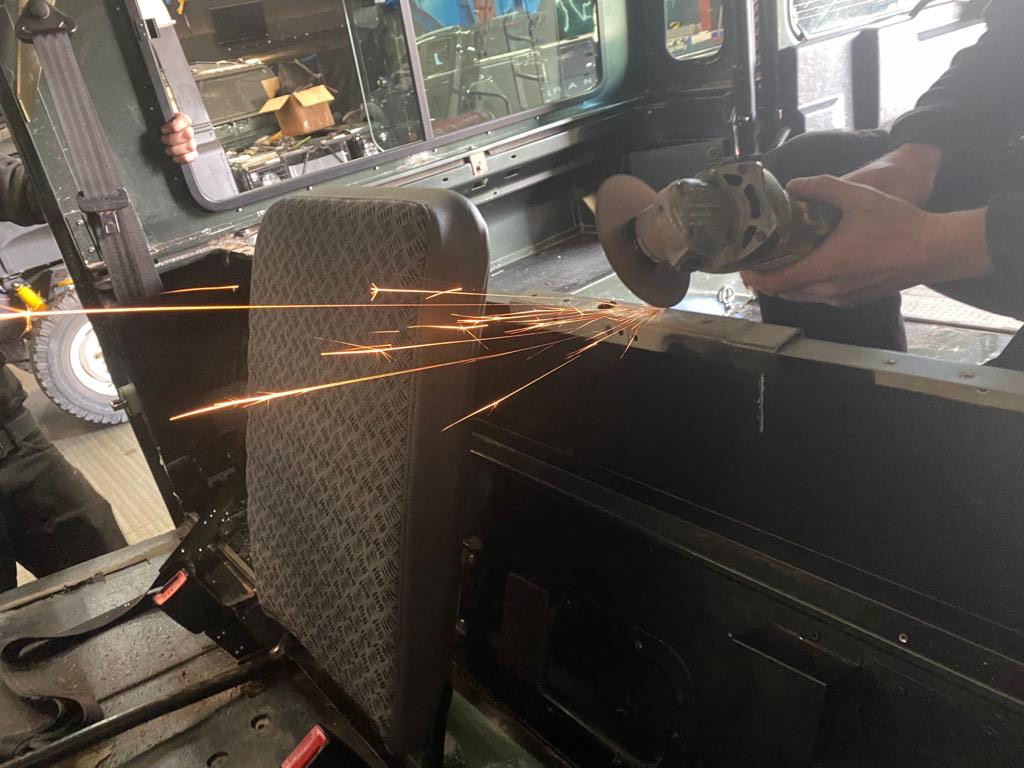 All of us here at VIEZU love the Land Rover Defender! As a result, we are experienced in vehicle acquisition, styling, bespoke restoration, vehicle testing, and more. Let's discuss what we can do in a little more detail…
Defender Acquisition.
If you're looking to acquire a Land Rover Defender but you're not sure where to start, we can help. We have a dependable supply of Defenders, and our portfolio of vehicles is refreshed regularly to reflect demand. If you have a specific model in mind, we can acquire it on your behalf and ensure that you are receiving a high-quality vehicle.

Bespoke Land Rover Defender Restoration.
We have many years of experience restoring Land Rover Defenders. For obvious reasons, people don't like letting go of their beloved Defenders. Instead of replacing them with a new vehicle, many people get them restored to their former glory. VIEZU can help with this. We offer services including a full strip-down and inspection, window trims, rust elimination, parts inspection, and we also re-order the required parts. We can help with Defender chassis repair as the Land Rover's off-road capability means that the chassis comes under significant strain during its life. If you need a simple paint job, we can help with that too!
Vehicle Testing.
Another service that we offer for Land Rover Defenders is a Water Ingress Test to check that the vehicle is as water-tight as it can be. As wonderful as the cars are, they do have a problem with water ingress. Due to the design of Defenders, it can be challenging to locate leaks. That is what our experienced Team VIEZU members are here for – they've conducted Water Ingress Tests on many vehicles in their time! Because of the off-road nature of the Defender, it is inclined to rust over time. This is because the vehicle is exposed to a significant amount of water. For example, the chassis may develop some surface rust over time and will need to be treated every couple of years to stop any significant any damage.

Defender Styling.
The beauty of Defenders is that they are highly customisable. You can rebuild the vehicle to your own requirements and transform it into your dream car! We can add anything from new dashboards, a carbon fibre bonnet, choice seating, sawtooth wheels, and even a bespoke gun box for keen hunters.
Contact us to discuss how we can improve your Land Rover Defender.
We love the Defender, but there is a lot that we can do to make it a truly exceptional vehicle. For more information about what we do or how we can help you, don't hesitate to get in touch using our contact form at the bottom of the page, or email us at info@viezu.com. Alternatively, feel free to give us a call on +44 (0) 1789 774444 to discuss your requirements.