Lamborghini Tuning Specialists : Boost Power, Torque, Pulling Power And Experience Dynamic Acceleration With A Viezu Lamborghini Engine Remap
The Ultimate Bedroom Wall Poster Car
Specialists in Lamborghini tuning. With VIEZU Lamborghini performance upgrades, you'll get smooth acceleration and progressive power from the mid-range to the end of the power band.  Throughout the midrange and top end, the smooth climb accumulates epic power. A Lamborghini engine remap never disappoints and always surprises Lamborghini drivers with just how much power the engine has hidden.
The 'raging bull' of Lamborghini has cemented itself as one of the world's most distinguished manufacturers of cars, and driving one brings with it a certain status. When you think of the ultimate bedroom wall poster car, there is only one name that springs to mind, and that's why driving a Lamborghini is a truly special experience.  Everywhere you find a Lamborghini, you will also find a crowd of people, phones in hand taking photos, and that's what makes these machines more than just a set of wheels, they are celebrities in their own right, and Lamborghini's rich history of creating eye-wateringly beautiful supercars makes it even more exciting to turn them up to 11!
Book Your Lamborghini Remap
Lamborghini Tuning with VIEZU Performance Tuning
Lamborghini produces some of the world's most luxurious sports cars with state-of-the-art technology and a bedroom poster look.
A Lamborghini not only looks good, driving one feels great. There's really nothing quite like firing up the engine on one of these iconic Italian supercars, and with the legendary rampaging bull delivering both heart-achingly beautiful cars with groundbreaking performance, you might think that there's no way it could be better…
But that's where VIEZU comes in!
If you've ever wondered how you can improve the feeling of driving your Lamborghini, then you've come to the right place!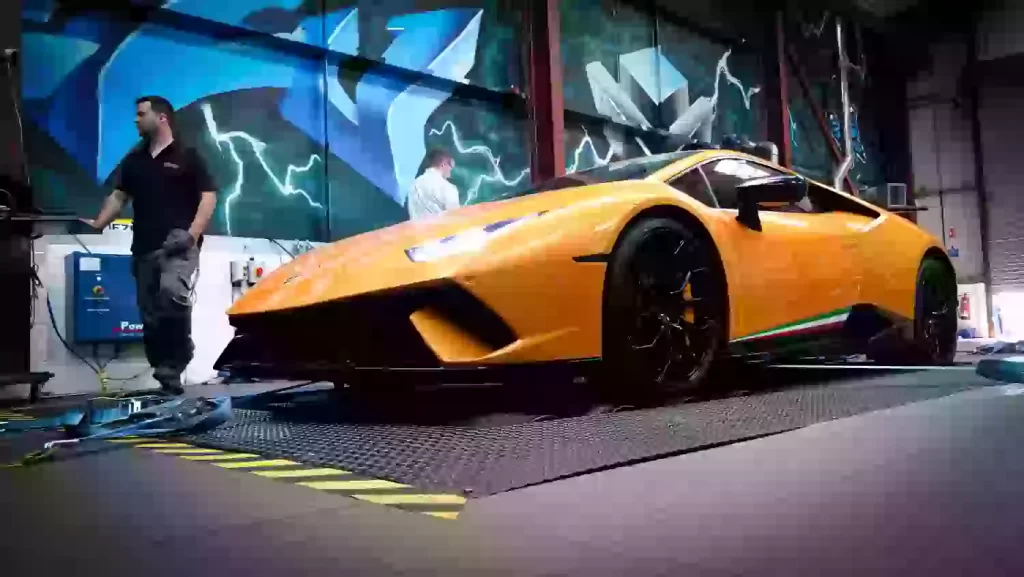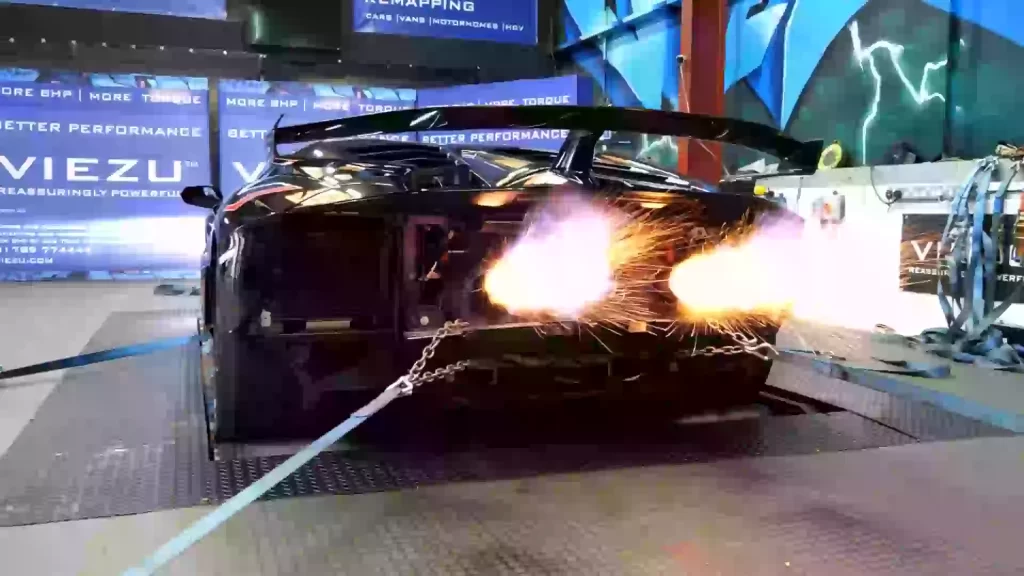 Why Remap Your Lamborghini?
Lamborghinis are complex cars with complex computers, which continuously process all data received from the car to keep your ride smooth and sharp. Remapping your lambo can drastically improve the driver experience, flattening out any dips in the power curve, improving throttle response, and over all improving the experience of driving these Italian supercars! But a custom remap needs to be undertaken with care, by the best in the business.
VIEZU Performance Tuning offers tuning that will boost the horsepower and torque of your Lamborghini, delivered by the best in the business.  With our wealth of experience tuning Lamborghini you know that your pride and joy will be in good hands here at VIEZU!
The Benefits Of Tuning Your Lamborghini With VIEZU
Lamborghini owners are typically unaware of how powerful their vehicle's computer is. A lot of things your car does are controlled by this computer. Thus, it is critical to upgrade this computer in order to ensure that the car performs as the owner wants it to.
At VIEZU we know better than most, how to extract the maximum performance from an engine without exceeding the inherent manufacturing limits built into the mechanical parts of the car!
We are so confident in our work that we offer a 30 money-back guarantee, and all our remaps are fully insured to give you absolute peace of mind that your Lamborghini is completely protected!
State Of The Art Equipment
You will also be interested to know that we are always investing in the latest tuning and remapping machines.
We do this because we research and develop all our tunes in-house, using our 3000hp 4 wheel mustang dyno, and use all of the industry's biggest and best tuning tools to read and write our custom ECU maps including the Alientech KESS3.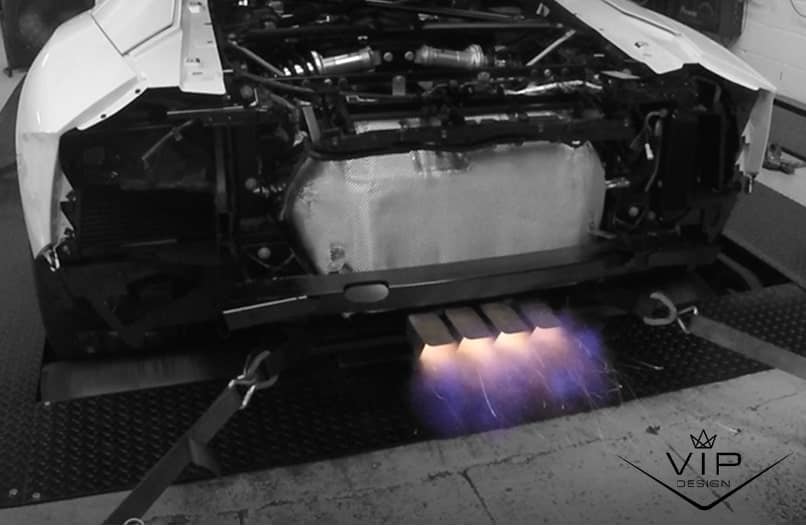 That's why it will pay you to come to us at Viezu Performance Tuning, where we take the hassle out of finding top-quality performance parts for Lamborghini Aventador, Huracan, Gallardo, Urus, and many more. And with our wealth of experience developing custom ECU Maps for all kinds of Lamborghini thanks to our team of in-house professional file writers.
We source our Lamborghini performance parts from leading manufacturers including Armytrix, PWR, and Eibach. By bringing together the best parts manufacturers for these cars and many others, we have made it easy for you to see what's available and to order and buy directly from us.
As always, our professional customer service team will help you find the perfect performance part for your vehicle. We offer competitive pricing, and worldwide shipping so enquire with our team to get started today!
Lamborghini Performance Parts & Tuning Upgrades
VIEZU Tuning & Remapping Specialists
VIEZU are Lamborghini Tuning Specialists. Your Lamborghini deserves the very best. You can trust VIEZU's excellent reputation for customer service to deliver to your exact requirements. VIEZU can help you create your own bespoke package for your Lamborghini with our range of performance parts and custom installations.
Expereinced Team Viezu
There are multiple options available to you to achieve the results you want from your Lamborghini. The VIEZU Tech Team are highly experienced and can provide expert advice, recommendations, and troubleshooting support.
Check our range of performance upgrades, available right now in our shop to find the perfect part for your Lamborghini, or contact us to speak to one of our team to discuss what we can do for your Lamborghini!
Lamborghini Performance Exhausts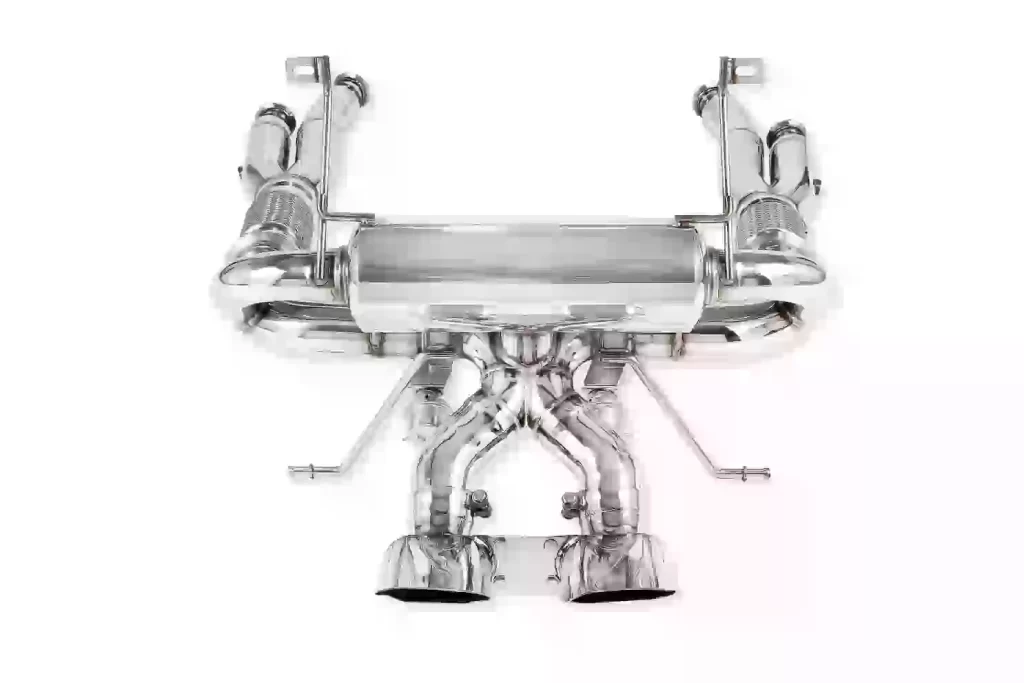 Lamborghini, the name synonymous with the original hyper-car, this car is truly extraordinary and simply a unique thrill for both the driver and the onlooker. This vehicle's engine produces a roaring symphony, and the modest jets of flame from the exhausts on the overrun, makes you wonder how you to possibly improve the sound and experience of these Italian icons – and you can!
Our range of precision-engineered Armytrix Exhaust kits is one such way to take your Lamborghini to the next level and really stand out from the crowd! Delivering an even more muscular sound while offering improved brake horsepower and torque.
Armytrix Lamborghini Aventador S LP740-4 Exhaust System

£

2,866.41 –

£

6,634.11 VAT will be applied at the time of checkout Select Options

Armytrix Lamborghini Gallardo LP560-4 Exhaust System

£

5,082.70 –

£

5,954.45 VAT will be applied at the time of checkout Select Options

Armytrix Lamborghini Huracán LP640 Exhaust System

£

2,201.52 –

£

6,116.97 VAT will be applied at the time of checkout Select Options

Armytrix Lamborghini Murcielago LP670 Exhaust System

£

2,201.52 –

£

2,940.28 VAT will be applied at the time of checkout Select Options