Land Rover Defender Chassis Underseal and Change Service
Look after your Land Rover Defender chassis and your chassis will look after you, or will it?  There is no escaping it… We may love our Land Rovers Defenders, but there are elements of them that are frankly rubbish, and the Chassis it just such; a big problem area.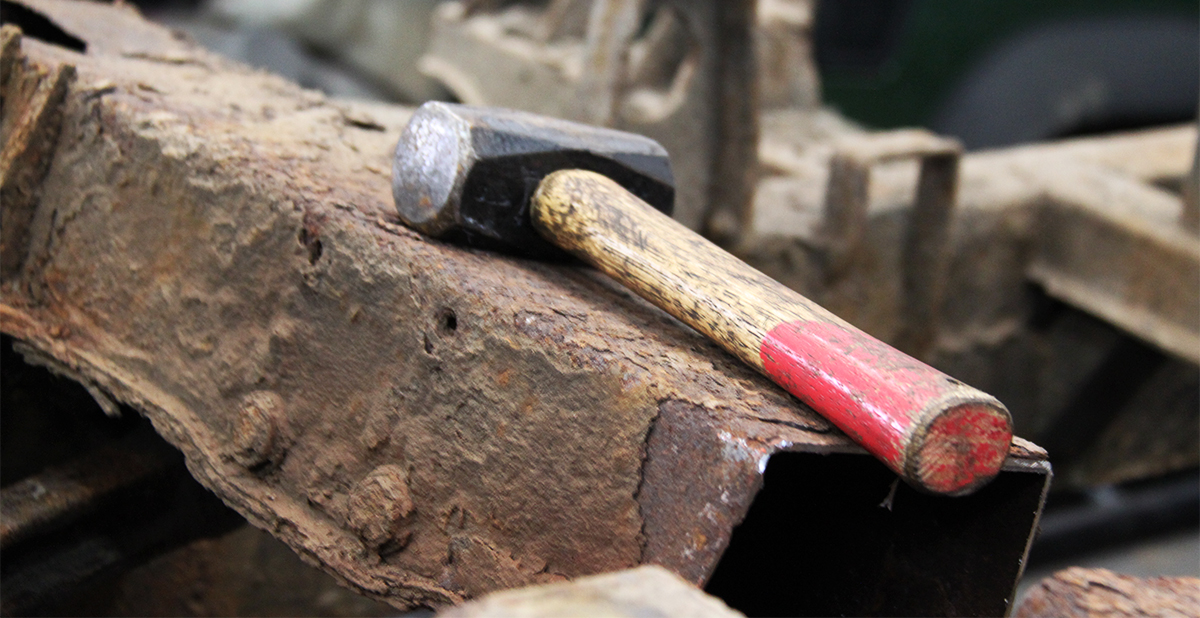 From the moment your Land Rover hit the road the chassis has been under attack. Slowly but surely the tin worm will win the battle unless you take steps to stop it – don't worry, VIEZU is here to help!
Check Your Land Rover Defender Chassis Condition
The first thing to understand is what condition is your chassis in? Really, you want to get it on a ramp, clean and dry for a thorough inspection. If your Defender chassis is capped in years of mud, give it a good jet wash underneath first, the mud will stick to the exact areas and pockets that you want to get into and inspect.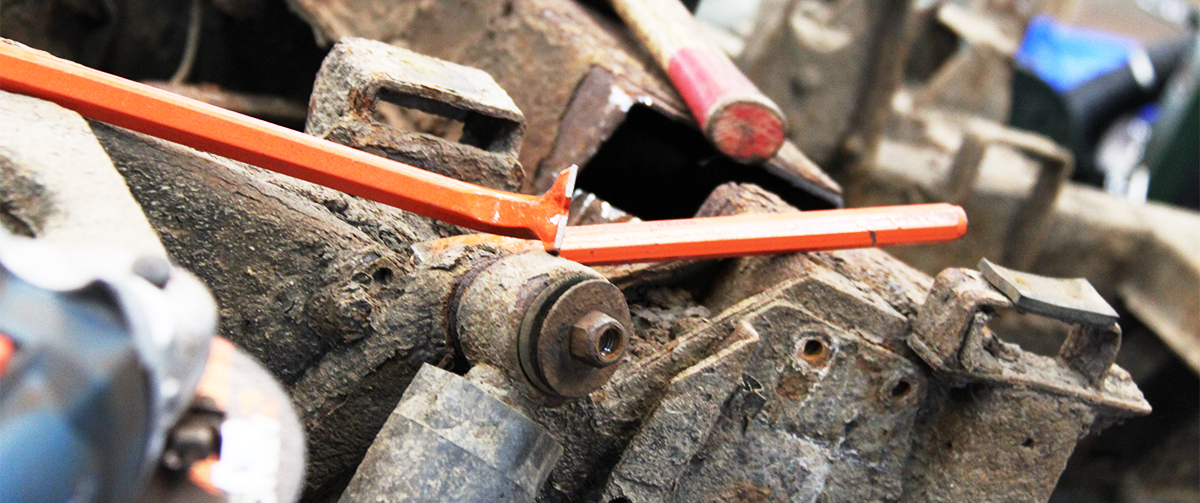 It's important to check the full length of both chassis rails, bottom, side and as much of the top as you can see, check all the front, back and sides of all of the out-riggers, and the bottom and back side of the rear cross member thoroughly.  A good strong screwdriver should be used to prod, scrape and probe any rusty, scabby or suspect areas. Don't be shy; get in there and test the metal as they say!
There are likely to be 3 potential outcomes from your inspection;
Your Defender Chassis Has No Holes or Deep Corrosion
Nice and clean, likely to have surface rust, but no holes and no serious deep penetrated corrosion.  This IS great news, however… you are not off the hook yet! Your work has just begun… It is now imperative you take steps now to treat and protect your Defender chassis.
You have a few options on how to protect your chassis, the most common method would to be to strip and clean off any rust, dirt or mud, and apply a thick underseal, you may wish to paint your chassis with a rust proof treatment first before undersealing. Be ready to reapply with fresh underseal every 2 to 3 years – you don't need us to tell you how much of a messy old job it is, but a lot less hassle and cost than changing the chassis!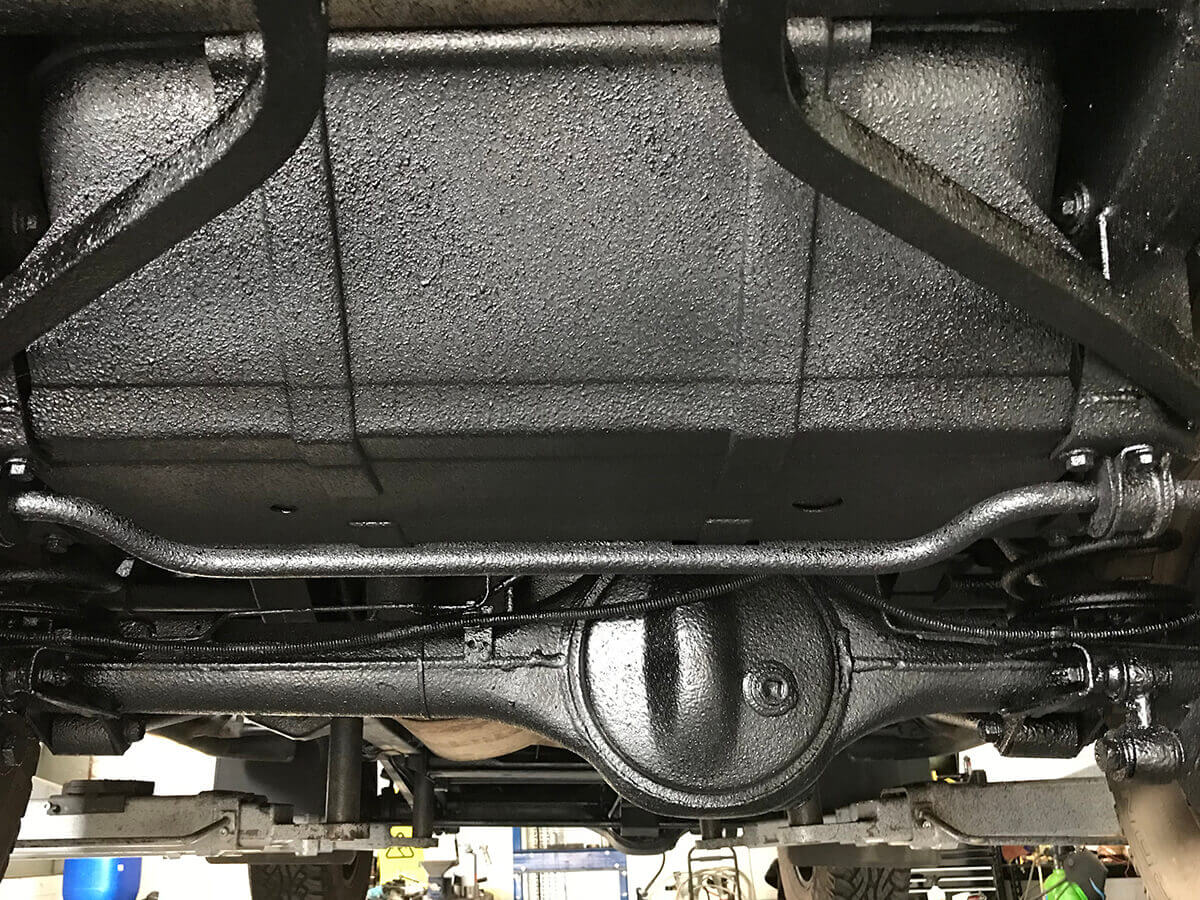 So, if you don't want to get yourself and everything else covered in sticky black stuff let us help.  VIEZU offer chassis cleaning, stripping, treatment and a full Land Rover Defender undersealing service.
Your Defender Chassis Has Seen Better Days
It's not Swiss Cheese, but there are areas of corrosion, and some look pretty deep with holes into and through the metal of the chassis – this is not at all uncommon, at this time it is vital you take quick professional advice – call us NOW! If your corrosion is in certain areas and caught early enough it can most likely be repaired. This really is not a DIY job, the repair may simply be a weld repair, or in many cases, plates and repair panels can be fabricated and welded in. We can't stress how important this is done by a professional, the right grade and type of repair for the damage is important to you and your Defenders safety.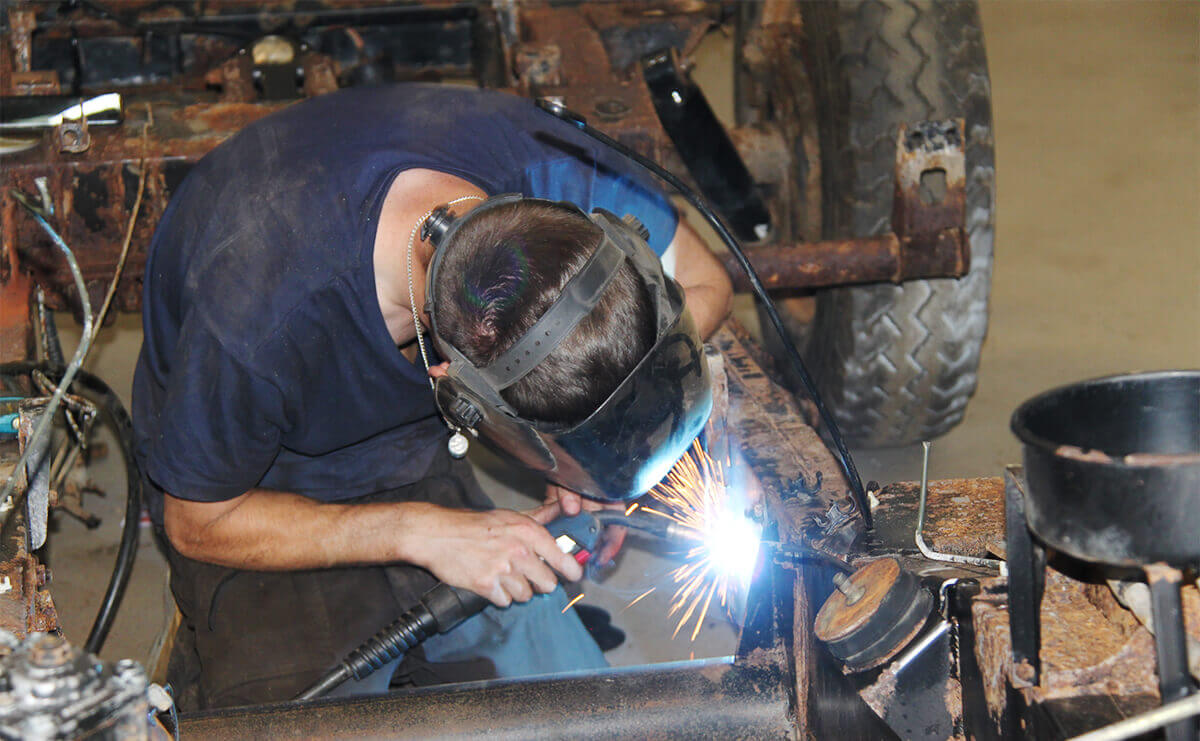 Once your Land Rover Defender chassis has been repaired it's important that treatment and underseal is applied in line with step one above.
VIEZU offer free quotations and initial inspections, if you suspect your chassis need to be repaired please get in touch.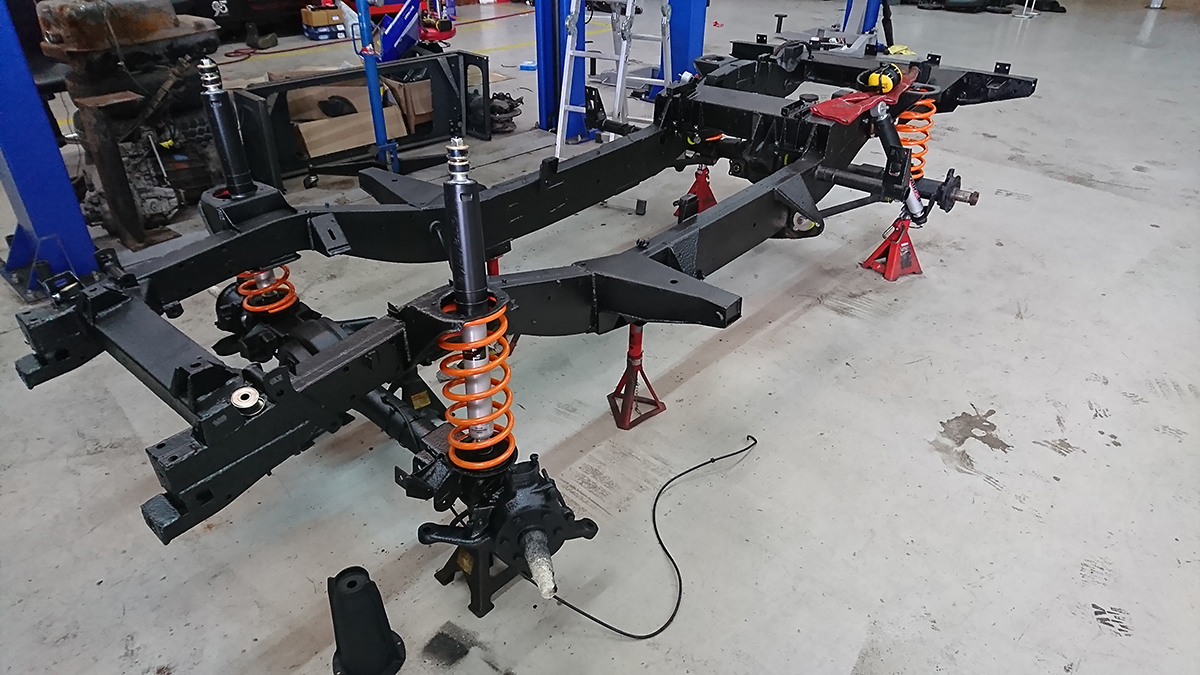 Your Defender Chassis is Toast!
It's not always easy to tell if your chassis is damaged but repairable, or if it's a complete write-off and needs to be changed, even quite a lot of corrosion can be treated and repaired. If the rust has really taken hold, and you have deep holes or if the corrosion is in key structural areas, it may be time to consider changing the chassis. It's really time to take some professional advice now.  Once again, we are here to help. If you can't make it into us, we offer collection and delivery and can also carry out elements of inspection via video or through photos.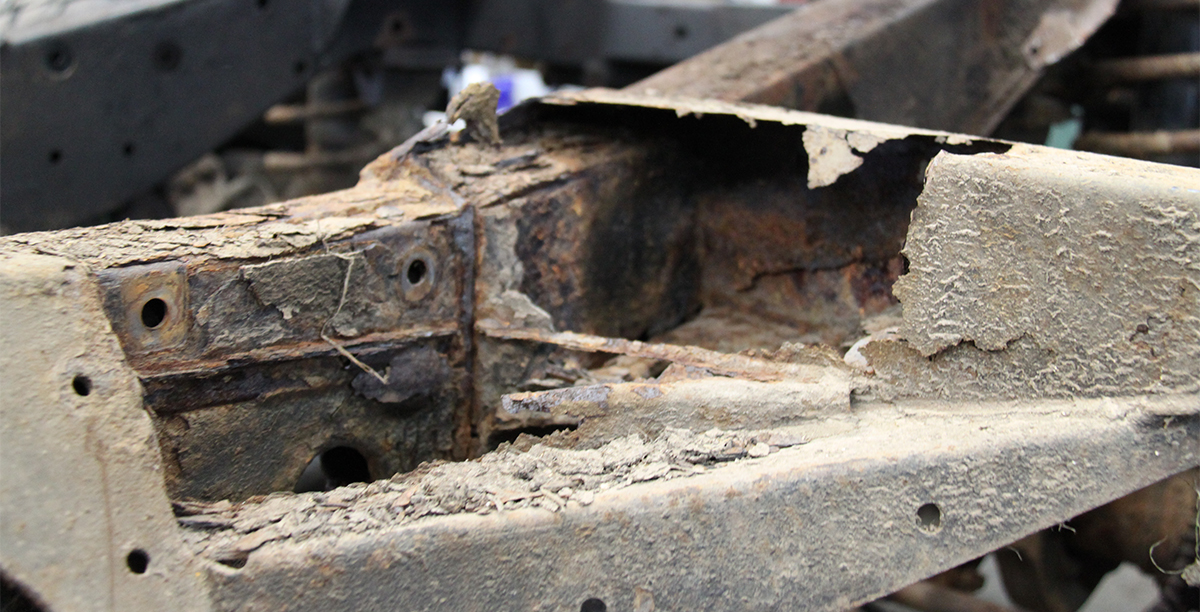 If you do need a new Defender chassis it makes sense to change your stock chassis for a Galvanised Defender Chassis, let's do the job once and let's do it right. A Galvanised Replacement chassis will last a lifetime, it can be supplied and fitted quickly and easily in house at VIEZU.
We would normally suggest brakes, brake pipes, fuel lines, suspension bushes and suspension springs and shock absorbers are checked too, it's an ideal time to check these parts and potentially replace some of them, there is no point refitting old and tired parts to a new chassis, so bank changing a few additional items over and above the chassis itself.
Let VIEZU Help With Your Defender Chassis
Still not sure where to start with your Chassis dilemma? – let VIEZU help, let's start with a free initial inspection with one of our fully qualified and trained Defender specialist technicians. It's free, it's detailed, and there is no obligation to proceed with any work.
0% FINANCE OPTIONS
Finance is available to UK residents only over the age of 18 and subject to status – terms and conditions apply. Contact info@viezu.com and ask for details.
---
To make an enquiry about your Land Rover Defender, please complete the form below and one of our trained engineers will supply you with a quote