Select the full KRAKEN and our team can take your Mercedes AMG A45 from 421bhp & 500Nm stock to 504bhp and 643Nm of torque! That's a boost of 83bhp and over 143Nm!
Viezu has developed a monstrous high-performance tuning package for the Mercedes-Benz A45 AMG, including a bespoke performance remap and the highest quality performance parts! VIEZU has developed the KRAKEN in-house using our team of expert file writers and vehicle technicians and tested on our 3000hp Mustang Dyno at our HQ.
Make your Mercedes AMG A45 the most powerful of all on the road!
As the owner of a Mercedes A45, we know that you're someone who loves quality, style, and thrills, and with a whole range of high-performance hot hatches on the road, how can you stand out from the crowd?
The answer is simple, by making yours the fastest and most powerful A45 on the road!
Leave those in the standard a45 in your dust on track days, and leave all others staring in disbelief and envy as your ultra-hot hatch gaps everything else on the road.  This upgrade takes your A45 from 421bhp & 500Nm stock to 504bhp and 643Nm of torque! That's a boost of 83bhp and over 143Nm!
Mercedes-Benz A45 AMG | Tuning Package
This monstrous high-performance tuning package for the Mercedes-Benz A45 AMG, including a bespoke performance remap and the highest quality performance parts!
With the highest quality performance exhaust system to add power, and give your A45 a monstrous roar that could truly awaken the creatures of the deep, and a cold air induction kit to keep your car running full power for longer, this upgrade pack has the power upgrades its name deserves.
But that's not all, we have worked to tame this legendary beast for you, so the highest quality aftermarket suspension upgrades will be added to your A45, along with the biggest upgrade, that brings all this power together and puts it under your right foot!
The bespoke KRAKEN Remap! Our team have worked tirelessly to research and develop the perfect remap that will extract the maximum possible performance from your A45, and deliver it to the road with all the force of a mighty sea monster, giving you the power to unleash the Kraken!
The KRAKEN is the latest in a succession of industry-leading and frankly, monstrous performance tunes unleashed onto the world by the VIEZU Performance Development Team.  With years of technical research, the KRAKEN now takes its place alongside our world-famous upgrades including The Predator | The Fastest F-Type In The World,  and the Range Rover TYPHON!
The KRAKEN is what you need!
To stand out from the crowd and make your mark, unleash the KRAKEN in your AMG
The Kraken was a legendary sea monster that had tentacles that resembled giant squids, and throughout history, many legends and lore have been associated with this ferocious beast. It was said that the huge suckers on the Kraken's tentacles were incredibly strong, and its monstrous roar was a sound that you would remember for the rest of your life!
Our KRAKEN is just as ferocious as the beast of legend, with its upgraded suspension it has an equally legendary grip on the road, and thanks to its upgraded exhaust system this tune will give your A45 a truly unforgettable roar!
Remapping the Mercedes-Benz A45 AMG
Tuning
Remap / or tuning box for overseas who cannot ship ECU to us and whilst there are no other remote tuning options available.
Gains: Boost your A45 with an extra 83bhp and over 143Nm!
Here at VIEZU we have a vast wealth of experience in tuning and enhancing Mercedes products.  We offer a range of performance part upgrades for your Mercedes, and in house developed and tested custom ECU Remaps for a huge range of cars!  We research and develop all our tunes, and all of this work has culminated in a product package we call the KRAKEN!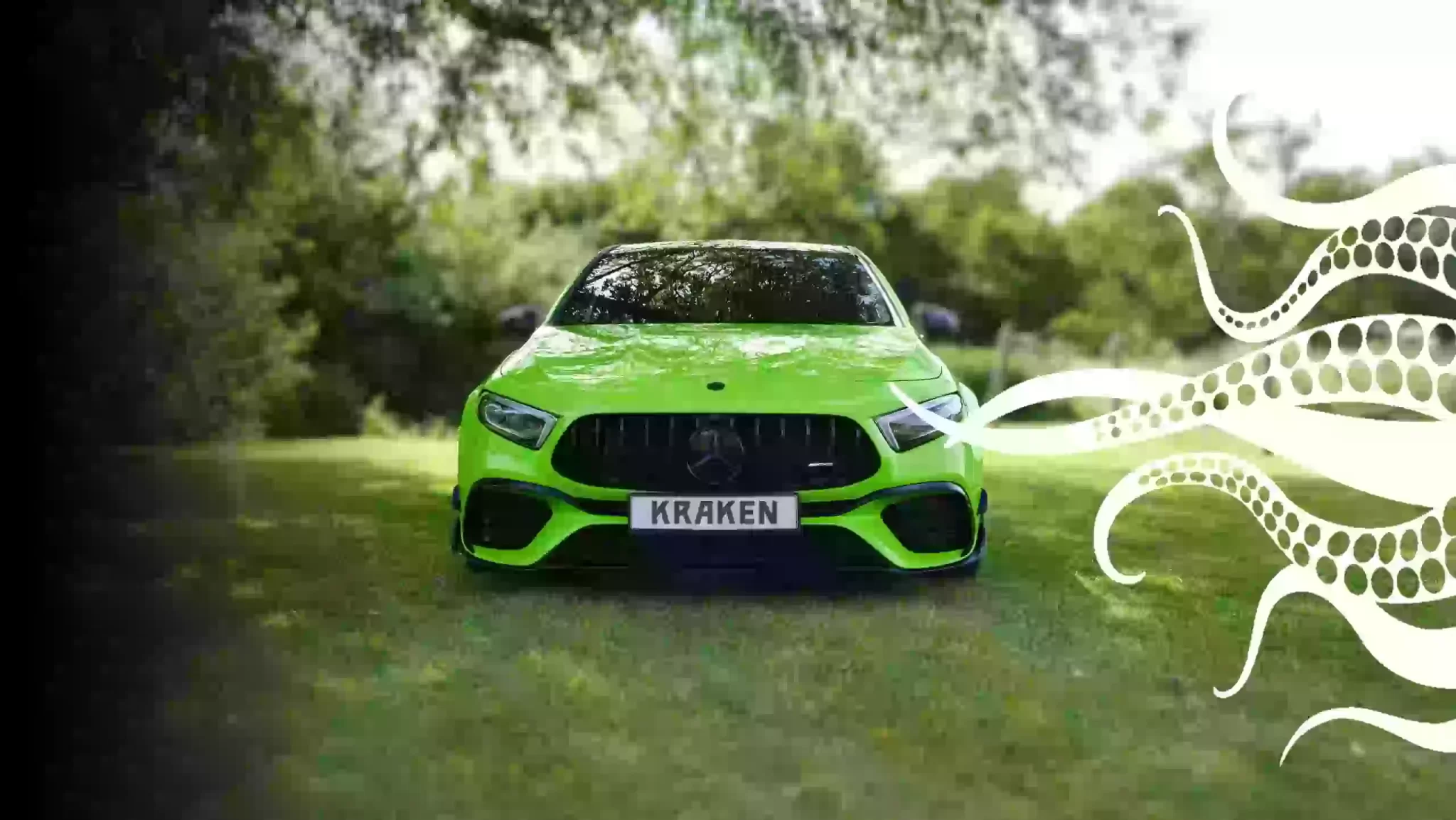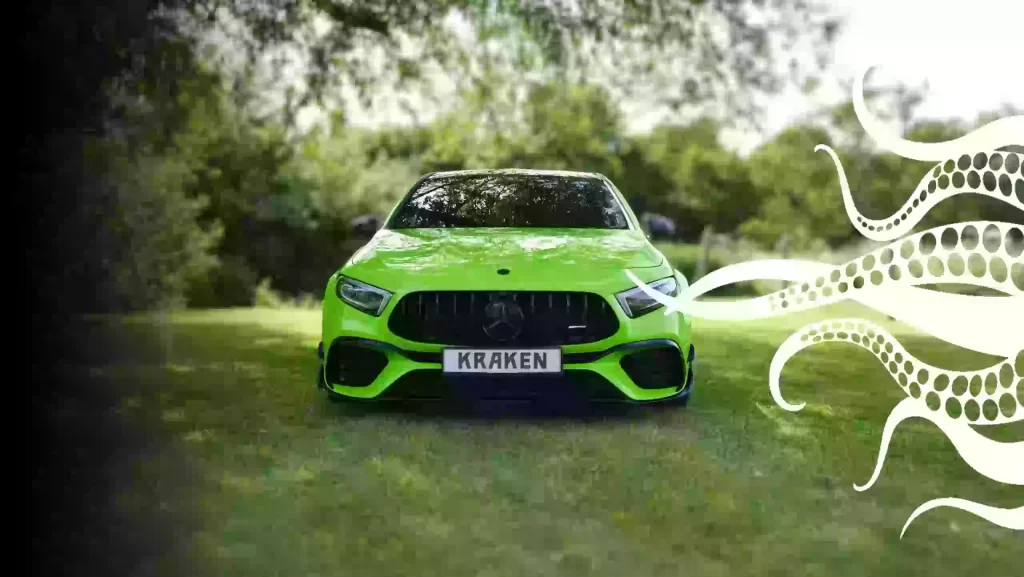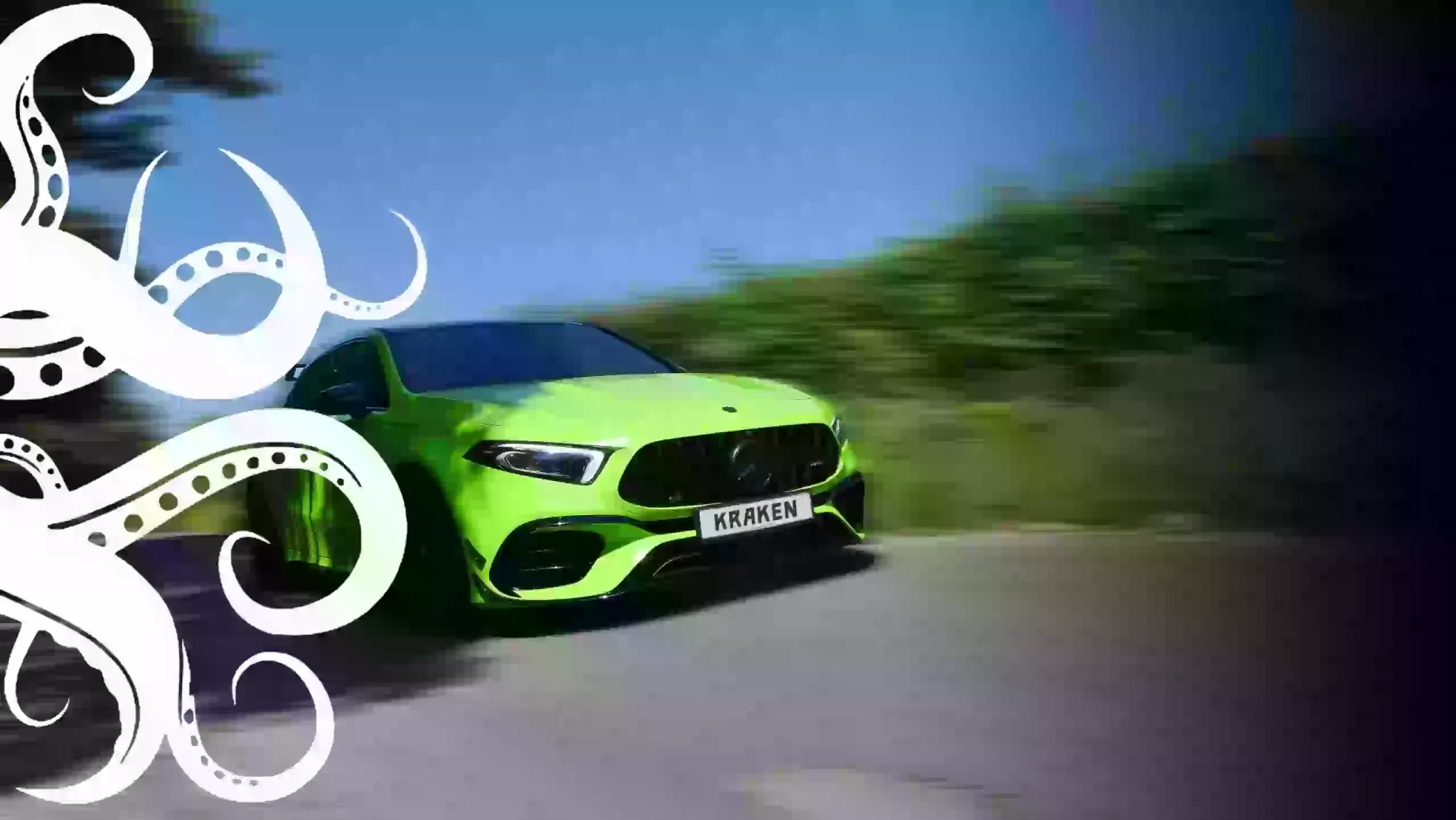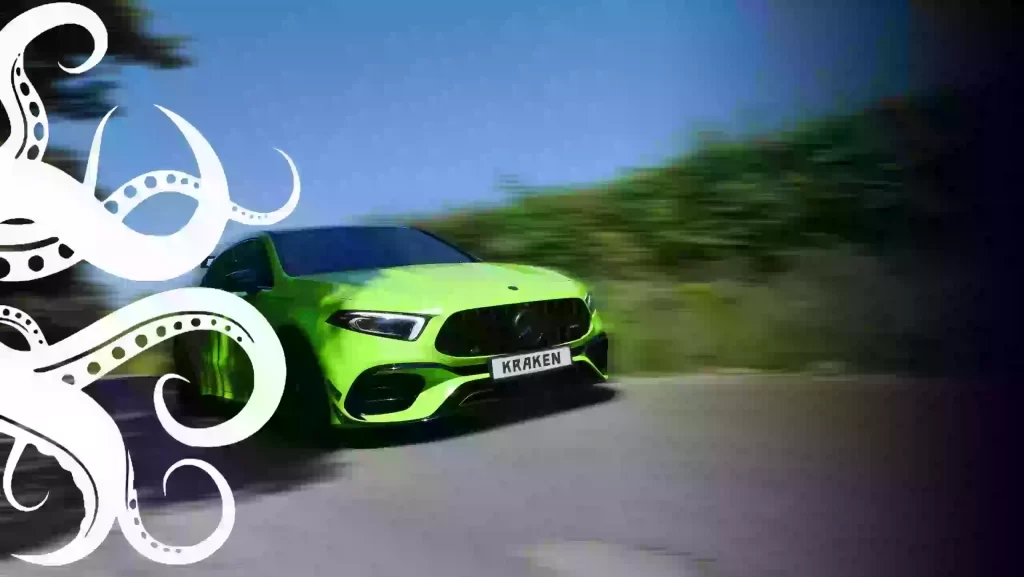 EXTRAORDINARY POWER – PERFORMANCE CONSIDERATIONS
VIEZU are truly the UK's leading Mercedes Tuning Specialists, and therefore offers a significant variety of hardware and software upgrades for the Mercedes A45 AMG that will improve performance, horsepower, and torque.
The KRAKEN package delivers 504 bhp & 643 Nm to the Mercedes A45 AMG
Viezu has an excellent history and a well-earned reputation for providing engine software upgrades, often referred to as remapping, chip tuning, or tuning, with thousands of happy customers.
Mercedes-Benz A45 AMG Kraken On The Dyno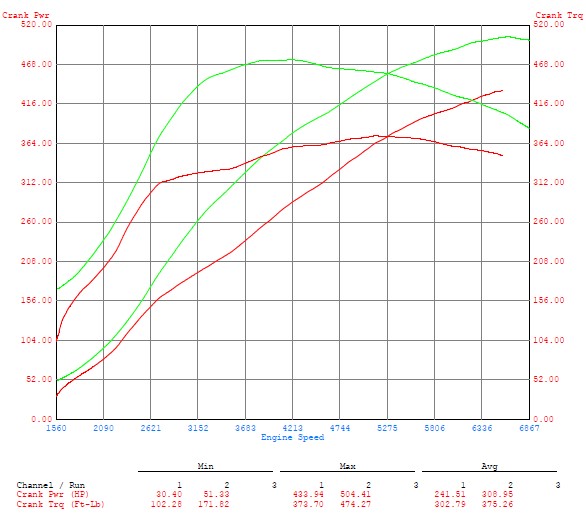 You can rely on VIEZU's long-standing reputation when it comes to engine software upgrades. The Mercedes A45 tuning process is also referred to as chip-tuning, remapping, and tuning.
The KRAKEN we ran on the dyno made astonishing power. This is the dyno chart KRAKEN Upgrade for the Mercedes-Benz A45 AMG. VIEZU are Mercedes tuning specialists and have experience with these cars. Our team also owns and drives them!
The lower red and blue lines are the before figures, and the higher are after. And as you can see, below graph Min, Max, and Average (Avg) figures. The Max and Avg figures show the gains between test 1 (the original software run) and test 2 (the upgraded vehicle run) – an impressive gain all round!
Need to know more about how to read a dyno graph? click here HOW TO READ A DYNO GRAPH!!
About the Mercedes-Benz A45 AMG Kraken Tune | Videos