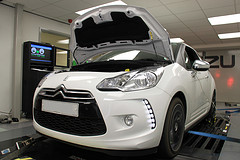 Citroen DS3 Tuning – Dyno Day Citroen DS3 tuning and ECU remapping has become one of our specialist subjects. We had a great day Saturday with Dave – Flash Remapping (www.flashremapping.com) and the Guys from the Citroen DS3 Club; if you have not seen these cars up close, they are well worth a look, super funky, with very strong build quality, and they really pack a punch running an impressive 156bhp (prior to tuning)
Viezu has already released a range of services for the Citroen DS3 tuning; this has been developed after significant research and vehicle testing, but the Citroen DS3 dyno day held at Viezu technical and academy training centre gave us the first opportunity to try the Viezu V- box, a digital diesel tuning box to a Diesel DS3.
The results from both the petrol and diesel DS3 tuning were very impressive and a good day was had by all. Click here for some video clips from the day www.youtube.com/watch .As well as Citroen DS3 Tuning and remapping, Citroen and Peugeot tuning can be carried out across nearly the whole range of vehicles, tuning diesel as well as petrol vehicles, car tuning can be tailored for power, economy or a perfect blend.
The Viezu Citroen DS3 tuning service is available from the worldwide Viezu dealer network, to find your nearest dealer, please see   www.viezu.com/dealer-map For Citroen DPF removal and Citroen DPF delete questions see our new site www.dfpfix.co.uk, whatever your DPF issues, we can help