1987 Land Rover Defender Restoration
The Viezu Workshop Team bring you the blow-by-blow account of this amazing, challenging and exciting project, the customization and modernization of a classic 1987 Land Rover Defender Restoration
Scheme 1
Into our workshop the classy Land Rover Defender enters center stage as it were, the star of the story, with what seemed a simple enough brief to turn this classic 4 x 4 legend in to a modern reincarnation of itself. Added bling and new latest technology while keeping all its characteristic charm with her original 1987 beauty. Viezu Verdict – no problemo, can do, will do!
SCHEME 2
Back to basics – the delicate uncloaking begins, easy does it…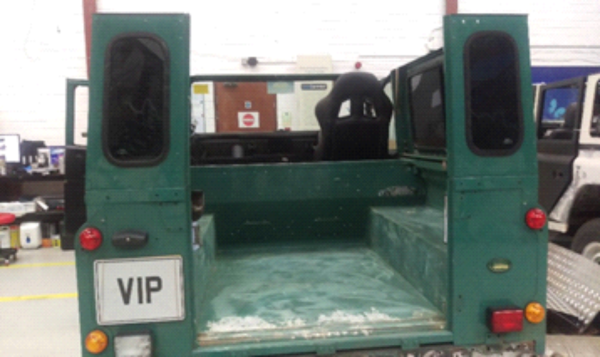 Visual checks made for overall health.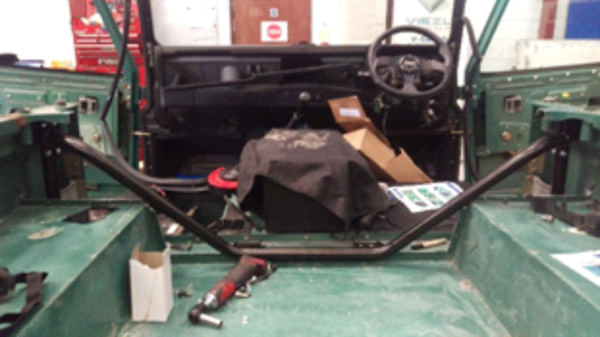 Pre-paint preparation – removing all fixtures and fittings – doors, windows, seats and the roof stripping it back to a complete shell. This enabled us to have a closer look at the vehicle and check for any custom fabrication needed. you can see more here – Land Rover Defender Restoration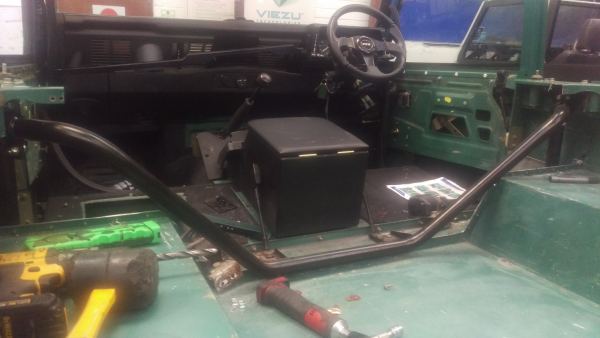 SCHEME 3
Repair or replace – repair the cross member and remove the bulk head. A little gentle exfoliation followed by under sealing bodywork and application of weather-proofing treatments to prevent the rages of time doing any more damage.
SCHEME 4
Modern looks with a custom paint job – all exterior parts; doors, roof, and the new bonnet a paddock puma style without grill. The design team recommending a modern green from the newest JLR color range, a deep khaki green paired with classic black on front headlamps, bonnet, bullbar and rook…a stroke of genius.
SCHEME 5
Modern technology with a brand new replacement Defender dashboard change-over; dash preparation for new exciting gadgets – BOOM with this brand new sound system and speakers, plus bluetooth connectivity, touchscreen display, satellite navigation.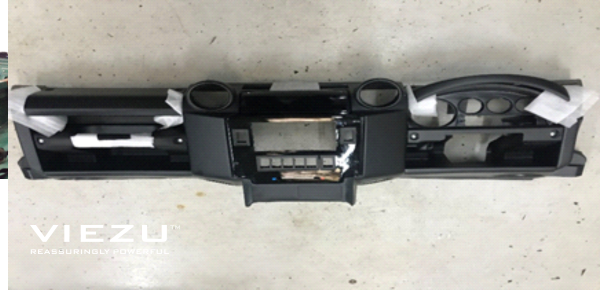 Full specification includes: Full Colour 7" Touch Screen, Sat Nav – UK and ROI, DAB Digital Radio, AM/FM Radio, Blue Tooth, Apple compatible, Android compatible, MP3 input, USB Input, CD Player.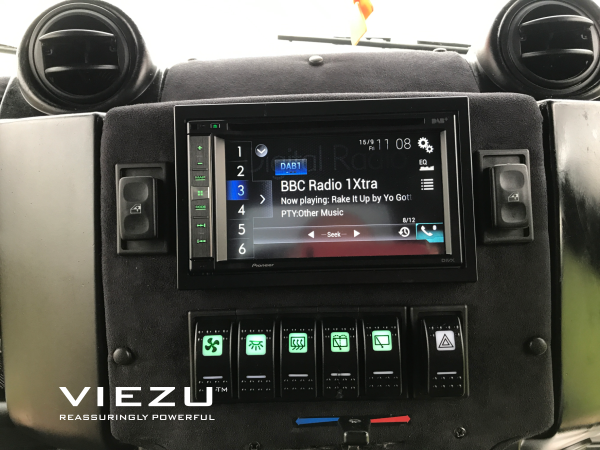 SCHEME 6
Extra cool features include new central locking, electric windows and top of the range Amber Connect GPS tracker complete with tamper alert and engine cut-off all controlled by ones smart phone or android device. In a few words total tech-boom-bling!

SCHEME 7
Lighting – brand new bumper with daytime running lights and rewiring of all existing lights to LED's – the full light package and new wiring throughout and rerouted fuses for continued reliability.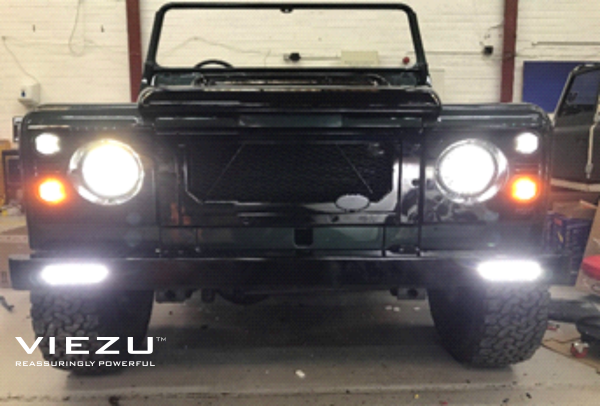 SCHEME 8
Interior – new refurbished interior and upholstery complete re-carpet in black velvet and new vent upgrades installed. Refurbed steering wheel and gear stick.
SCHEME 9
External design and styling touches – new high-grade stainless steel sports exhaust system, side exit with black jet fight tips – purely about the style and appearance.  Refurbished and lowered suspension for poise and presence, sitting closer to those chunky off-roaders – wow what an impact. Land Rover Defender Restoration Parts and Service
A new battery jump back under the bonnet for convenience and ease of access when it matters most.
Brand new side steps in black, high quality with a firm grip – gentle on those stilettos shoes (just in case!) and a comfortable grip for rigger boots!
New tinted panoramic windows wrap around the back and windscreen, door windows, roof windows, and the rear window installed.
Finer things – final exterior finishes include blacked-out front grill, rear step and black light guards.
SCHEME 10
Everything is coming together, the roof and bonnet have been re-sealed. The steering wheel, gear stick, panoramic windows, window screen, door windows, roof windows, and the rear window are also installed.
Focus on: roof lining relined, brand new front and forward facing rear seats along with seat belts, door seals.
Now the interior and exterior work is complete we can finally fit the brand new 10 spoke black alloys and the 16" tyres ready for live testing.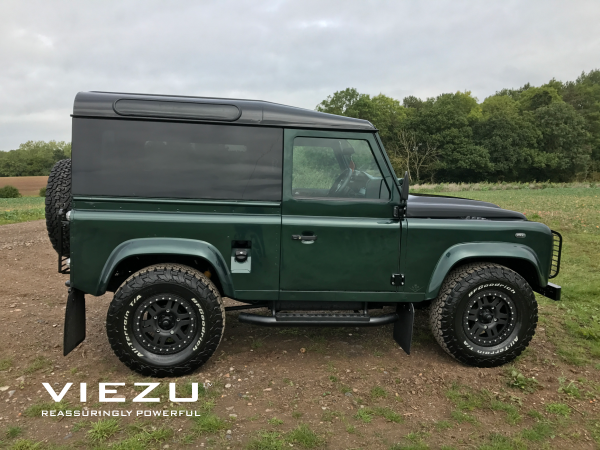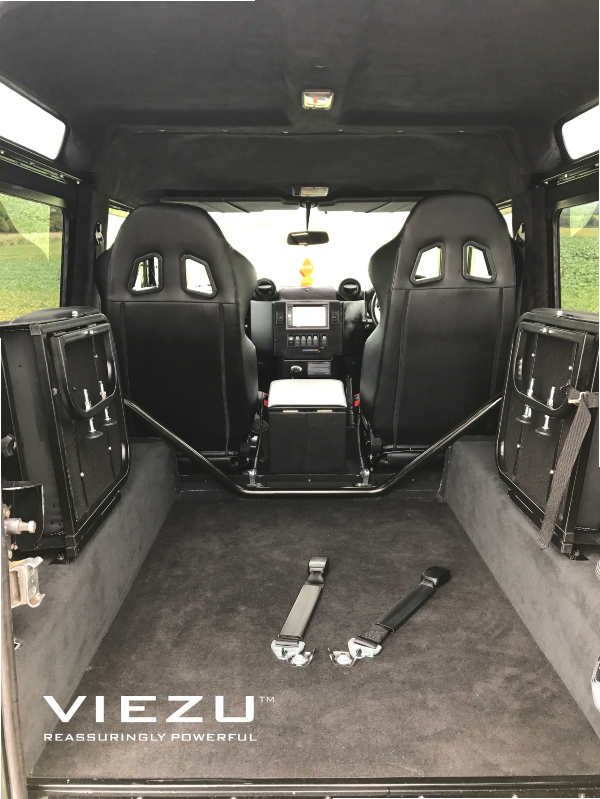 This was a challenging project and enjoyable job; one the whole team loved working on, seeing this beuatifle Range Defender drive out the workshop with its modern technology and custom look. 
We can't wait to get started on our next one. If you are interested in learning more about Viezu' VIP Design conversions or mail order packages please contact us on 0044 (0)1789 774444.
Vehicles also customised for export purposes. Dont forget to keep track of what we're up to by visiting our blog pages and our Facebook page Viezu Tuning International HQ for updates.