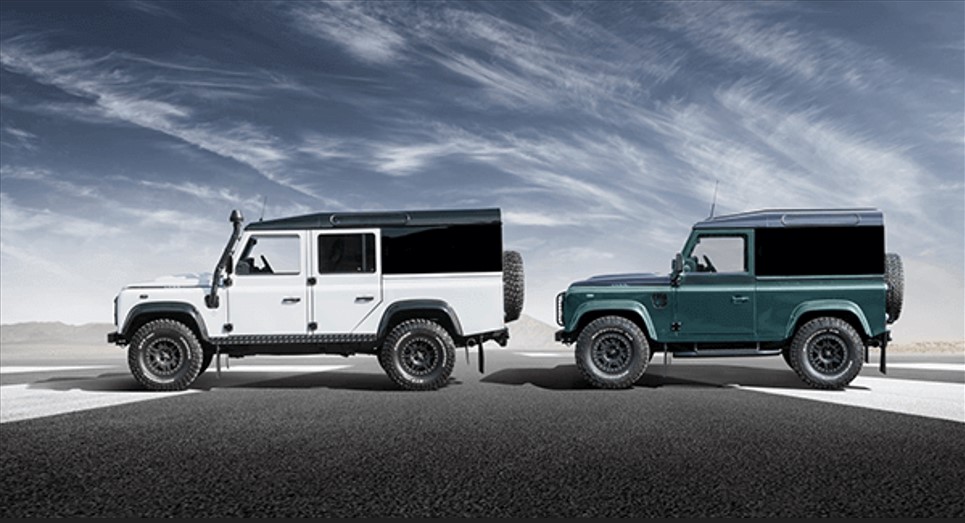 Custom Land Rover Defender Restoration, Refurbishment & Rebuilds
The Team
VIEZU's Defender Restoration Team consists of Jaguar Land Rover Technicians, Specialist Land Rover Defender Body Fabricators. (they can tell you a thing or two about rustproofing!) Custom Land Rover Defender Upholsterers. Land Rover Defender Interior Restorers. As well as Land Rover Defender Electricians.
Our in-house Tech. savvy Team of Geeks are more than eager to bring your Land Rover Defender to bang up to date with the latest in-car infotainment. Including GPS trackers with anti-theft devices, reverse cameras, parking sensors and so much more.
VIEZU's Defender Restoration Team is very experienced and highly acclaimed. As such, as a Client you get to fire out all your requirements and the Team quickly grab all your must-have restoration requirements . And then pull them together into a project plan with costings for you.
Here is one we did earlier
To see more of this restoration please click the picture above to see the build project video.
VIEZU's Defender Restoration Team you can work out where you want to splash out and where you want to spend a bit more. And as such, get that high-end finish as part of your project's overall finished value. Land Rover Defender values are significantly better with the application of the vehicles heritage pack. And not to mention the shipping guidance offered by the Team for International Clients.
View our online brochure for Land Rover Defender Projects below:
Land Rover Defender Legacy Conversion
VIEZU's Defender Restoration Team offer full Land Rover Defender Heritage Restoration projects too!
Each model is given an accurate and sympathetic restoration and upgrade/replacement items are carefully brought in. Not only maintaining but growing the value of your Land Rover Defender Restoration Project.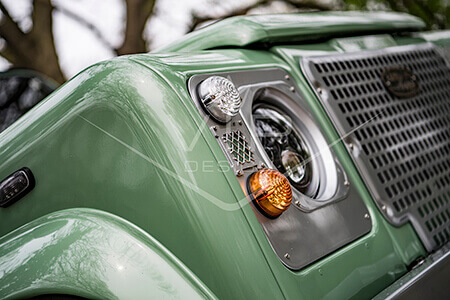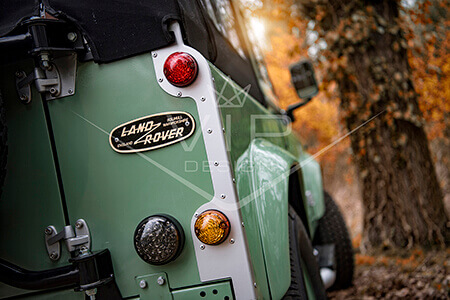 Land Rover Defender Restoration Process
The Restoration Process
Each vehicle and owner is of course unique, so VIEZU treat each project in the same way. As such it often starts with a vision, a dream, or plan of how the owner would like their Land Rover Defender to look. Building to a bespoke project plan.  – Everything is open to discussion – we like a challenge!
Due to the custom and bespoke nature of VIEZU's Land Rover Defender Restoration Programme the owner can have their cake and eat it. Paintwork colour, interior trim, seats, wheels, suspension, engine, brakes, transmission. As well as bodywork can all be custom specified and built.  – Your Defender, the way YOU want it – not the one on someone else's options list!
You will have a unique Project Manager who will send you weekly updates and images of the works to date. As you near the completion date, you are given the opportunity to carry out a test drive and "shake-down" to grab anything for the snagging list.
It's a very immersive and interactive experience, you literally become part of the Team and can be as involved as you like.
…and yes, this really is the same white 110 after a 6-month restoration project: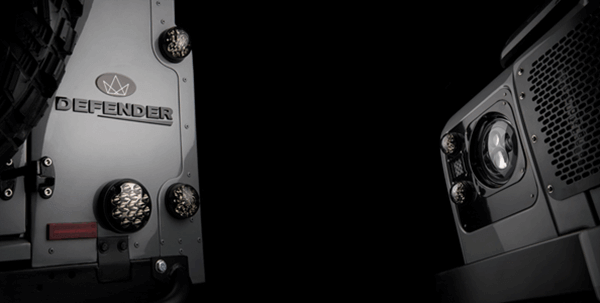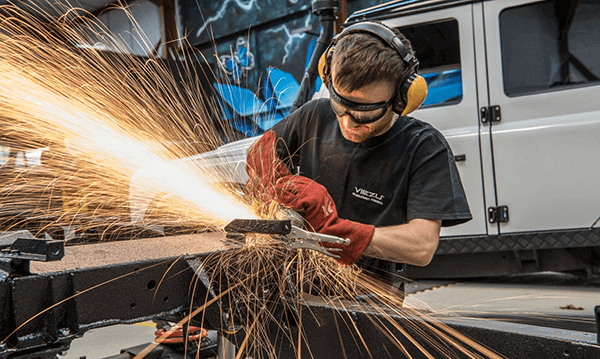 The Nuts and Bolts of Land Rover Defender Styling
The Nuts and bolts of it
Full nut and bolt restoration is a critical factor for perfect body alignment.  If your vehicle condition dictates a deeper level of work. This is the most value growing way to go. VIEZU can undertake a full "nut and bolt" restoration, full strip-down, with chassis removal, repaired and/or replaced.  Therefore, each vehicle component is assessed, cleaned and refurbished or replaced prior to rebuild or refit.
As a Client you are assigned a dedicated Project Manager who will send you weekly updates and images of the works to date.
For Custom Projects and the required specification. All work is done in-house to specified times and agreed budgets.
Land Rover Defender Upgrades
Defender Upgrades
If your Defender is a little newer, or in good general condition. VIEZU offer a huge range of upgrades to bring your Land Rover Defender bang up-to-date and make it feel like a new vehicle. In fact, better than new, the list of upgrades is as long as you can imagine, and priced so not to break the bank.
Popular items include: clean and waxoyl of the chassis and underside, electric window fitting, soundproofing, upgraded seats and upholstery. As well as fitting or changing seat layout or style, carpeting, suspension upgrades and lift kits.
Panoramic windows, LED light kits, grille kits, side steps, puma style dashboard, and bonnets etc. These upgrades are all available as separate items, or can be combined to deliver a more overall appealing facelift appearance.
To see more of this restoration please click the picture above to see the build project video
Land Rover Defender Chassis Protection & Repairs
Lets talk about Chassis
It is important before you decide what to do with your chassis you inspect your chassis thoroughly. We offer a free inspection to assess your chassis and level of protection, or repairs required.
Protect your chassis
You may find after inspecting your Defender's chassis, your chassis is in a good condition (you may find a little surface rust) which means you will need to treat your chassis. Once treated, it is important to protect your Defender's chassis. We offer to treat and protect your Defender chassis at our workshop. It is also recommended underseal is reapplied every 2-3 years.
Repair your Chassis
Where you have some areas of corrosion, it may be your chassis can be repaired, if caught early enough. We can arrange a free inspection, with no obligation, of your Defender's chassis.
Once your chassis is repaired you are likely to want to apply a rust treatment, and underseal the chassis in line with the above.
Replace your Chassis
If you think your chassis is beyond repair, take some professional advice, call us now on +44 0 1789 774444. If you do need to replace your chassis, we recommend replacing the chassis with a galvanised Defender chassis, which will last a lifetime. We can supply and fit a galvanised Defender chassis to your Defender quickly and easily in house.
During this swap we can inspect the body and parts and make recommendations to repair or replace where appropriate.
Land Rover Defender Sourcing and Supply
Vehicle Sourcing
If you do not already own your very own Land Rover Defender, or perhaps any other vehicle, which you would like to restore. VIEZU provides an excellent sourcing service. Both RHD & LHD Defenders can be sourced.
The sourcing can start from unrestored Defenders all the way up to fully finished models. We have a team on hand to discuss your needs, be sure to get in touch so we can get started right away!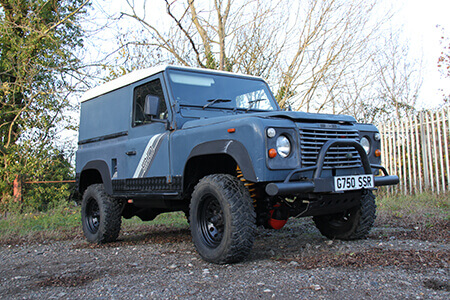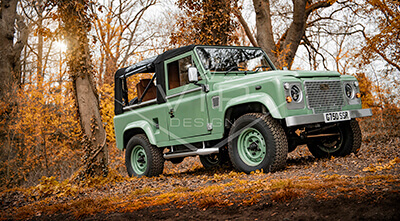 VIEZU have experienced buyers on the team with an established networks across Europe, meaning we can source a range of LDH Defenders ready for restoration or shipping to the USA or elsewhere.
Worldwide shipping of parts and services as well as complete vehicles arranged and managed on your behalf.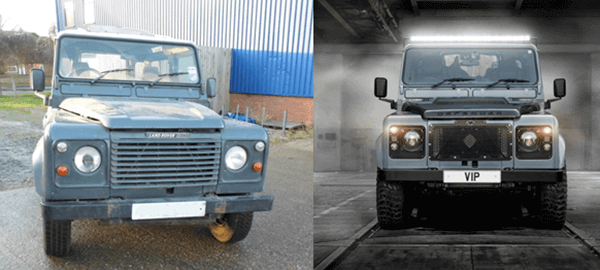 On hand to help
If you have any questions at all, the team will be happy to offer a consultation around your requirements. And in addition, for international customers we can arrange a Skype meeting and tour of the facilities.
Watch Viezu TV to find out more about the full build process:
Book your free consultation now to learn more about the VIP Design Land Rover Defender restoration program.