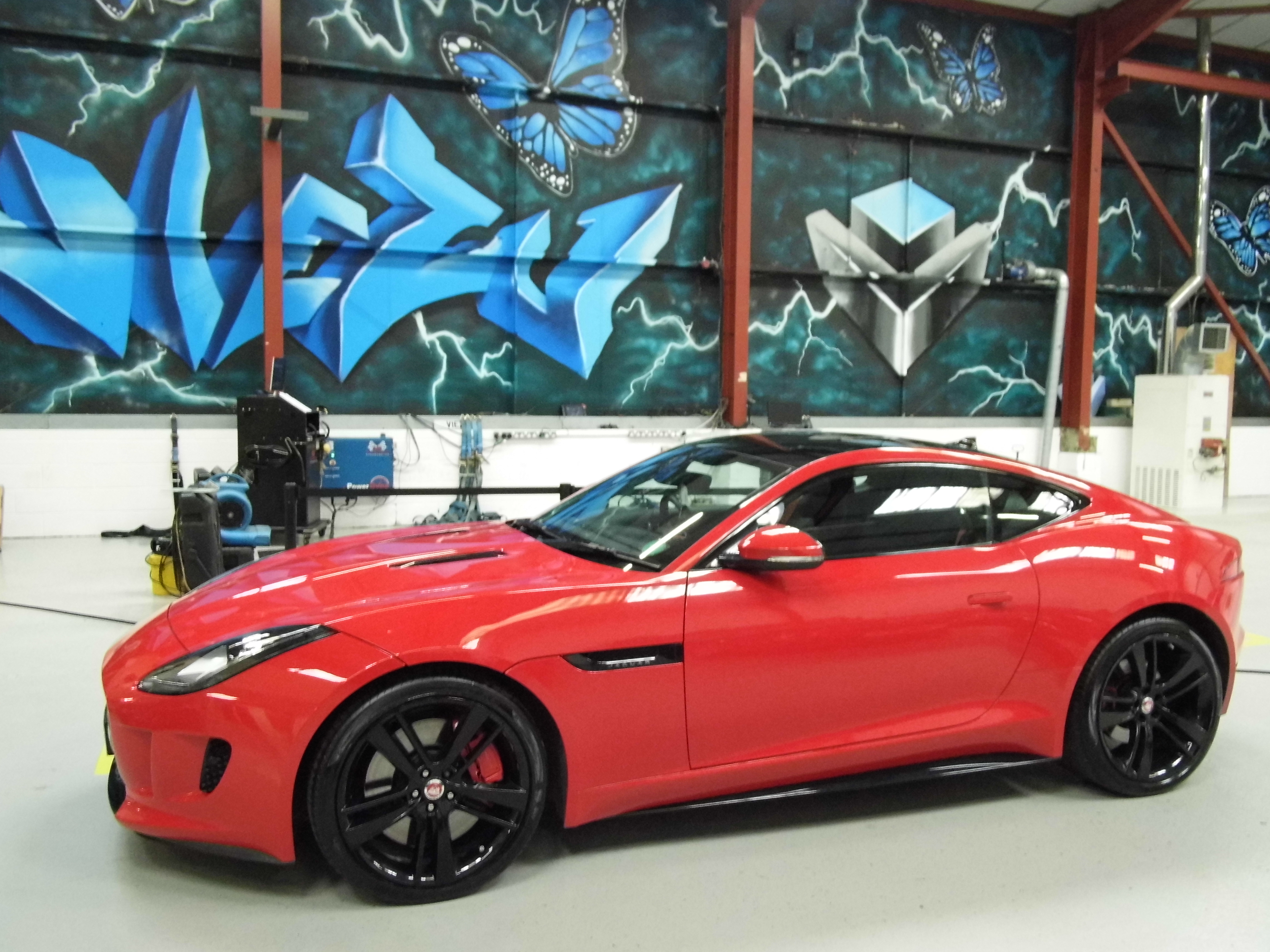 Viezu Technologies was very excited to have the opportunity to carry out some F-type tuning research and development on a V6 Jaguar F-Type last week.  After lots of enquiries from customers about increasing the power and performance of their Jaguar F-Type V6s, it seemed like a great opportunity when a customer wanted to see what we could do for his vehicle.
The Jaguar F-Type V6 was treated to a range of modifications and upgrades, which have been extensively researched, perfected and refined by Viezu's R&D team to increase its power and performance.  High performance air filters were added, which allow a much greater air intake into the engine, increasing combustion and throttle response.  These K&N air filters are some of the best air filters available and will never need replacing.  The high performance air filters were complemented by the installation of an uprated Jaguar F-Type charge cooler which cools the air before it enters the engine, optimising the power of the combustion process.
The addition of a Jaguar F-Type high performance exhaust, with 200-cell catalytic converters, harnesses the engine's power in the mid-range, just where you need it most.  The 200-cell cats are much less dense than the standard Jaguar F-Type cats, and allow waste gases to pass through much quicker, clearing the exhaust and increasing combustion.  The Jaguar F-Type performance exhaust is available with a range of different exhaust tips, according to the customer's taste and personal style – Viezu's popular limited edition 'Jet Fighter' tips are one of the options available, which give a unique look to the rear of the car.
The software upgrade to the ECU pulls all the mechanical modifications together, helping them to work in perfect harmony.  Already boasting an impressive 340bhp, the performance ECU remap adds an extra 95bhp at the crank, making this Jaguar F-Type V6 one of the fastest F-Type V6s on the road, and dramatically increasing the power delivery throughout the whole rev range.
In addition to the Jaguar ECU tuning and performance parts, Viezu also offers a range of optional extras to style your Jaguar F-Type, to make it look even more special and stand out from the crowd.  Suspension lowering really impacts the vehicle's poise and stance on the road while polyurethane bushes tighten up the handling with the vehicle's increased power.  Viezu also offers an extensive range of hand-cast aluminium wheels – twenty-four different styles and twenty-eight different colours mean there is bound to be something to suit any customer's taste, while we also offer a range of carbon-fibre trims, including front splitters, side skirts and rear diffusers for subtle styling.
For more information on the tuning, styling and performance parts packages Viezu can offer for your Jaguar F-Type please call us now on 01789 774444 or email info@viezu.com.