Suspension Upgrades with Powerflex Polybush Kit fitted at Viezu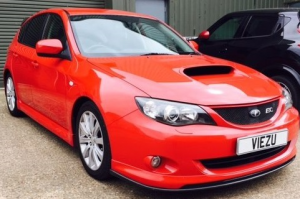 Is it time for a suspension bush upgrade? When you hear the name "Subaru" it immediately conjures up images of Welsh forest rally stages, damp with some fog and mist lingering in the air as the roar of a turbocharged boxer engine comes barrelling through the woods. The imagery is fantastic, and the opportunity to own a "Scooby" bred from the Rally heritage is not something to be passed up. But sometimes, the idea of the car and the expectations you set forth for it are let down when reality bites.
Although none of us would, if we are being really honest, want to live with and drive a full WRC Impreza from the late 00's on the road as a daily driver, all of us would still want it to be a little firmer and handle a little sharper. This is no more apparent than when one of these cars has a few years and a few thousand miles under its belt. The sharpness, the response of the steering and the solid feel under the body from the chassis. it all seems to go a little soft. Although there is nothing physically wrong or damaged on the suspension, a decent set of coil overs on the particular Impreza (as pictured), the car felt soft, and some might say a little loose.
This is where Viezu stepped in. We were able to provide and fit a full set of uprated Powerflex polyurethane bushes to firm up the ride, sharpen the handling and restore the tight bite to the drive. We opted for the middle-of-the-range bush stiffness to improve handling, precisions and ride without increasing the stiffness so much that it felt like it was driving like a BTCC car with no give in it at all. During the installation, it was identified that the rear toe rods had warped slightly over years of driving, and most likely, several severe potholes were found on the road. Either way, they needed replacing; this, of course, opened up the option for an upgrade. Step in some uprated and fully adjustable rear Toe Rods. If you are looking for a suspension upgrade, shock absorbers, road springs or Powerflex suspension bushes, we will be happy to help, just contact Viezu Technologies Ltd on +44 (0)1789 774444 to see what we can do for your car because performance is great, but it's nothing without the ability to handle the power!
You can also contact us at INFO@VIEZU.COM