Jaguar – F Type Tuning, Viezu Tuning for F Type 3.0 V6 and F type 5.0 V8
Viezu technologies are proud to announce our Fully Customised ECU Remapping for Jaguar F Type tuning, Viezu Technologies, are one of the leading vehicle remapping companies in the UK, and we have one of the fastest grow rates in the aftermarket vehicle tuning industry ? who better to undertake your Jaguar F Type tuning and remapping.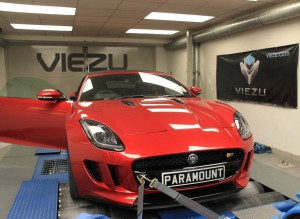 Viezu Technologies have been working on new and improved performance maps for Jaguar F Type tuning since it was launched, and we believe that we have now truly created an outstanding range of tuning for the Fantastic F Types, no matter what model of Jaguar F Type, be it the 3.0 V6 F Type or the 5.0 V8 F Type, our tuning will transform the driveability and performance of these Fantastic sporty Jaguar F Types. Paul Busby, CEO, Viezu, said: ?To have created a Performance tuning service transforms the already outstanding F Type is a joy to behold.
When we create our new Jaguar tuning services they were made with our loyal and highly enthusiastic jaguar clients in mind, At Viezu customers are the most important part of our business and we look at our Clients as if they were part of the family. And as part of our family we want them to go away with a memorable experience and a smile on their face.
Our new Jaguar F Type tuning really delivers a smile! As an ISO certified tuning provider, we of course follow a very strict process when looking to develop new tuning services, and the Jaguar F Type tuning project has been no exception. At Viezu we like to show our customers true measureable results, so all tuning works is backed up with dyno testing and emission results, ensuring your Jaguar tuning not only delivers true punch but does not upset your vehicles emissions, whilst improving performance and producing incredible results. Viezu continue to invest in brand new equipment, research and development and skilled staff, at Viezu we will always put our customers in the forefront of everything we do. By offering more in depth training to cope with our customers ever changing needs, it helps us to develop new and improved tuning cars like the Jaguar F type. To learn more about the Viezu team, take a look here https://viezu.com/