LAND ROVER DEFENDER UPGRADES AND RESTORATION – MIDLIFE MAKEOVER
MISSION: AFRICA AWAITS…
The Team at VIEZU recently had the pleasure of working on this lovely bright yellow Land Rover Defender 90; her name is AJ, and she was a long way from home too, shipped all the way from Africa for a little makeover and restoration at VIEZU.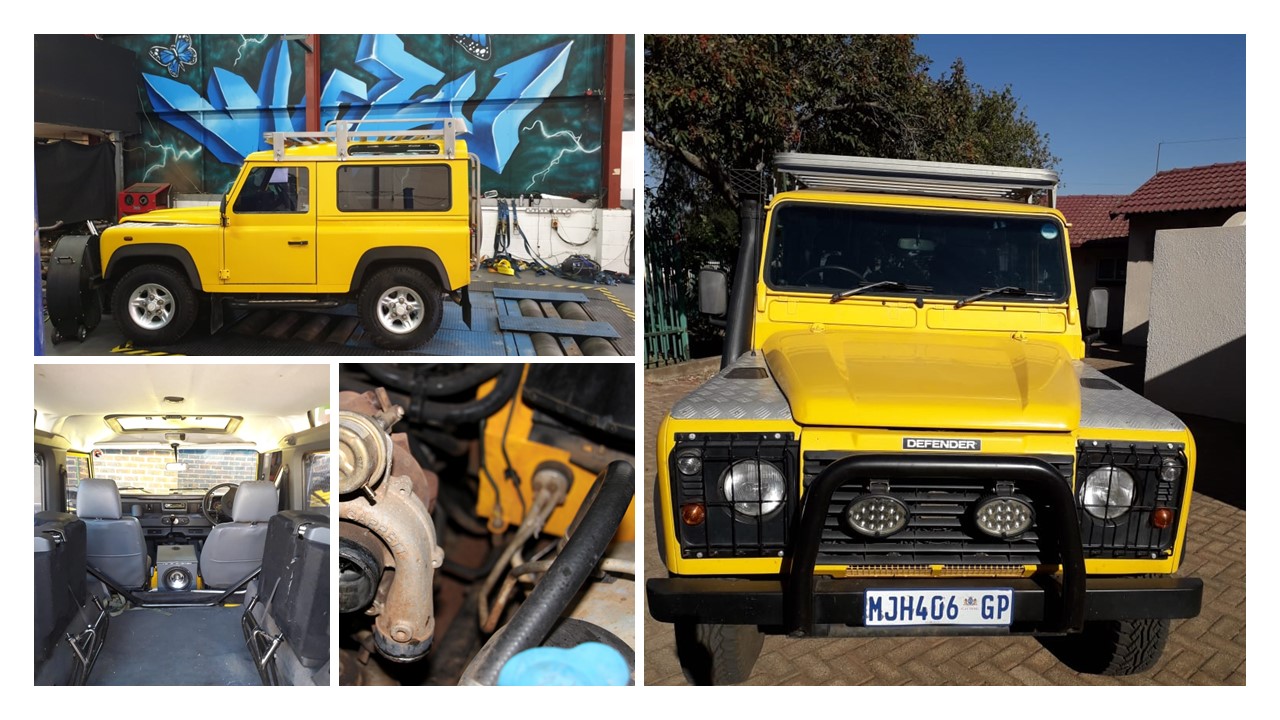 AJ is a 2001 Land Rover Defender Td5. Structurally sound for her age, she is not in need of a full restoration.  Though AJ was showing her age a little and, in daily driving in Africa, this has taken its toll and it is time for a refresh, restoration and update her technology too.
SO, WHAT WAS ON THIS SHOPPING LIST FOR THIS BEAUTIFUL LADY
New black rims and trimmings, new upholstery, leather seats, matching rear seats – boom-box of a sound system.  All the usual suspects really! and a few more upgrades too, the build list from Sean, AJ's owner, was to include…….
CLIENT SPECIFICATION LIST OF REQUIREMENTS
Stop the rear windows from rattling!
New carpet throughout
Fit electric windows
Fit Alarm system and central locking
New and latest technology Satnav System
New leather front seats (3 seats to be fitted)
Reupholster, in leather, the lock and fold rear seats to match new front seats
Brand new luxury suede headlining
New modern LED lights all round
Full soundproofing including the roof, doors and of course floor
Repair and paint anything tatty
New style points – Black powder costing of wheels and all aluminium parts
Brand new brakes and suspension
Brand new boom-box – Fit a "nightclub worthy" sound system
Stage II power upgrade, intercooler, remap and turbo upgrade + 80bhp.
AJ CONDITION CHECKLIST AND REPORT
This Land Rover Defender Upgrade and Restoration Project was a midlife makeover, bringing her back to her full former glory and bang up to date with new media centre with SatNav and modern in car conveniences.  Mission accepte!
STRIPDOWN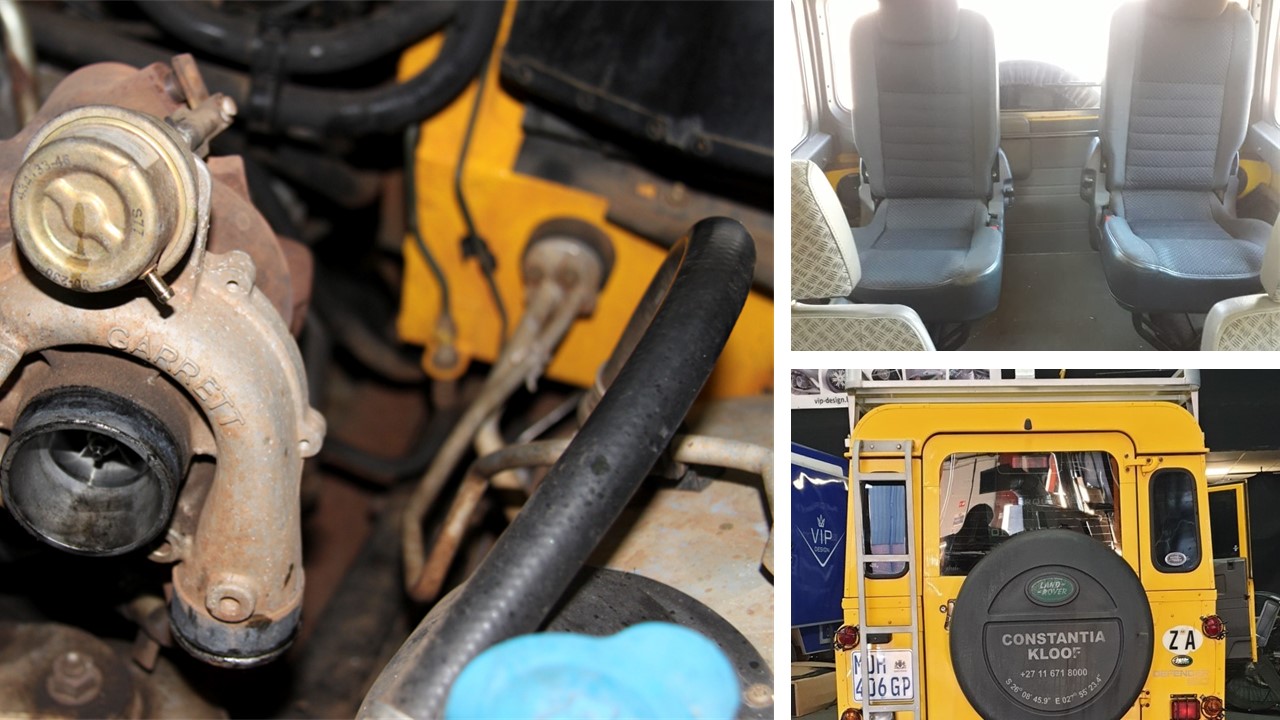 THE MAKEOVER – FULL SOUNDPROOFING THROUGHOUT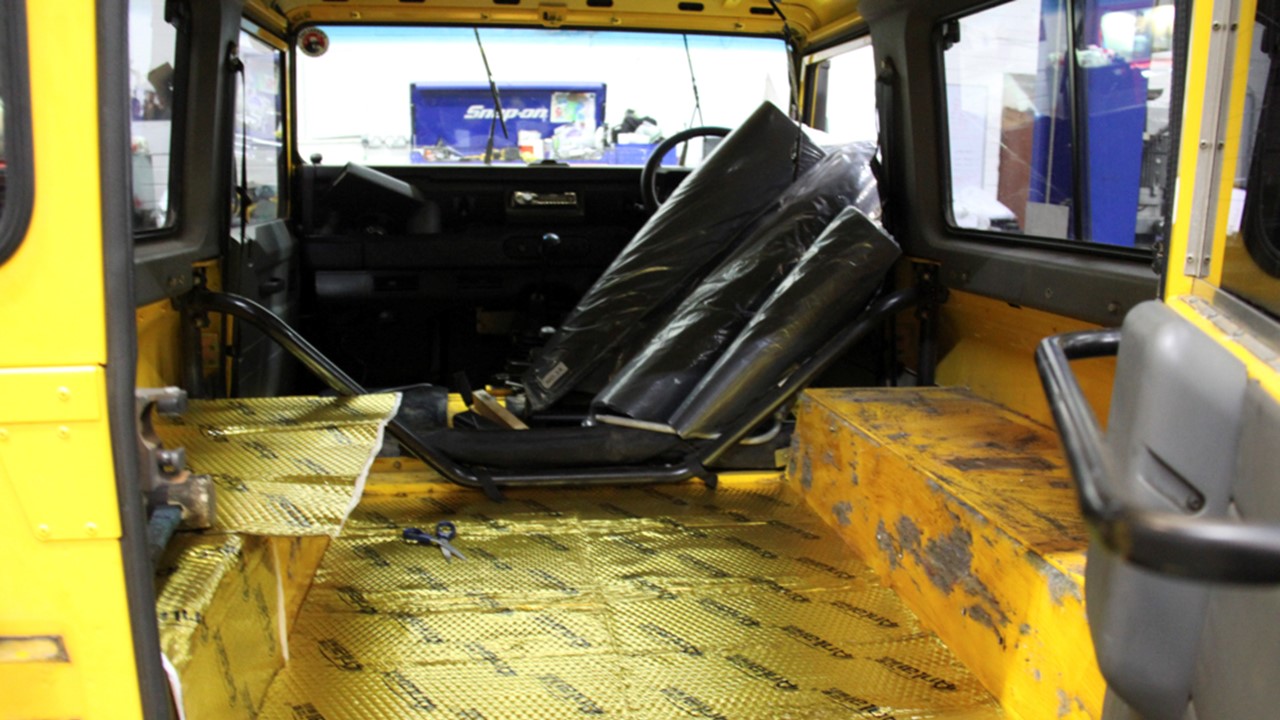 SEATS – BEFORE AND AFTER
New seating and seat layout.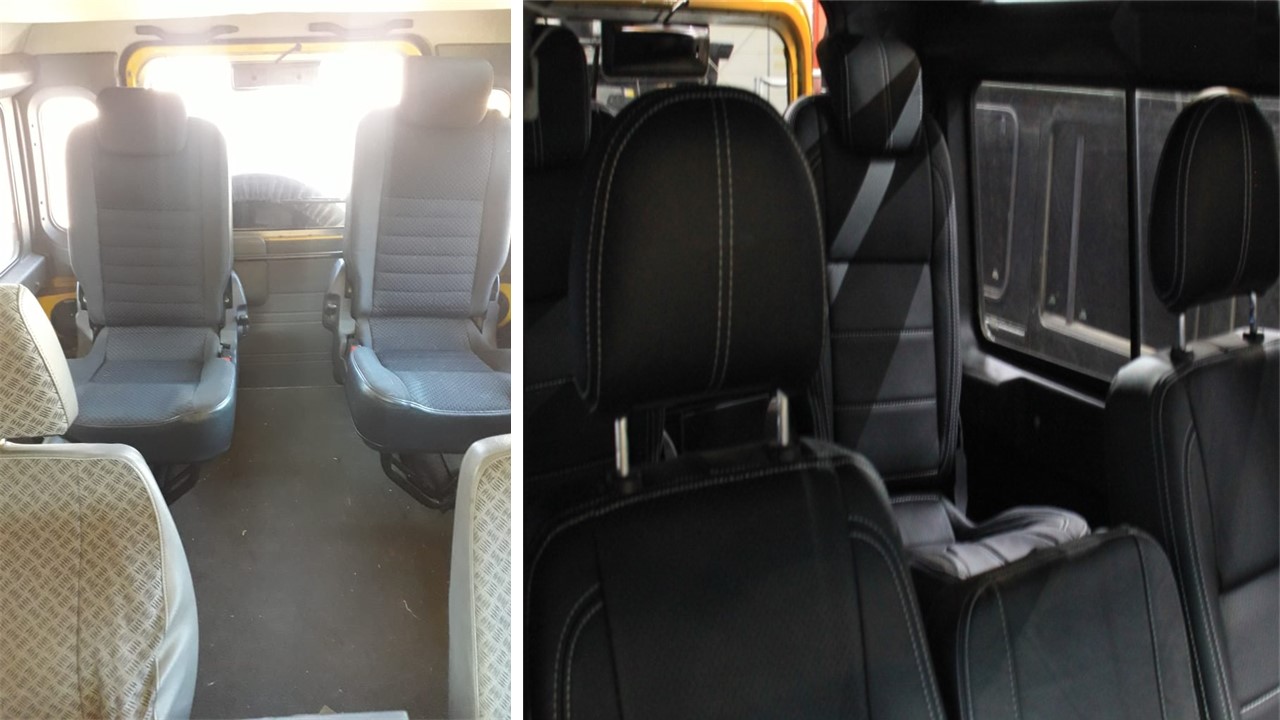 NEW DASHBOARD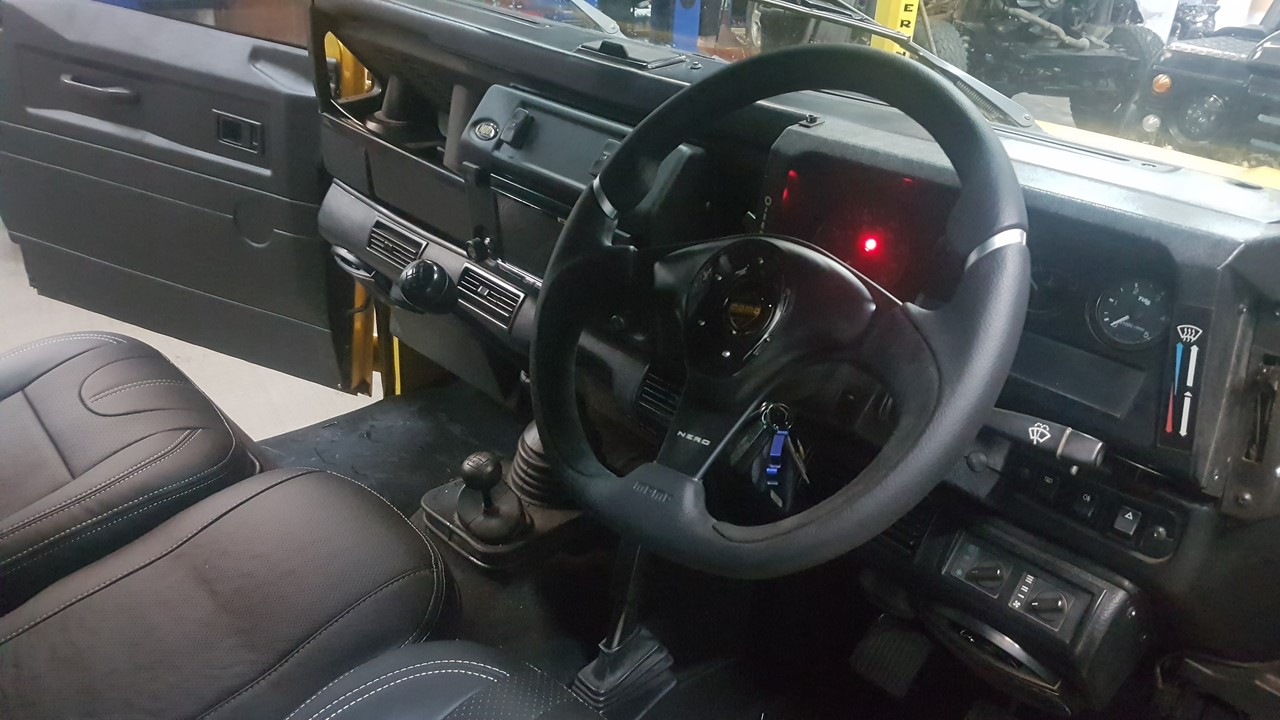 We are truly delighted just how well AJ the Land Rover Defender upgrade and restoration project turned out.
LADY AJ IS COMPLETE
Lady AJ now looks so much smarter; she drives better than new with all new suspension and brakes.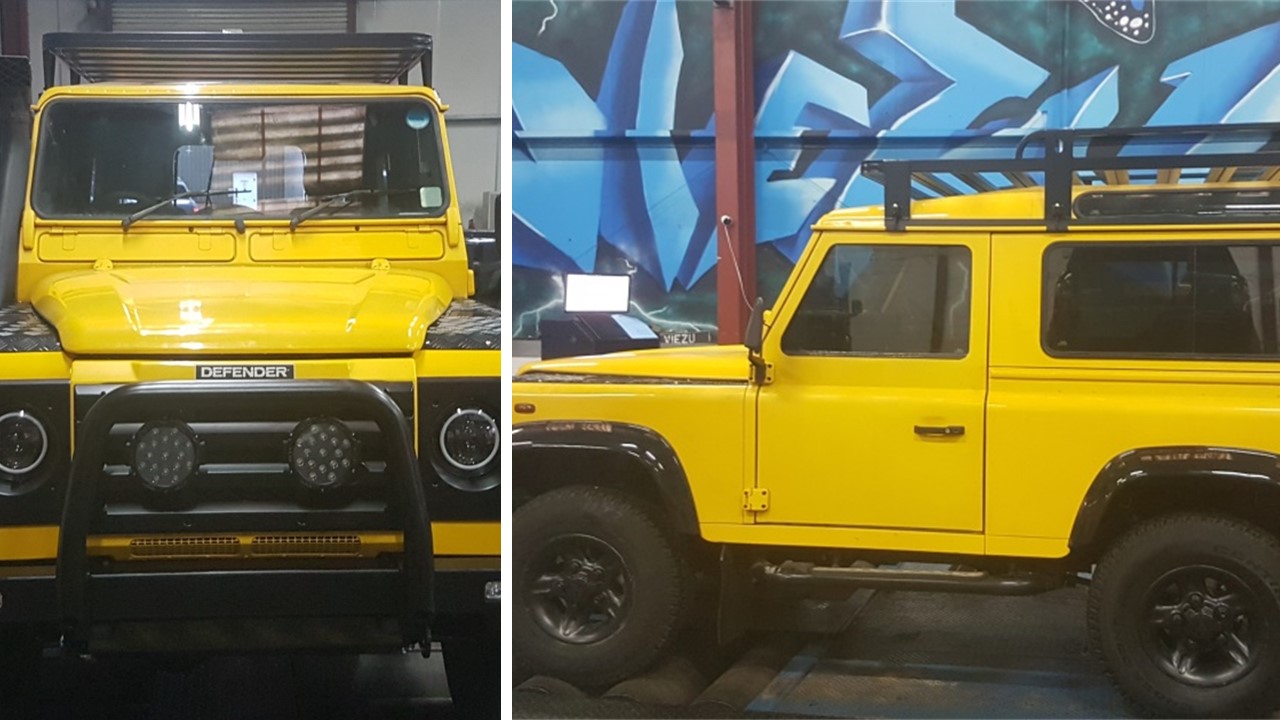 She has seriously more pulling power! with the upgraded turbo and tuning package. The interior looks like a work of art, worthy of a luxury SUV, but still super usable and practical too.
If you have a Land Rover Defender that could benefit from a few upgrades, or even a full nut and bolt restoration, let us know how we can help. Or, better still, why not book in for a free inspection and consultation so we can discuss the options available.  Mail us at info@viezu.com