Viezu Jaguar XK 650bhp tuning conversion
We got to carry out one of our Viezu Jaguar XK 650bhp tuning conversions this week at Viezu Technologies. We gave it the VIEZU Jaguar tuning treatment, including ECU remapping and Jaguar performance parts, to significantly increase this jungle cat's performance.
What was included?
In order to increase airflow into the engine, we added some high-flow air filters. They improve airflow into the engine by up to 30%, which improves fuel combustion. We paired the new air filters with an upgraded performance supercharger cooler.  The supercharger cooler is designed to cool water which cooled the supercharger. Hence ensuring the air remains cool as it passes through the supercharger and inlet system. Cool air delivers better power and fuel efficiency.
Our team of experienced technicians fitted a brand new upper supercharger pulley and engine crank pulley to this already ferocious Jaguar XK to drastically increase the boost and push even more power into this Jag.
While our technicians handle the physical upgrades, we sent an ECU read up to our team of file writers. Here at Viezu we have conducted a huge amount of research and development. The in-house file writing team used their experience and the knowledge gained from the research Viezu conducted in developing the 650bhp conversion, to create a bespoke tuning map for this car.
Under the bonnet, the upgraded performance parts work in harmony with the Viezu performance ECU remap. This takes its power to 650hp making it one of the fastest cars on the road. Viezu's research & development team has tested, refined and perfected the 650bhp Jaguar remap extensively using its 3000bhp rolling road and Euro 6 emissions testing equipment. This is to make sure it won't negatively affect the car's emissions standards.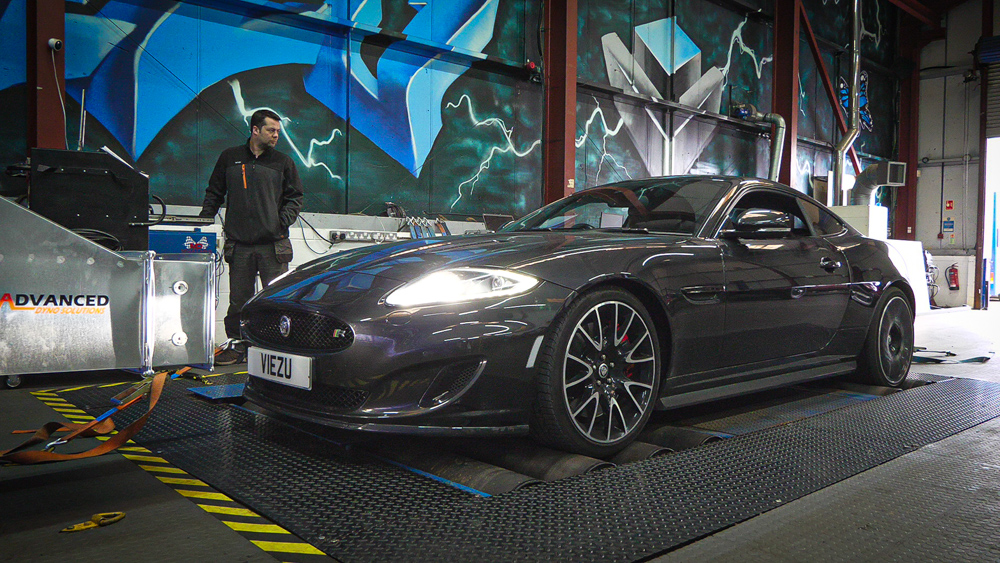 Upgrade your Jaguar XK
For more information about Viezu's VIP Design Jaguar conversions, as well as all other cars we can provide the VIP treatment for, please visit viezu.com, email info@viezu.com or call +44 (0)1789 774444.