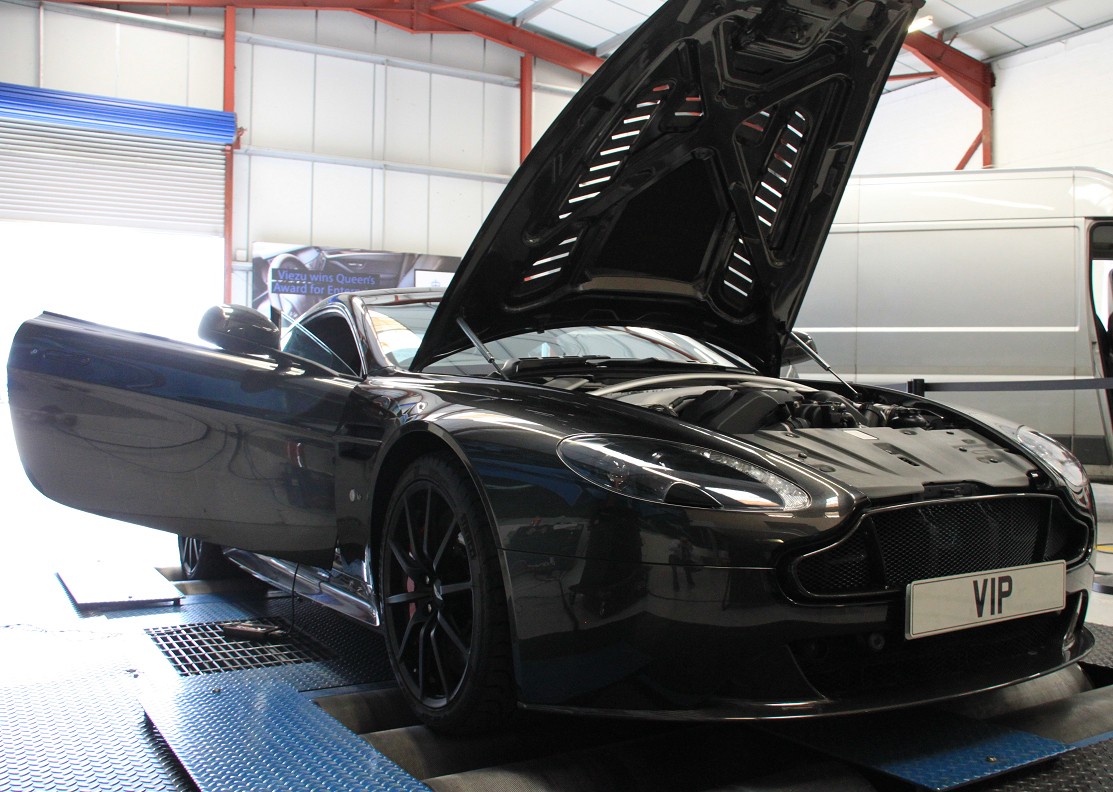 Aston Martin Vantage Tuning– Full OBD tuning 300 dealers worldwide Viezu is very pleased to say we are the first company in the world to now offer full OBDII ecu remapping of the Aston Martin Vantage.
We have developed a truly amazing range of Aston Martin Vantage tuning services, now the Aston Martin's true power can be unlocked, for the first time ever full access to all areas of the Aston Martin Vantage's ecu are now available and all through the diagnostic port – no need to remove the ecu and its completely undetectable.
This truly is a world first, previous tuning offered on the market has only had limited access to the tuning files within the ECU, but with the new services Viezu can deliver amazing results, like all ECU remapping offered by Viezu, the Aston Martin tuning comes with full custom tuning, the tuning is fully insured worldwide and has our no quibble money back promise.
The Aston Martin Vantage Tuning provided can be fully custom tailored on the Aston Martin Vantage like never before, options can include power and performance tuning, 02 sensor delete, rev limiter moving, tuning for fuel grades and optimizers and full on race and track day performance – you tell us what you want and we will deliver.
There is no need to remove the ECU, we can tune your car, with our full custom Aston martin Vantage tuning programmes anywhere in the world, the tuning can be carried out whilst you wait at over 300 dealers. Viezu can also supply a stunning range of Aston Martin Performance products, including Aston Martin Performance exhaust systems for all models, including AM V8 Vantage exhaust systems, racing and performance catalytic convertors, air filters and much much more.
For further information on any Aston Martin and Vantage tuning requirements – please e-mail us at info@viezu.com Viezu, www.viezu.com offer ecu remapping and car tuning services worldwide, ecu tuning all makes and models of vehicle. Find your local Viezu car tuning dealer at www.viezu/dealer-map
For all ecu remapping training and car tuning training see www.remap101.com car tuning equipment, software, and car tuning courses and programmes from the Viezu Academy at www.remap101.com
For all Diesel Particulate Filter tuning requirements, DPF problem solving, see www.dpffix.com Dpf removal, dpf deletion and issue solving. Car tuning at www.viezutuning.com Viezu offer a huge range of car tuning tool, tuning software, and training courses you can see more here www.viezu.com or contact us here www.viezu.com/New-Dealer-Enquiry/Contact_us