JUST RELEASED: Brand New Jaguar Gearbox Tuning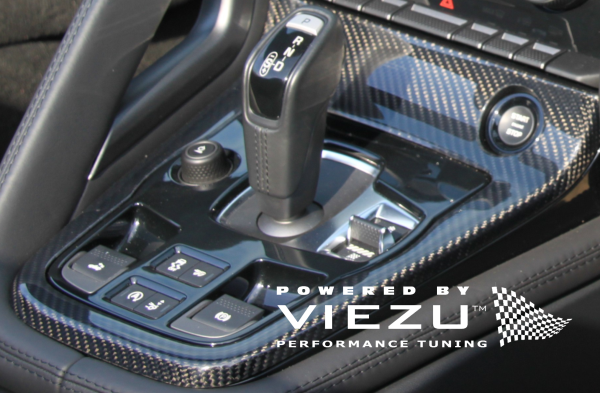 NEW JAGUAR (ZF) GEARBOX TUNING: VIEZU HAS CRACKED IT AGAIN
Get in Pole Position with our brand-new gearbox ECU upgrade. All Jaguar 8 Speed automatic vehicles supported by this cutting-edge technology.
WHAT WILL A GEARBOX REMAP & TUNE DO FOR YOUR DRIVING EXPERIENCE?
Jaguar gearbox or, transmission tuning is designed to improve both the shift speed and the torque management capabilities of the Transmission Control Unit (TCU) in the ZF gearbox.
For those discerning drivers, who want the best and are serious about speed and being in front; this is a must!
To say these transmission changes are fast is an understatement! The fact is its Super-ultra-fast gear change sequence developed by VIEZU provides you with a distinct advantage.
Tried and tested over months of research and development, VIEZUs very own 670BHP Jaguar F-Type Predator just got even more bite.
THE RESULTS ARE AMAZING!
The ZF gearbox is factory set to a stock lower limiter set at 740nm torque. The scope of this setting, however, from the factory is to a maximum of 1300nm torque soft-limiter – in its original stock software.
Whilst at this time there is no JLR engine that will run that amount of torque, it is good to know that it has higher factory limitations inside, than OEM vehicles are running out of the box and on the road….until now!
There is enough space and tolerance within the stock gearbox to deliver more from tuning of both the engine and the gearbox.
We can comfortably, and confidently, bring this lower limitation of 740nm torque up to an impressive 900nm torque. This brings it in line with our highest tuned remapped engine outputs, whilst remaining well below the OEM limiters of 1300nm.
Taking the VIEZU Gearbox Remap even further, we have adjusted and modified the gear shifting speed of the box. This is done through several complex changes in the transmission controller calibration, but the simple explanation is that the torque/throttle reduction times during gear shifting have been reduced. This has had a 0.2 second improvement on stock performance, data based on ¼ mile testing in controlled conditions
You really must have this gearbox tune done to totally appreciate the significance of the change in overall driveability and performance. The bonus of faster shifting is you spend more time on power. This translates into a faster exit speed on the ¼ mile, with an improvement of an 8 mph higher exit speed.
These improvements are fantastic whilst still retaining the factory safe limiters in the transmission.