VIP F-Type Tuning & Styling
Meet the fastest F-Type in the world.  – The F-Type Predator, with its astonishing 670 BHP, and styling points to attract attention everywhere it goes. You can now get the Predator Package for your own F-Type at home. Your local garage. As well as here at our state of the art Headquarters in Bidford on Avon.
Your Jaguar F-Type upgrade journey begins here, with our selection of Jaguar performance parts, tuning and upgrades.
EXTRAORDINARY POWER – PERFORMANCE CONSIDERATIONS
Transform your Jaguar F-Type and get more power, more BHP, and more torque with a variety of hardware and software upgrades direct from VIEZU.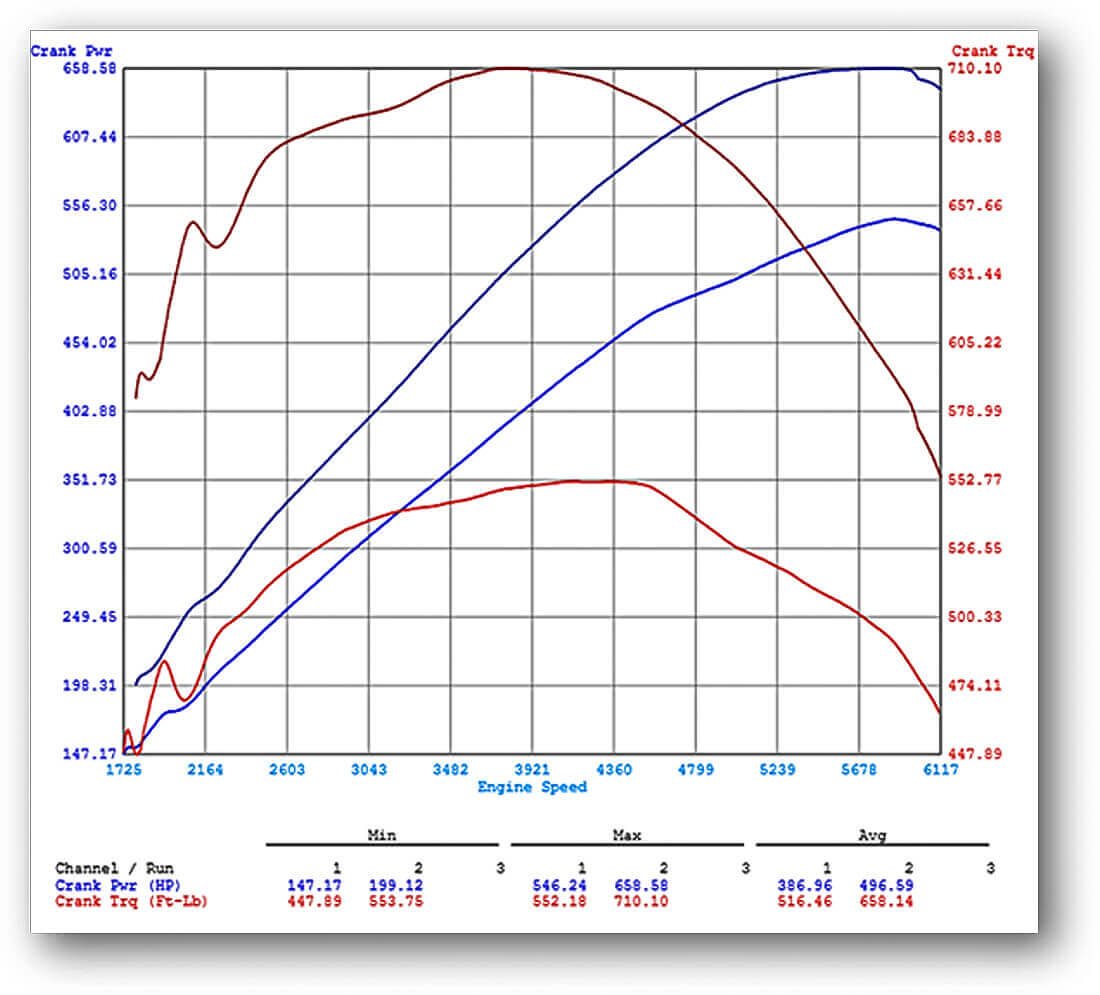 Custom Engine Software For F-Type
Customised engine software upgrades guarantee to deliver 600 BHP, 650 BHP, or 670 BHP, depending on your needs and model derivative.
VIEZU has an excellent long-standing reputation and a name you can trust in engine software upgrades. Jaguar tuning, often referred to as 'chip-tuning', remapping, or tuning.
Our own F-Type Predator made astonishing power on the dyno. Here is the dyno graph for the VIP Predator 650 upgrade package for the F-Type (before we installed a Water/Methanol Injection System. Which added another 20 BHP!) VIEZU are Jaguar F-Type tuning specialist and know these cars very well. The team also own and drive them too!
The lower red and blue lines are the before figures, and the higher are after. And as you can see, below graph Min, Max, and Average (Avg) figures. The Max and Avg figures show the gains between test 1 (the original software run) and test 2 (the upgraded vehicle run) – an impressive gain all round!
V-Switch Drive
Controllable Tuning
The Jaguar F-Type is also available on the V-Switch DRIVE . Therefore this means you can choose between up to 6 different DRIVE Settings. Drastically changing the way the F-Type behaves in just 15 minutes or less.
F-Type Predator 670 Bhp
For more on the Predator, tune in to the action & check out this video of the F-Type Predator 670 tuning & styling on VIEZU TV!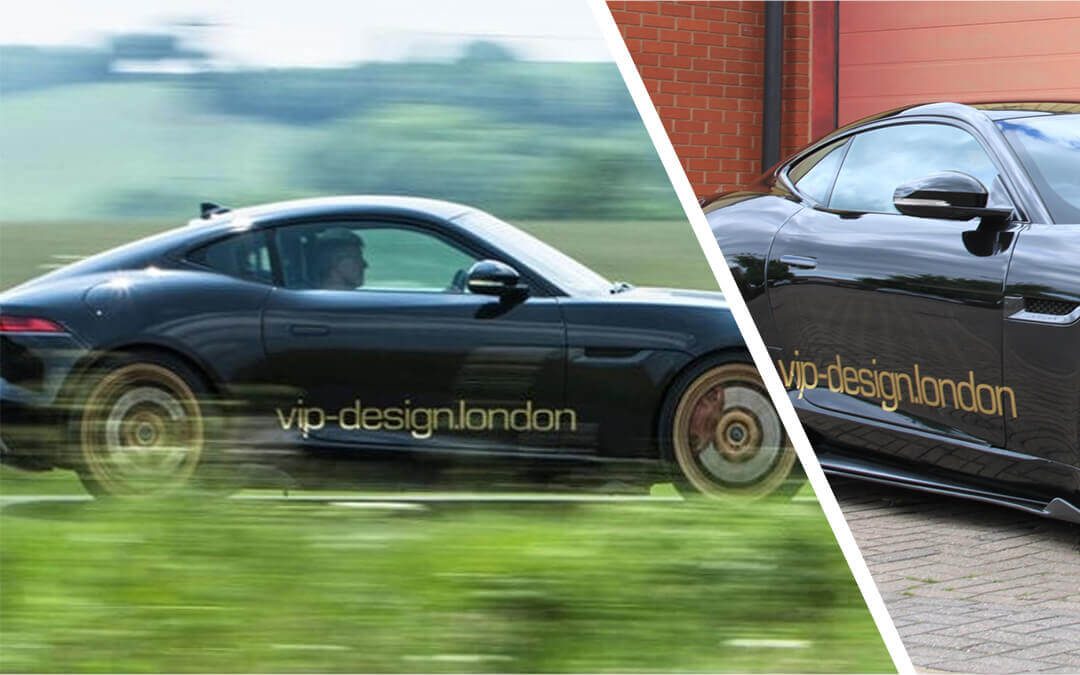 Jaguar F Type Performance Upgrades
HARDWARE UPGRADES FOR YOUR JAGUAR F-TYPE
Custom engine software compliments hardware changes on the Jaguar F-Type and enhances its drivability and of course, power.
You can choose all or a selection of our hardware upgrades for the Jaguar F-Type. You can upgrade:
Air Filters – High-performance high flow filters
Full exhaust system with valve control system integrating directly with original switchable exhaust system
200 cell exhaust catalytic converters
De-cat pipes
Supercharger pulley upgrades (upper, or lower, or both!)
As well as supercharger cooling pack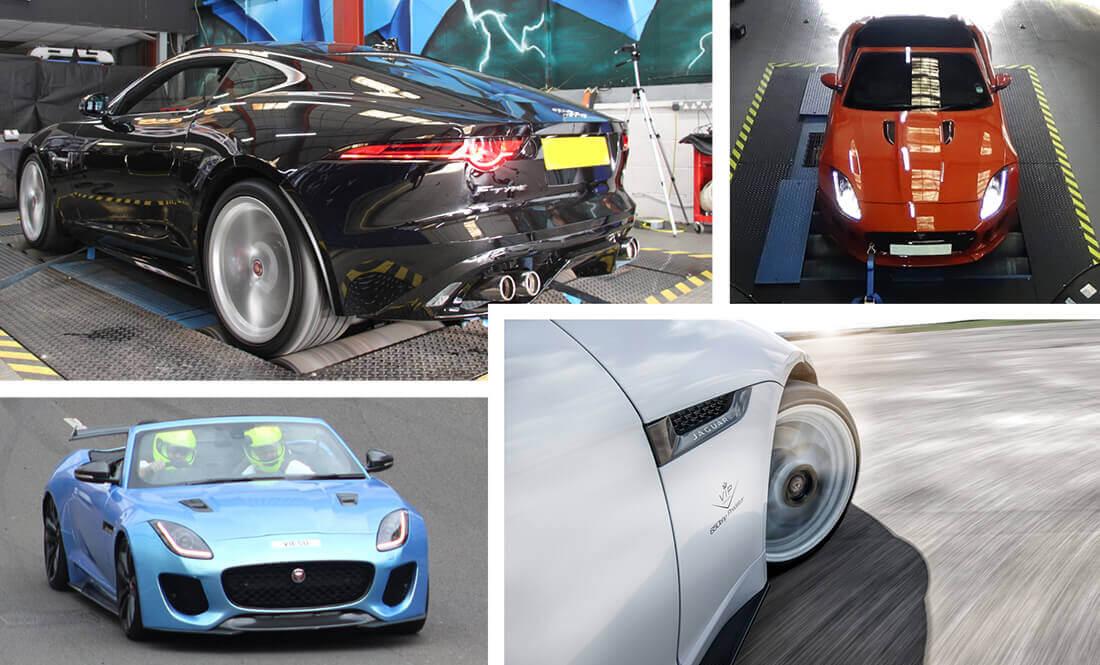 Rolling Road (Dyno) Tested
Dyno Tested and Proven
All of VIEZUs software and hardware modifications are fully tested on VIEZU's 3000 BHP rolling road. And as such, this allows for fine-tuning of the modifications and engine tune. Dyno testing and fine-tuning delivers the very best performance & power for your Jaguar F-Type.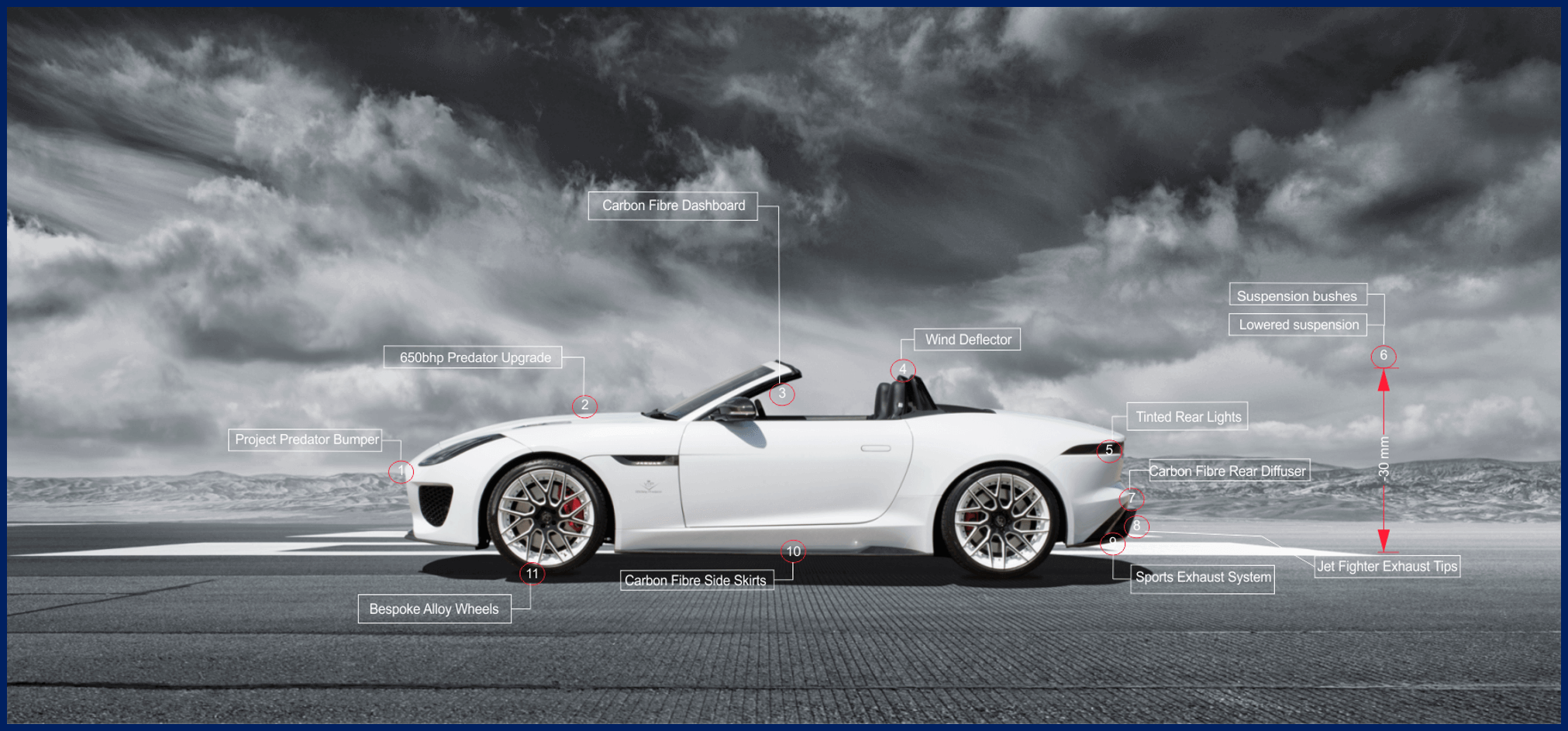 Extraordinary Style – Styling Considerations
Jaguar Upgrades
Turn your F-Type sleeper into a real style icon, just like the Predator. With sleek styling points, incredible attention to the finer details of the F-Type. Bring your F-Type out of its shell with our styling options:
Have better fast-road handling (and on-track) and show-stopping low with F-Type Predator 30mm lowering springs & uprated suspension bushes
Project Predator Bumper
Sports Exhaust System (for a better sound style, and under-car appearance). Finish your sports exhaust with Jet Fighter exhaust tips to give a more purposeful appearance!
Bespoke alloy wheels (we also supply carbon fibre wheels! Yes that's right… click here to find out more about carbon fibre wheels).
Tinted rear lights
Specifically for your convertible Jaguar F-Type, you can also get a stylish, yet practical Wind Deflector.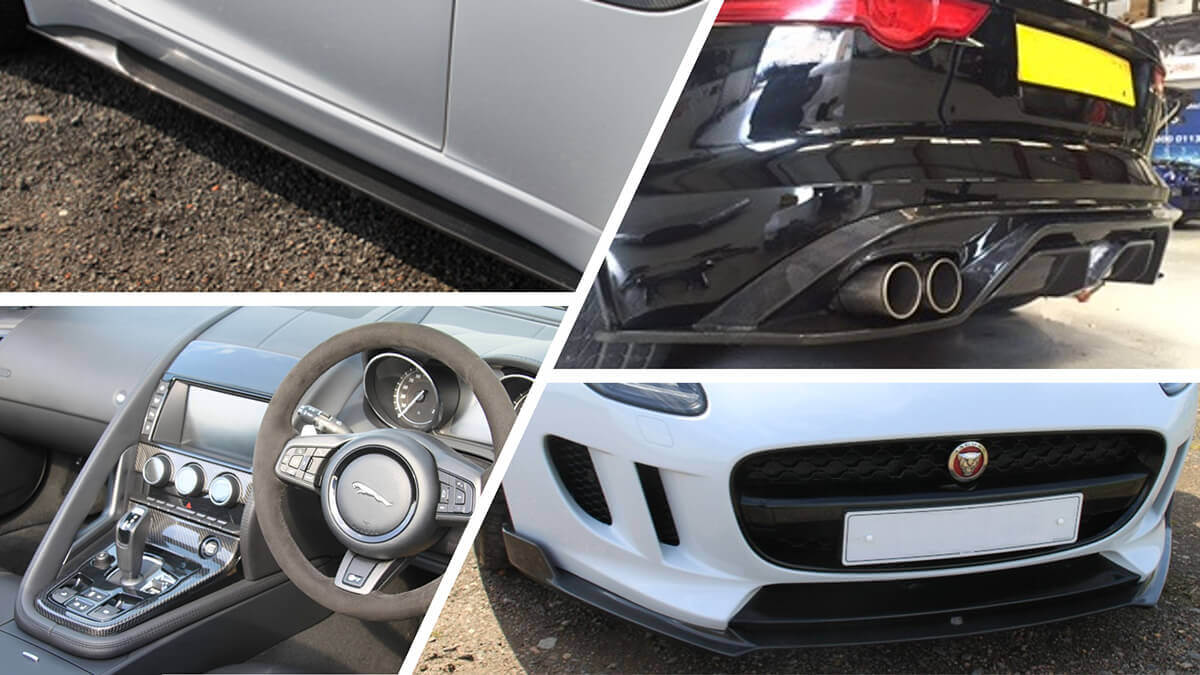 Carbon Fibre Styling
Jaguar Styling
Show off your style right from the start. Select a variety of carbon fibre styling parts for your Jaguar F-Type to suit your own style.
Carbon Fibre Front Splitter – Put your best splitter forward and make a bold statement with a sleek and stylish carbon fibre front splitter.
Carbon Fibre Side Skirts – Continue your carbon fibre trail around the car by installing these elegant carbon fibre side skirts, and to match, the carbon fibre rear diffuser below.
Rear Diffuser – To suit the carbon Fibre front splitter and side skirts, this rear diffuser completes the carbon fibre set.
As well as a Carbon Fibre Dashboard – The F-Type is an elegant vehicle, yet the interior does not lend itself to the same styling as the exterior. We have available this 3 piece carbon fibre dashboard kit, to lift up the interior, available in more than one colour to suit your style.
Carbon Fibre Boot Spoiler Wing for Convertible, or Carbon Fibre Wing for Coupe – The F-Type isn't complete without a large Predator style Carbon Fibre Boot Spoiler – click on the links above to find out more about these parts, there are slight variations between the coupe and convertible boot, so make sure to let us know which you have!
Carbon Fibre Door Mirror Covers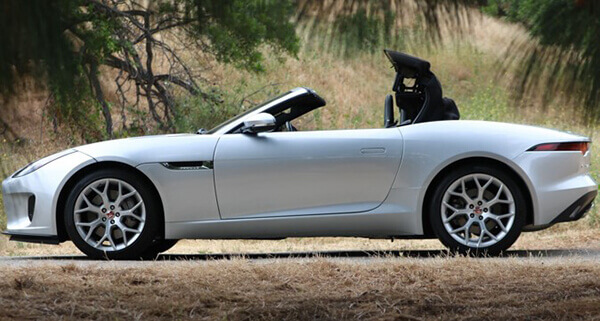 Take Control
Use the Automatic Convertible Roof Top Remote Smart Key Fob Controller (2013 onwards), to automatically open and close your F-Type's Convertible Roof. Therefore save time by using the Remote Control to conveniently open or close your soft-top & windows as you walk up to or away from the vehicle.
Extraordinary Service – Viezu is Here For You
VIEZU has an excellent reputation for customer service and offers these custom installations for the Jaguar F-Type. And therefore you can create your own bespoke package for your Jaguar F-Type. Have everything or a selection of styling and software upgrades – it's your choice!
Give us a call on +44 (0) 1789 77 44 44, or email us at info@viezu.com for more information or to discuss your F-Type Upgrade vision.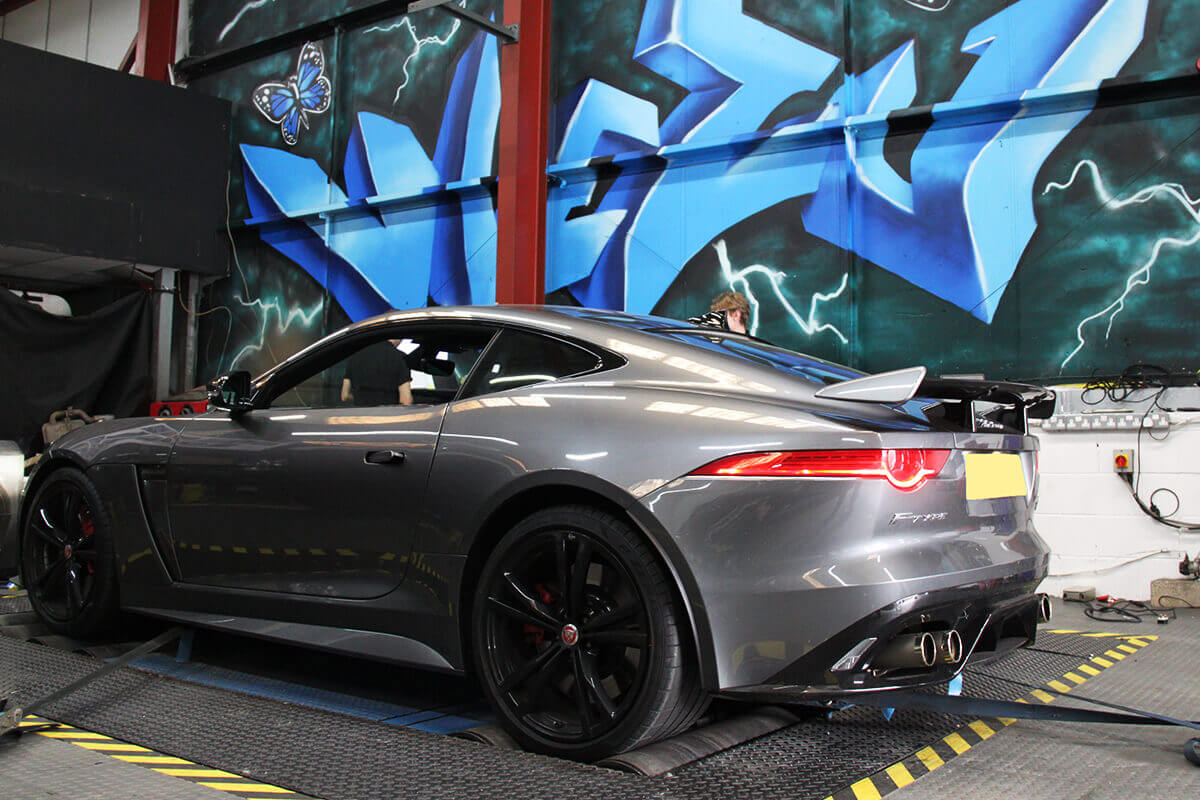 Fitted at Our State of the Art Workshop
All upgrades can be fitted at VIEZU's state of the art workshop in Bidford on Avon, Warwickshire, UK.
Alternatively, you can order your bespoke tuning and styling package for your F-Type, and we will deliver direct to your door (or garage of your choosing). We provide full installation instructions to your professional installation agent, and a V-Switch DRIVE to allow you to install the custom engine tune direct to your F-Type Predator.