8th April 2018. Location: Brands Hatch
Senna Proctor scores a brilliant victory from 27th position on the grid.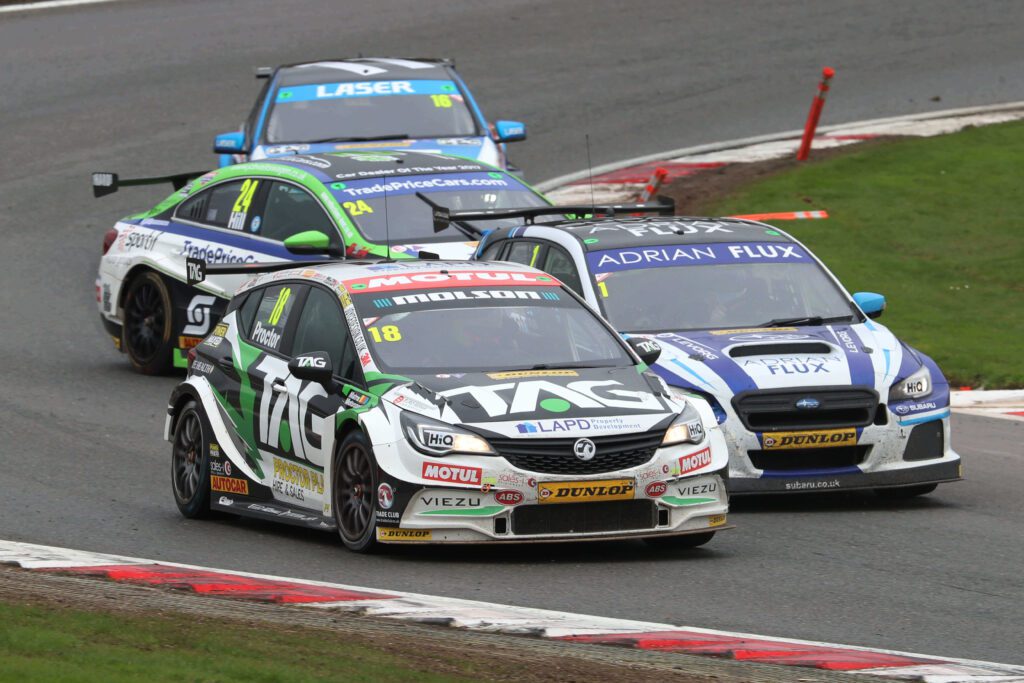 Driver Senna Proctor pictured above – Car #18
Race 1. Grid 21. Result P27
Race 2. Grid 27. Result P1. Fastest lap.
Race 3. Grid 6. Result P15
Championship position. P7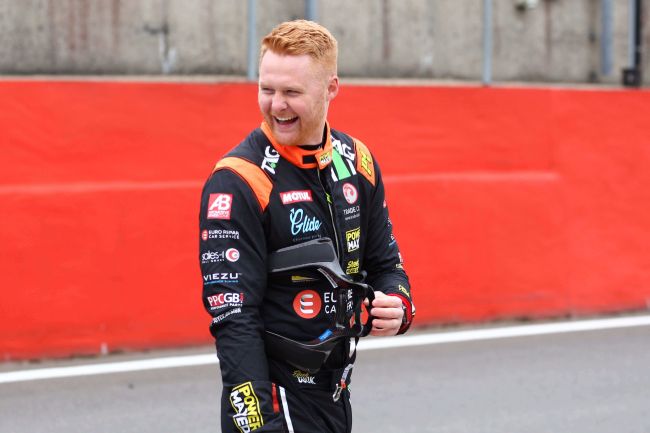 Driver Josh Cook pictured above – Car #66
Race 1. Grid 12. Result Not Classified. Fastest lap.
Race 2. Grid 28. Result P15
Race 3. Grid 15. Result P10
Championship position. P18
60 Years
The 60th Anniversary of BTCC opened in not the finest weather conditions at Brands Hatch, not to be deterred by that the PMR Race Team sponsored by Viezu had a day to remember as Senna Proctor achieved the first victory in both Senna and the Team's short BTCC history.
SENNA PROCTOR
Senna Proctor's win was one of the most dramatic drives in the Championship's history as the 19-year-old was the last placed of 9 drivers to start on slicks, amid a grid of wet shod rivals on a damp Indy circuit. With the Team splitting strategies, teammate Josh Cook started on wets and made rapid progress in the opening half of the race, getting right up to 5th place only to then tumble along with his wet shod adversaries as the cross over took place and slicks became the tyre to have.
Showing incredible skill and maturity, Senna's Vauxhall Astra was by now the fastest car on the track, battling to the front and engaging in a tense duel with the Mercedes of Aiden Moffat. Dealing with bumper bashing pressure from behind, Proctor was clearly the fastest of the leading group as he sought to breach Moffat's defences; finally squeezing by exiting Druids with 2 laps to go and then stretching away to the most remarkable of victories.
JOSH COOK
Meanwhile Josh was by now battling a losing battle and finally dropped back to P15 at the finish, ruing the choice of tyres but accepting that taking the safe bet was a logical choice with a full Championship in mind.
Race 1 offered a difficult start to the season as both Josh and Senna found themselves on the wrong end of some questionable driving. A great opening lap saw car 66 climb to P7, only to then be collected by an out of control Matt Neal. Great repair work to the offside rear by the Team ensued before Josh was able to show the Astra's pace setting fastest lap albeit 9 laps down.
It was only a couple of laps after Josh left, the pit  crew were in action again, this time changing a front left puncture after being turned into the barrier by James Nash's Honda Civic exiting Graham Hill bend.
Race 3 was a strange affair as all cars started on slicks, although rain was in the air. In the opening skirmishes Senna, starting on the harder tyre and with 75kg of ballast on board, got eased out on the approach to Druids on lap 1, losing 3 places.
Thereafter the 2017 Rookie of the Year struggled to cope with the new experience of running with ballast, saying "We survived and got some more points, but it was hard with the weight. I felt it everywhere!"
For Josh Cook, race 3 was another chance to show the speed inherent in the redeveloped Astra and it was soon apparent that any ambitions of moving to the front were to be thwarted by being caught in the wrong place at the wrong time. Despite consistently lapping at leader pace, Cook found himself defending expertly against Turkington's BMW before conceding and finishing 10th.