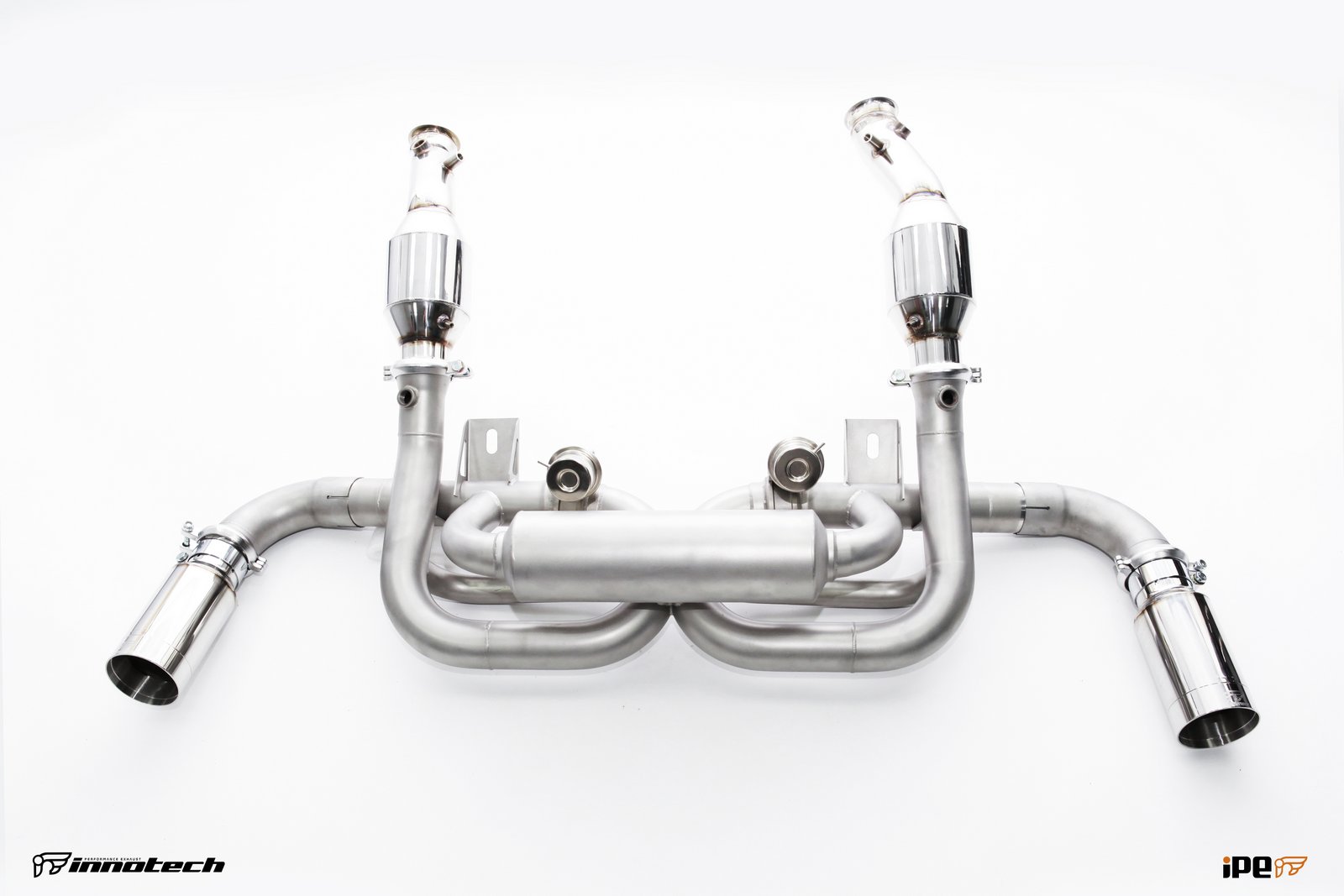 Close Up Full System
| | | | |
| --- | --- | --- | --- |
| | | | |
| Cat Pipe | Valvetronic Muffler | Exhaust Tips | Exhaust Tips |
iPE is a time-tested, reliable manufacturer of Valvetronic exhaust systems. We specialize in high-performance exhaust systems for upscale models of supercars. Their craftsmanship and technological innovation is unsurpassed.  The goal is to provide you, the discerning consumer, with an exhaust system that reflects your commitment to quality, reliability, and comfort while making every trip an unforgettable experience.
Now, ask yourself: Are you prepared to experience the difference?
The iPE Innotech exhaust system delivers more power and an unparalleled sound performance because of its valve controlled technology. By reducing the weight of your vehicle, you will feel a noticeable difference in driving performance after the installation of this system.
Lamborghini Gallardo 2004-2008 coupled with an iPE Innotech Performance Exhaust system excel in every conceivable way. The goal is to enhance the nearly perfect by adding that certain something. With our exceptional design and precise workmanship, all aspects of the exhaust sound are refined. A distinctive aspect is the F1 sound with a clean tone across all rpm ranges, which underlines the Gallardo's distinctive characteristics.
Prices
IPE Lamborghini Gallardo Exhaust

V10

Utilizing OE Tips

IPE Exhaust Valvetronic Muffler incl. CatPipes with Cat & Remote Control Module

T304 Stainless Steel

£7,495.00

Utilizing OE Tips

IPE Exhaust Valvetronic Muffler incl. Remote Control Module

T304 Stainless Steel

£5,095.00

IPE Lamborghini Gallardo Exhaust

LP550/LP560/LP570/Superleggera

4×83 mm (Round Split)

IPE Exhaust Full System incl. Headers with Cat-Bypass, X Pipe, Valvetronic Muffler, Remote Control Module & Tips

T304 Stainless Steel

£12,295.00

4×83 mm (Round Split)

Valvetronic Muffler incl. X Pipe, Remote Control Module & Tips

T304 Stainless Steel

£7,095.00
IPE Lamborghini Gallardo Exhaust, and Lamborghini Gallardo Tuning and reampping at Viezu Lamborghini Tuning 
See our full range of Lamborghini Performance Parts
For best prices call: Viezu Performance Tuning +44 (0)1789 77 44 44 or complete the form below