IPE BMW 328i 320i Exhaust (F30) Images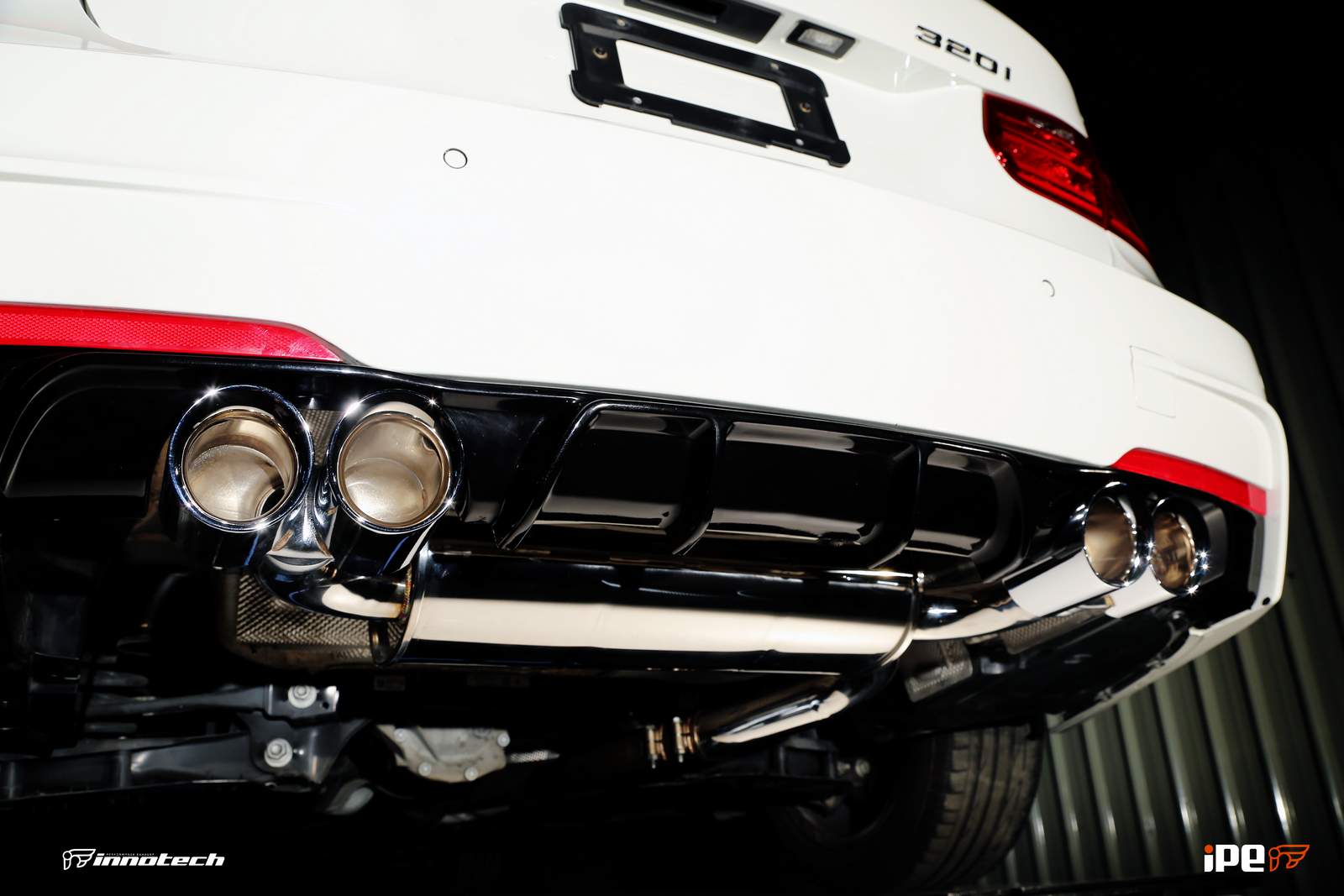 Close Up Tips
| | | | |
| --- | --- | --- | --- |
| | | | |
| Full System | Catback System | Front Pipe | Mid Pipe |
| | | | |
| Valvetronic Muffler | Exhaust Tips | Carbon Tips | Chrome Silver Tips |
Our iPE Innotech Performance Exhaust system for BMW 320i / 328i (N20 / N26 engine) awakens the driver's spirit of sport with the high level of power and the dynamic control given by the Valvetronic exhaust. 
There are three modes to choose from with this system: On, off, and auto. In On mode, the valves are open for maximum flow and power, releasing the pure sports sound.  When in off mode, the valves are closed and the volume is reduced for a comfortable cruise; in auto mode, the valves are adjusted automatically based on engine RPM and gas pedal signals for a dynamic driving experience. 
All parts of the exhaust system are specifically tailored to fit the BMW 320i / 328i (N20 / N26 engine), and only the finest materials are used for the inside of the muffler to produce an exciting sound to break free of the ordinary.
Prices
| | | | |
| --- | --- | --- | --- |
| 2×83 mm (Round Split) | IPE Exhaust Full System incl. Down Pipe with Cat-Bypass, Front Pipe, Mid Pipe, Valvetronic Muffler, Remote Control Module & Tips | T304 Stainless Steel | £4,495.00 |
| 2×83 mm (Round Split) | IPE Exhaust Cat-Back System incl. Front Pipe, Mid Pipe, Valvetronic Muffler, Remote Control Module & Tips | T304 Stainless Steel | £3,395.00 |
IPE BMW 328i 320i Exhaust (F30) for mail order, worldwide shipping or selected fitting workshops, please ask for detail
See our full range of BMW Performance Parts
For best prices call: Viezu Performance Tuning +44 (0)1789 77 44 44 or complete the form below