Diesel Tuning and ECU Remapping
At Viezu, we specialise and offer all areas of Engine Remapping, Vehicle Tuning and ECU remapping – Diesel engine tuning is incredibly popular due to the very positive way that the diesel engine respond to tuning, very significant gains can be delivered in power, torque and fuel economy and, almost all vehicles with a diesel engine can be tuned in this way.
Diesel engine tuning can be specifically carried out to meet the driver's needs, be it outright power, outright fuel economy tuning, or to account for the vehicles use, load bearing, i.e. towing or for tuning and modifications.
Diesel Tuning and Fuel Economy
Our diesel tuning services include our multi-award winning BlueOptimize Fuel economy tuning, used by the largest fleet on the roads today, BlueOptimize is the most popular fuel  economy tuning software in use, it has been installed on over 150,000 vehicles around the world and in 2014 Viezu's BlueOptimize won the Queens Award For Enterprise.
The tuning carried out by Viezu and, our Approved Dealer Network is custom and bespoke to your needs, why not call us now to discuss how Viezu can make you smile again about driving your Diesel vehicle.
Book Your FREE Consultation Here!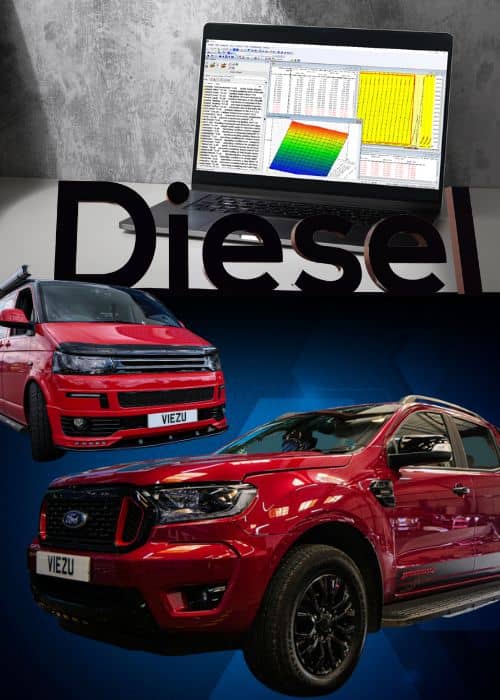 DPF (Diesel Particulate Filter) Deletion and Tuning
DPF Management is a controversial matter and there are some very important considerations for you to take before having this service.
WHAT YOU NEED TO KNOW
Viezu can carry out DFP deletion tuning and DPF removal. However, please be aware DPF removal is not legal everywhere in the world. For the avoidance of doubt, in the UK and across Europe a DPF filter must be fitted to your vehicle if you are using it on a public highway. And if the vehicle was originally manufactured with one.
There are of course approved and legitimate reasons for DPF deletion, including off-road use, motor-sport and other special projects.
Our DPF deletion and removal service is also of course available to our international dealer network and customers. However, we would please ask that you please make sure you check your own local and regional legislation before removing your DPF filter or you may find it fails the fitness test and inspection. And in some cases you may also be fined for using the vehicle on a public highway. Best to check first!
If you are having issues with your DPF filter you may want to consider cleaning your DPF filter and as an options, this is a service we and many of our dealers offer  – please let us know if we can help with this service as this may be a much better solution for you and will keep your car legal come MOT time. See here for further information on DPF Service and Cleaning.
DPF Cleaning and Servicing
DPF REFITTING
In the past DPF removal has been very popular; some estimates are that there are as many as 30,000 diesel vehicles on the roads in the UK alone that have had their DPF system removed. But the public is now much more aware of the dangers and side effects of removing a DPF system from a vehicle. Laws and attitudes have changed in the past 3 years meaning many who have previously removed their DPF filters now wish (or need) to have them refitted.
OE Manufacturers' DPF filters are very expensive, and the job to refit a DPF system can be very costly.  Viezu can help here since we have access to high quality replacement DPF filters and have the ability to reactivate a vehicles DPF system.  If your vehicle has had its filter removed in the past perhaps even by a previous owner without your knowledge – we are here to help, with DPF software and parts to refit your system and make your car road legal again – just ask for details
DPF Refitting and DPF Installation
All Viezu vehicle ECU remapping and diesel tuning software is developed in-house with significant research at our technical academy and R&D centre, this includes our full range of DPF deletion services. DPF delete tuning and ECU remapping is available for most diesel engines and DPF systems – please ask for details.
Viezu's DPF delete and removal software and services can be combined with our various ECU remapping programs, and because our software is custom and written here in-house we can combine your DPF delete software with other tuning services to include:
High performance tuning and ECU remapping
Award-winning BlueOptimize fuel economy tuning
Fuel saving remapping and much more
In its standard form low mileage or city driving can lead to the DPF filter blocking up, which can be an expensive repair. To reduce the chances of this happening you may be able to remove or delete DPF functions, allowing for improved reliability, servicing and performance (subject to legal requirements). We have fitting and tuning centres around the world ready to assist you with your DPF removal needs. If you don't see your diesel vehicle listed, please email us.
Diesel Vehicle Remapping at Viezu