Chamber of Commerce Awards Viezu with Innovation in Technology Award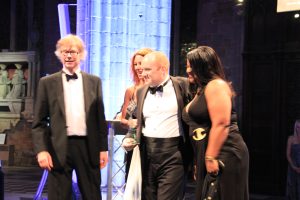 We are very pleased to announce that Viezu Scooped the Innovation in Technology Award at the Chamber of Commerce Awards and was an International Business of the year finalist.
Prestigious innovation award for engine tuning specialist Bromsgrove-based Viezu recognised for helping motorists save 50,000 tonnes of CO2 emissions Viezu Technologies, one of the UK's leading aftermarket engine tuning companies, has been recognised for its innovation and technological expertise with a prestigious award win.
The Bromsgrove-based company received Herefordshire and Worcestershire Chamber of Commerce's 'Innovation Through Technology' award at last night's gala ceremony for its Blue Optimize™ a CO2-reducing and fuel-saving tuning service, which helps drivers save fuel and money, as well as reduce their CO2 footprint.
In just 36 months and since the launch of Blue Optimize™, the company estimates that it has helped motorists to reduce their CO2 emissions by more than 50,000 tonnes. "With record fuel prices, difficult economic conditions and growing concerns for our environment, there's never been a more important time for drivers to consider having an ECU program upgrade," explains Paul Busby, Chief Executive Viezu Technologies. "Winning this important accolade is a fantastic achievement which we are delighted with. It's also a clear recognition of our creative use of technology to help drivers and businesses cut their motoring bills and their environmental impact."
Viezu's expertise comes as a result of many years of research, development and experience in the automotive industry. The company's in-house team of four specialist software engineers develop high-quality and reliable updates to a vehicle's ECU, changing the performance characteristics from the original settings.
The new settings can deliver significant improvements for drivers or tailored performance such as improved power, torque or fuel economy. The company has now developed more than 15,000 individual ECU programs meaning that over 90 per cent of all modern European vehicles can be tuned by a Viezu-approved dealer.
In some instances, Viezu's products give drivers a massive 20 per cent improvement in fuel economy, offering businesses, in particular, potential savings of thousands of pounds every year and a rapid return on their investment. Emphasising the impact and success of the business, it was also named a finalist in the Chamber's 'International Business of the Year' award.
Two years ago, its entire business was UK-based, but after significant growth and expansion, nearly half of the company's sales come from overseas, where it has more than 210 dealers located in 34 countries around the world, including Australia, New Zealand, USA, Russia and China.
Its UK dealer network has now also expanded to 90 dealers. "The UK still has exceptional expertise in developing high-value products and services which are in great demand around the world," continues Busby. "We're thrilled to be recognised for our efforts in these areas, and I'm sure that with our continued investment and commitment to excellence and quality, we will continue to wave the flag proudly for the West Midlands and the UK."
For more information about Viezu or its engine remapping service, please visit www.viezu.com or get in touch at info@viezu.com