LOOKING AFTER YOUR CAR HELPS TO KEEP YOU FIT AND HEALTHY
For one of VIEZUs dedicated car TUNING (and Cleaning!) enthusiasts; Andrew, this has been the call to keep active – both physically and mentally, during the current lockdown period.
We hope you will enjoy reading this charming piece written by Andrew, a VIEZU customer of many years, his previous vehicles have included Jaguar cars and now, Andrew is just waiting to tune his current Ford car as soon as lockdown is lifted.
Please enjoy – we did!
THE LOCKDOWN DIARY OF A MOTORING ENTHUSIATE
With the coronavirus I decided to do something I've never done before, something  that would help my fitness if I were to get the virus to give me a better chance as I am in all 3 of the high risk categories.
RESEARCH THE PROCESS
I read about detailing (cleaning the car to a higher level than the normal wash and vacuum); I decided to buy a Polishing DA along with a set of pads and various grades of polish.
NOW THE CONDITION OF YOUR VEHICLE
My intention was to take a clean car with swirl marks all over the paintwork and various scratches and chips and, turn it into a semi concours finish.
GET THE TOOLS AND PRODUCTS YOU NEED
To begin; I bought a set of Ford touch up paints to fill the chips, this was straightforward simply clean with 2500 wet and dry (sandpaper) then using isopropyl alcohol to clean before touching up, take your time waiting for it to dry before each coat makes it easy to do a reasonable job.
Claybar kit – automotive Clay Bar is an engineered resin mixture that professional auto detailers use to remove contaminants and pollutants from the car's paint surface, glass, fiberglass, and metal. Detailing clay can be natural or synthetic in origin. Claybar Kits are widely available to buy on the internet and will cost no more than around £15.

Cutting Compound – cutting compound consists of abrasive material suspended in a paste like substance. Like many abrasives, it comes in various grit paste sizes and dependent upon how much matter is to be removed. I went from 400 to 2000 to 3500 during my various cleaning stages. It is used on automotive paintwork to cut through oxidised paint or to polish out scratches in the paintwork. Again, widely available on the internet and do some research to know which "grit-grade" is right for your job.
Polishing DA – The Dual Action polisher, uses a double motion for polishing. Not only does the backing plate spin in a circular motion around its axle, it has an off-centre connection that makes the backing plates "shake". This creates very small circular motions while rotating on its axle. This motion resembles the motion many people make when they are polishing by hand.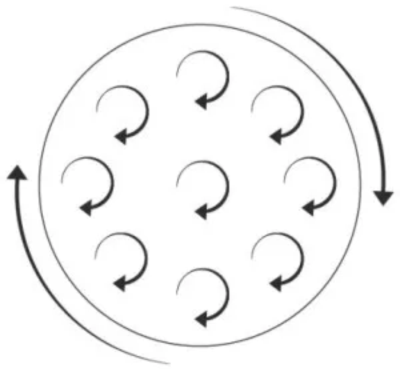 Vehicle polish or wax sealant – Polishing and wax sealing is used to protect the paintwork after polishing.
WAX-ON WAX-OFF
Note: it is always important to start with the car freshly washed and dried. From personal experience, this used to be impossible for me to do with my previous car, a Ford Galaxy as it was too big and because I have a spine injury with huge amounts of pain, I just couldn't wash it.
DAILY MEDITATION
Size matters; I soon realised this Kuga is so much easier and each time I worked on it, the next day I could do a little more; until now I can wash it without a rest, a huge improvement in my health I haven't been able to do this for over 15 years but the fear of the virus spurred me on to get as fit as I can at the same time enjoying learning about cleaning the car to an almost professional level.
THIS TOOK ME 3 DAYS – CLAYBAR WORK
The idea is to keep it wet whilst rubbing every panel to clean contaminates before the polishing stage, this is to ensure you're not grinding more swirls into the paint.
I was astonished how much dirt it pulled out of the paint even after a careful hand wash.  This took me 3 days, doing it carefully I did get much faster as it went on when I realised, I was not wetting the surface enough.
As soon as this was done another full wash ready for the polish, I used Menzerna polishes 400 grit all over every panel until after wiping down there were no more marks in the paintwork, this was very time consuming and made my little arms ache like hell, ( I have done no manual work for 20 years ) after 3 days of polishing for as many hours as I could each day which was around 3 -4 hours a day.
ACTUALLY, THIS IS QUITE ENJOYABLE…
This was very enjoyable and I was talking to people walking by on the Street obviously keeping the distance, it seems like people now have the time to talk and are much happier than normal, I saw couples walking by holding hands just nice to see. Some people were moaning but I take that with a pinch of salt so many people much worse off than most of us, in this terrible time we have to take stock of the good things in life and feel lucky we are not one of the daily statistics that are truly shocking.
MORE ENERGISED
Anyway, after a week the car was much cleaner and even better I was feeling much fitter each day I was able to do more standing or sitting polishing the various panels to 2000 grit paste, now it was starting to shine quite nicely and I still had the 3500 paste to finish before sealing to protect it for around 6 months.
I'm at the 15th day and I have yet to do the sealing coat, I have to wash the car again then clean each panel with the isopropyl alcohol again to ensure the sealant bonds to the paintwork.
ITS A WIN-WIN SITUATION
I shall update with some pictures when I'm finished in a couple of days, up to now I have done 2 things I'm proud of cleaning the car to a level I have never done before and best of all my health is at least 10 years back when I could do this. I couldn't go to the gym but to polish the car to another level and get fit at the same time is win-win for me.
Other people walking by have commented on how my car looks and a few have started on their own cars now too.  So, I thought I would post on here, a great place for car enthusiasts I hope this could give you the enjoyment it has given me.
Bye for now – keep safe – make time to talk!