Land Rover Defender 2.4tdci tuning more than just software – Defender Tuning at Viezu.
Viezu Technologies has been tuning 2.4 Land Rover Defenders for many years and gained a great reputation in doing so, alongside a complete range of other Viezu Land Rover tuning software (you can find more information on Viezu's Land Rover tuning here)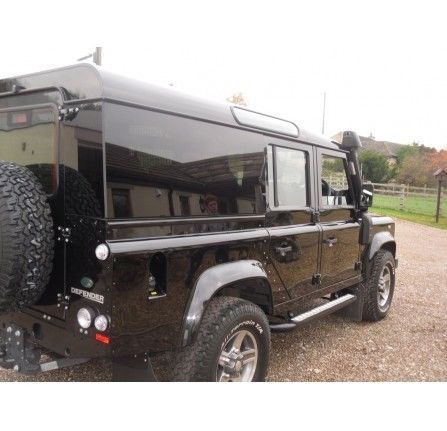 Originally introduced in 1983 as the Land Rover 110, the 2.4-litre engine was introduced in the Defender in 2007, replacing the previous Td5 engine. This engine was introduced at the same time as a number of other changes, amongst which were the dashboard layout, internal switches, and seating layout. For this particular engine, typical 2.4 Defender software tuning can increase the vehicle's performance by up to 36 BHP and 75 Nm of torque depending on the Viezu vehicle remapping option chosen.
To further enhance Viezu Defender tuning software, Viezu is now pleased to offer a range of parts upgrades allowing you to completely customise your 2.4 Defender. Custom styling and fabrication for your 2.4 Defender couldn't be easier with a snorkel, a different grill, or the addition of some checker plates and side strip upgrades, while the performance offered by Viezu's software can be complemented with Viezu's range of performance part upgrades including custom exhausts, uprated intercooler and a range of wheel upgrades. Take a look to see what improvements a Viezu 2.4 Land Rover Defender remap can offer. You can also check out our latest videos and keep up to date with our latest Land Rover tuning (amongst others!) on our Facebook or search @ViezuinternationalHQ
Land Rover Defender performance parts are available by mail order and for fitting at the Viezu workshop, defender tuning can be carried out by Viezu and a network of installers