Lamborghini Tuning and ECU Remapping Specialists   
Lamborghini Tuning and ECU Remapping  Specialists : Boost your power, your torque, and your pulling power with a custom and bespoke VIEZU Lamborghini engine remap.
Specialists in Lamborghini tuning. With VIEZU Lamborghini performance upgrades, you'll get smooth acceleration and progressive power from the mid-range to the end of the power band.  Throughout the midrange and top end, the smooth climb accumulating epic power. A Lamborghini engine remap never disappoints and always surprises Lamborghini drivers with just how much power the engine has hidden.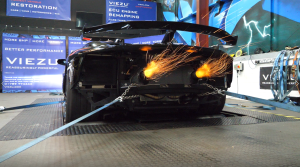 Lamborghini Tuning with VIEZU Performance Tuning
As you of course know, Lamborghini manufacture some of most luxurious supercars in the world. With state-of-the-art automotive technology, with a supercar poster look.
A Lamborghini offer that head turning, iconic almost sci-fi wedge-shaped styling that really makes them stand apart. Coupled with pure driving thrills. There really is nothing quite like firing up the engine on a stunning Italian supercar. You could think nothing could be better …..
But that's where VIEZU comes in!
If you've ever wondered if or how the driving pleasure of your Lamborghini could be taken any further, then you've come to the right place!
You can see more detail on the range of VIEZU Lamborghini services, upgrades, tuning and exhaust systems here: https://viezu.com/lamborghini-tuning-rampaging-performance/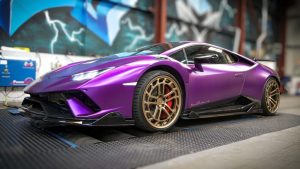 The Benefits of Tuning Your Lamborghini With VIEZU
Lamborghini owners are probably unaware just how powerful their cars ECU is. And therefore just how much data it controls. If you are looking of the next level of power, and torque, this is where the fun really starts. It's critical to correctly remap the software in order to ensure that the cars performance matches that of the drivers' expectations.
VIEZU know better than most how to release maximum performance from an engine and ECU without exceeding inherent manufacturing safe limits that are part of the mechanical components of the car!
VIEZU's tuning comes with a 30 money-back guarantee. And all VIEZU remaps are insured to give peace of mind that your Lamborghini is in safe hands.
And there is more to the VIEZU Lamborghini tuning and performance upgrades
VIEZU offer a huge range of simply stunning Lamborghini exhaust systems. Including the range of titanium Lamborghini exhaust systems from Armytrix. Each one is designed to both look, and sound absolutely stunning.  And really stand out from the crowd! Delivering deep motorsport sound while at the same time offering improved BHP and torque.
These exhausts systems not only look great, sound amazing and offer a notable power increase. They also offer a very significant weight reduction too.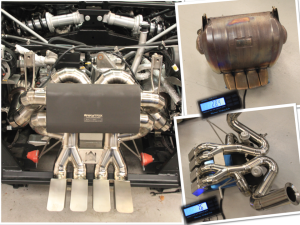 You can see some of the Lamborghini Armytrix exhaust systems here in the VIEZU shop : https://viezu.com/shop/category/exhaust-systems/armytrix/
VIEZU offer worldwide service for tuning and performance upgrades. As well as a full fitting and performance workshop in the UK. With dealers operating in over 78 countries around the world, you are never far from a VIEZU tuning expert. Our international sales also have the benefit of being tax free too.
VIEZU your Lamborghini Tuning and ECU Remapping specialists