Viezu offer a range of tuning products for the full range of Ingolstadt's finest. Offering full custom ECU remapping and engine tuning packages for both Petrol and Diesel Audi vehicles. With one of our engine maps you will see an increase in power and torque figures, improved driveability and throttle response along with an increase in fuel efficiency and reduced CO2 emissions, saving you money and helping the environment.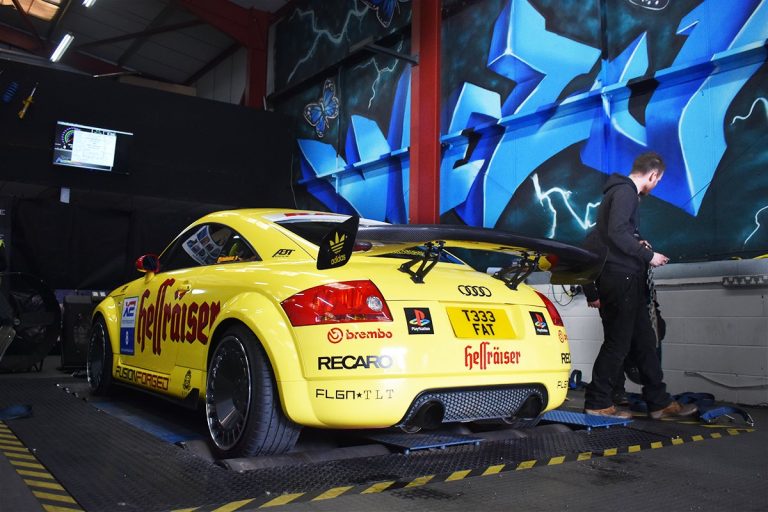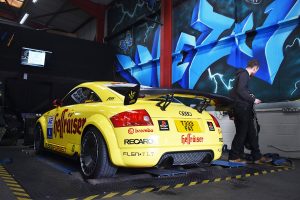 Most of the Audi tuning is carried out quickly and efficiently through the OBD connector or diagnostic port. All of our engine remaps are written with the customer in mind and a very specific engine Audi ECU remap can be written for your exact needs. All car tuning work comes with Viezu's no quibble money back guarantee and full underwritten insurance.
Audi Tuning is developed in house by our team of experts on our environmentally controlled rolling road and for many thousands of miles both in simulated and real life conditions.  Models Whether you have an A2 1.4 tdi or an R8 V10, Viezu have an option available for you. With our range of performance and economy tuning packages covering Audi's refined line of efficient cars, such as the A4, S3, A5, TT, RS6, R8, Q7 and A3 models.
For a more detailed model range along with anticipated power, torque and fuel efficiency increases, please click here: www.viezu.com/performance
Audi Tuning
Economy Tuning
Performance Tuning
Model
Fuel
Std Bhp
Gain Bhp
Gain Nm
Fuel Saving Percentage
Gain   Bhp
Gain Nm
A2 1.2 TDI
Diesel
61
8
15
15
18
30
A2 1.4 TDI
Diesel
75/90
10
22
15
30
60
A2 1.6 16V FSI
Petrol
108
N/A
N/A
N/A
8
12
A3 1.4 FSI MED 17
Petrol
125
N/A
N/A
N/A
5
12
A3 1.8 20V
Petrol
125
N/A
N/A
N/A
13
16
A3 1.8 20V TURBO
Petrol
150
N/A
N/A
N/A
40
70
A3 1.8 TFSI MED17
Petrol
160
N/A
N/A
N/A
40
80
A3 1.9 TDI
Diesel
101/105/110/130
28
60
15
40
80
A3 2.0 C.R TDI EDC 17
Diesel
140/170
28
60
15
35
80
A3 2.0 TFSI MED 17
Petrol
197
N/A
N/A
N/A
40
75
A3 2003 1.6 V FSI
Petrol
100
N/A
N/A
N/A
8
12
A3 2003 1.9 8V TDI
Diesel
90
28
60
15
40
80
A3 2003 1.9 TDI
Diesel
101/105/110/130
28
55
15
40
80
A3 2003 2.0 16V FSI
Petrol
147
N/A
N/A
N/A
10
12
A3 2003 2.0 16V TDI
Diesel
140/170
28
60
15
40
85
A3 2003 2.0 16V TFSI
Petrol
197
N/A
N/A
N/A
40
75
A3 2003 2.0 8V TDI
Diesel
140
28
60
15
40
85
A3 2003 3.2 V6 24V
Petrol
246
N/A
N/A
N/A
24
32
A3 2007 2.0 TDI
Diesel
140/170
28
50
15
40
85
A3 3.2 V6 24V
Petrol
246
N/A
N/A
N/A
24
29
A4 1.8 20V
Petrol
125
N/A
N/A
N/A
13
16
A4 1.8 20V TURBO
Petrol
150/163/180/190
N/A
N/A
N/A
40
70
A4 1.8 TFSI MED 17
Petrol
120/160
N/A
N/A
N/A
40
75
A4 1.9 TDI
Diesel
100/110/115/130
28
60
15
40
80
A4 2.0
Petrol
128
N/A
N/A
N/A
11
16
A4 2.0 C.R TDI EDC 17
Diesel
120/140/170
28
50
15
35
80
A4 2.0 TFSI MED 17
Petrol
180/211
N/A
N/A
N/A
40
85
A4 2.4 V6
Petrol
167
N/A
N/A
N/A
15
18
A4 2.5 TDI
Diesel
150/155/160/163/180
28
60
15
40
85
A4 2.7 C.R TDI EDC 17
Diesel
187
30
55
15
35
80
A4 2.8 VR6
Petrol
193
N/A
N/A
N/A
16
25
A4 2004 1.9 8V TDI
Diesel
90
28
55
15
38
70
A4 2004 2.0
Petrol
128
N/A
N/A
N/A
15
22
A4 2004 2.0 16V FSI
Petrol
147
N/A
N/A
N/A
10
12
A4 2004 2.0 16V TDI
Diesel
140/170
28
60
15
40
85
A4 2004 2.0 16V TFSI
Petrol
197
N/A
N/A
N/A
40
85
A4 2004 2.0 8V TDI
Diesel
140/170
28
55
15
40
85
A4 2004 2.5 TDI
Diesel
150/155/160/180
28
60
15
45
90
A4 2004 2.7 V6 TDI
Diesel
187
28
60
15
50
110
A4 2004 3.0 V6 TDI
Diesel
201
28
60
15
50
110
A4 2007 1.8 TFSI
Petrol
157
N/A
N/A
N/A
40
75
A4 2007 2.0 TDI
Diesel
120/140/170
20
45
15
40
85
A4 2007 2.0 TFSI
Petrol
208
N/A
N/A
N/A
40
85
A4 2007 2.7 TDI
Diesel
190
28
50
15
50
110
A4 2007 3.0 TDI
Diesel
240
30
55
15
50
110
A4 3.0 C.R TDI EDC 17
Diesel
240
30
55
15
35
80
A4 3.0 V6
Petrol
216
N/A
N/A
N/A
22
28
A5 1.8 TFSI MED 17
Petrol
170
N/A
N/A
N/A
40
75
A5 2.0 C.R TDI EDC 17
Diesel
170
20
50
15
35
80
A5 2.0 TFSI MED 17
Petrol
180/211
N/A
N/A
N/A
40
85
A5 2.7 C.R TDI EDC 17
Diesel
190
30
55
15
35
80
A5 3.0 C.R TDI EDC 17
Diesel
240
30
55
15
35
80
A6 1.8 20V
Petrol
125
N/A
N/A
N/A
13
16
A6 1.8 20V TURBO
Petrol
150/163/180/190
N/A
N/A
N/A
40
70
A6 1.9 TDI
Diesel
110/115/130
28
60
15
40
80
A6 2.0
Petrol
128
N/A
N/A
N/A
15
22
A6 2.0 C.R  TDI EDC 17
Diesel
136
28
50
15
35
80
A6 2.4
Petrol
174
N/A
N/A
N/A
17
23
A6 2.5 TDI
Diesel
150/155/163/180
28
60
15
45
90
A6 2.7 V6 BITURBO
Petrol
250
N/A
N/A
N/A
50
100
A6 2.8 VR6
Petrol
193
N/A
N/A
N/A
16
25
A6 2004 1.9 8V TDI
Diesel
105
28
60
15
38
70
A6 2004 2.0 16V TDI
Diesel
140
28
60
15
40
85
A6 2004 2.0 16V TFSI
Petrol
167
N/A
N/A
N/A
40
85
A6 2004 2.7 V6 TDI
Diesel
178
28
60
15
50
110
A6 2004 3.0 V6 TDI
Diesel
230
28
60
15
50
110
A6 2004 4.2 V8
Petrol
330
N/A
N/A
N/A
28
40
A6 3.0 V6
Petrol
216
N/A
N/A
N/A
22
28
A6 3.0 TFSI
Petrol
290
N/A
N/A
N/A
40
85
A6 3.2 V6 FSI
Petrol
252
N/A
N/A
N/A
28
40
A6 4.2 V8 40V
Petrol
300
N/A
N/A
N/A
28
40
A8 2.5 TDI
Diesel
150/155/163/180
28
60
15
45
90
A8 2.8 V6
Petrol
193
N/A
N/A
N/A
17
23
A8 2004 4.2 V8 40V
Petrol
330
N/A
N/A
N/A
28
40
A8 3.0 V6 TDI
Diesel
230
28
60
15
50
110
A8 3.2 V6 FSI
Petrol
252
N/A
N/A
N/A
28
40
A8 3.7 V8 40V
Petrol
230/260
N/A
N/A
N/A
22
35
A8 4.0 TDI
Diesel
321
28
60
15
45
110
A8 4.2 V8 40V
Petrol
310
N/A
N/A
N/A
28
40
A8 4.2 V8 TDI
Diesel
322
28
60
15
50
120
A8 6.0 W12
Petrol
444
N/A
N/A
N/A
32
50
ALLROAD 2.5 TDI
Diesel
163/180
28
60
15
45
90
ALLROAD 2.7 V6 BITURBO
Petrol
246
N/A
N/A
N/A
50
100
ALLROAD 2.7 V6 TDI
Diesel
180
28
60
15
50
110
ALLROAD 3.0 V6 TDI
Diesel
233
28
60
15
50
110
ALLROAD 4.2 V8 40V
Petrol
295/345/295
N/A
N/A
N/A
28
40
Q5 2.0 C.R TDI EDC 17
Diesel
140/170
28
50
15
35
80
Q5 2.0 TFSI MED 17
Petrol
211
N/A
N/A
N/A
40
85
Q5 3.0 C.R TDI EDC 17
Diesel
240
28
50
15
35
80
Q7 3.0 TDI
Diesel
230
28
60
15
50
110
Q7 3.6 V6 FSI
Petrol
280
N/A
N/A
N/A
24
35
Q7 4.2 V8 32V FSI
Petrol
345
N/A
N/A
N/A
28
40
Q7 6.0 TDI
Diesel
500
30
60
15
48
130
Q7 V6 3.0 TDI
Diesel
229
28
60
15
50
110
Q7 V8 4.2 TDI
Diesel
321
28
60
15
50
120
R8 4.2 V8 32V FSI
Petrol
410
N/A
N/A
N/A
28
40
R8 5.2 V10 FSI
Petrol
518
N/A
N/A
N/A
32
55
RS4 2.7 V6 BITURBO
Petrol
380
N/A
N/A
N/A
50
110
RS4 2006 4.2 V8 FSI
Petrol
410
N/A
N/A
N/A
30
45
RS6 2006 5.0 V10 TFSI
Petrol
580
N/A
N/A
N/A
75
120
RS6 4.2 V8 40V
Petrol
443
N/A
N/A
N/A
28
40
S3 1.8 20V TURBO
Petrol
210
N/A
N/A
N/A
40
70
S3 2006 2.0 16V TFSI
Petrol
265
N/A
N/A
N/A
40
75
S4 2.7 V6 BITURBO
Petrol
265
N/A
N/A
N/A
50
100
S4 2006 4.2 V8
Petrol
344
N/A
N/A
N/A
28
40
S4 4.2 V8 40V
Petrol
339
N/A
N/A
N/A
28
40
S5 4.2 V8 FSI
Petrol
348
N/A
N/A
N/A
28
40
S6 2.7 TURBO
Petrol
250
N/A
N/A
N/A
45
100
S6 2006 5.0 V10 TFSI
Petrol
429
N/A
N/A
N/A
75
120
S6 4.2 V8 40V
Petrol
335
N/A
N/A
N/A
28
40
S6 5.2 V10 FSI
Petrol
435
N/A
N/A
N/A
32
55
S8 4.2 V8 40V
Petrol
360
N/A
N/A
N/A
28
40
S8 5.0 V10 TFSI
Petrol
443
N/A
N/A
N/A
75
120
S8 5.2 V10
Petrol
518
N/A
N/A
N/A
32
55
TT  2.0 16V TFSI
Petrol
197
N/A
N/A
N/A
40
85
TT 1.8 20V TURBO
Petrol
150/163/180/190/225/240
N/A
N/A
N/A
40
75
TT 1.8 TFSI MED 17
Petrol
160
N/A
N/A
N/A
40
75
TT 2.0 C.R TDI EDC 17
Diesel
170
28
55
15
35
80
TT 2006 3.2 V6 24V
Petrol
246
N/A
N/A
N/A
18
25
TT 3.2 V6
Petrol
246
N/A
N/A
N/A
18
25
TTRS 2.5 TFSI
Petrol
335
N/A
N/A
N/A
44
95
TTS 2.0 TFSI
Petrol
268
N/A
N/A
N/A
40
85
Whatever your Audi tuning and engine performance requirements the Viezu team and our worldwide dealer network are here to help. Please contact us with and let us know how we can be of assistance, see us on our website at www.viezu.com, Tel +44 (0) 1527 579345, or E-mail us at  info@viezu.com