Audi RS6 Performance Tuning and Remapping at Viezu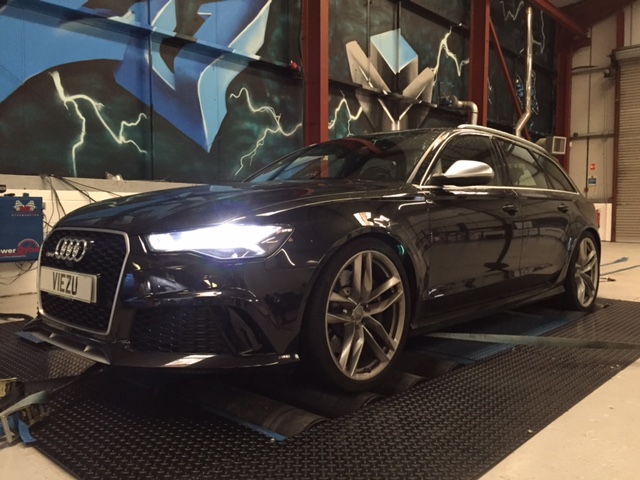 Audi RS6 performance tuning and remapping has been taking place at Viezu Technologies this week. Viezu was in the exciting and privileged position of having an Audi RS6 in its Midlands workshop for some dyno work and fine-tuning to gain even more power out of its already powerful engine.
As the latest in a long line of superfast Audi estates, the Audi RS6 already has style and family-friendly practicality on its side but under the bonnet its performance is astounding. This supercar was brought in to Viezu's workshop for an Audi RS6 performance remap to boost its power and performance even further. The Audi RS6 was put on Viezu's Mustang dynamometer where it was data-logged with fuel and turbo boost pressure, as well as many other parameters measured, prior to the ECU being removed from the vehicle for the data to be read. A performance remap was uploaded on to the ECU before it was reinstalled in the Audi RS6, and then it was put back on the dyno to check boost pressures and fuelling, as well as many other aspects of the engine performance to make sure the car was responding as intended.
The Audi RS6 already delivers 554bhp from stock but the Viezu Audi RS6 performance remap enables it to offer more than 100bhp extra at the flywheel with 170nm increase in torque, and taking its top speed to over 200mph. The Audi RS6 performance remap makes this car even more fun to drive, with the driver commenting that 'the power delivery is brutal' on his drive home, with its amazing 667bhp.
Viezu very much enjoys the opportunity to research and develop performance ECU remaps for vehicles, with the technology and employee skills at its state-of-the-art workshop to really boost the performance of the engines, while analysing and optimising their performance.
To find out more about Audi performance ECU remapping and engine tuning, and how you can get even more power and performance from your Audi, call Viezu now on 01789 774444, email info@viezu.com or visit www.viezu.com for information about all Viezu's products and services.