Car Tuning Files – A Guide to the best quality files  and How to Purchase Them
Car Tuning Files and ECU Remapping Files
Car Tuning Files and ECU Remapping Files. VIEZU has been developing high-quality car tuning files for hundreds of specialist tuners around the world. We have an international network of over 1000 installers using or dyno developed tuning files for over 5,000 vehicle types. This means that there is likely to be a suitable car tuning file for your vehicle/s of choice.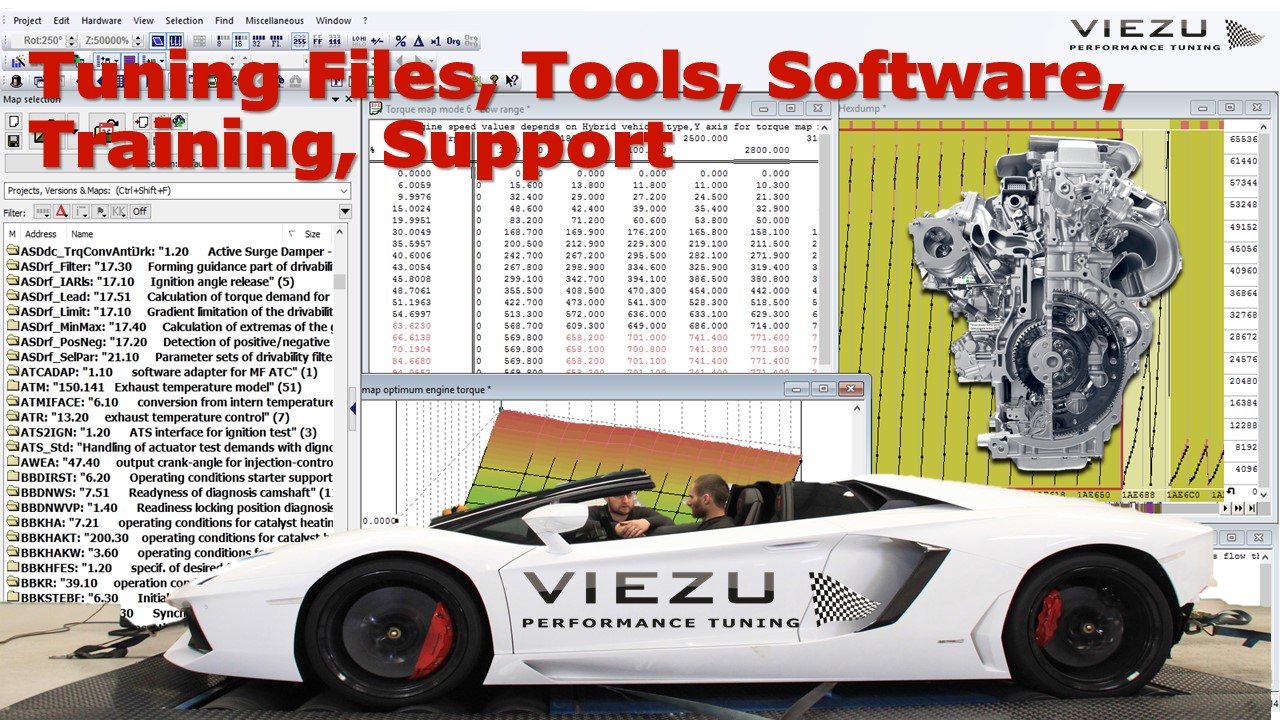 What is a car tuning file?
Put simply, a car tuning file is one that contains data that manipulates the engine's performance via its engine control unit (ECU). At VIEZU, our highly-skilled team write and develop all our tuning software in-house. We supply our tuning software to expert tuners and installers all over the world 7 days a week. The ECU contains information that is designed to control how a car operates. From horsepower and torque at specific RPMs to fuel efficiency, tuning files affect your engine's power and performance. VIEZU write specific software that is compatible with a range of car brands, such as BMW, Range Rover, Volkswagen, Mercedes, Audi and many more.
How are car tuning files developed?
The VIEZU car tuning files are developed by experienced members of team VIEZU using our state-of-the-art research, development and measurement facilities. Our car tuning files start at just £35 and tuners can purchase files in great value bundles if it suits their requirements.
Where can I find car tuning files?
If you are a master operator, you can buy tuning files and original ECU files here: https://viezu-master-files.com and you can see more of the custom tuning file service here: https://viezu.com/tuning-files
You can also register for live technical support and tuning files 24/7 at the e-mail address info@viezu.com The VIEZU file service allows tuners access to thousands of tuning files all day, every day.
What is the Automated File Dispatch Service, and how does it work?
It's easy – you can upload your original file, and the VIEZU Automated File Dispatch Service will decode your file, check your vehicle details and ECU type before locating a selection of modified files to choose from. We appreciate that we may not always have the correct tuning file available instantly, but tune files can be requested and created 24 hours a day, 7 days a week.
If you can locate your desired tuning file, you will be taken to our payment screen, where you can fill out the required details for purchase. Once payment has been confirmed, you will be taken to the download page which will automatically download your requested tuning file. Don't worry – you will only pay for the tuning files that you successfully download.
What happens if the file that I want is not available?
If a file cannot be completed for whatever reason, or you require support from the VIEZU technical team, an email can be automatically generated and sent to desk@viezu.com. This means that you can sit back and relax, as team VIEZU will be working to create your desired file. We will let you know when your file is ready; this takes an hour during normal working hours.
What should I do if I need further assistance?
If you need assistance, please do not hesitate to contact our friendly team who can help you through the process. To contact us, info@viezu.com, call us on +44 (0)1789 774444 or email us at info@viezu.com and we'll be in touch shortly to help you.
To find out more about our car tuning file services, please drop us an email, the team are on hand to help
---
To make an enquiry about Tuning and Remapping your vehicle, please complete the form below and one of our trained engineers will supply you with a quote