Tool Licenses Now Available on Subscription Plans
Manage your investment and keep Tuning tools in license – the annual fee comes around quickly & not always at the right time. VIEZUs payments plans can help.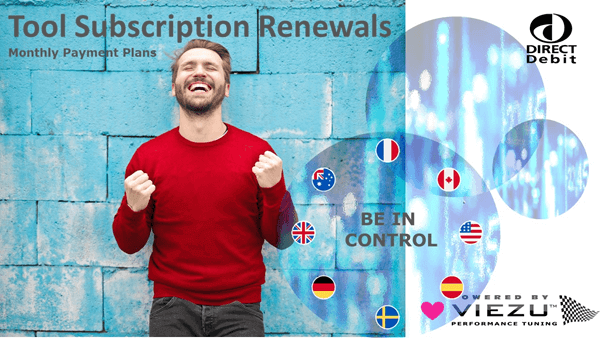 Tool License Renewal Fixed Monthly Payment Plans
Smaller Monthly Payments To Keep Your Working Tools Up To Date
Simplify paying for tool subscription renewals and files with monthly payment plans.
Keep control of your cash and workflow with low-cost File Key Credits and a Tool that is fully up to date with its license – ensure you are ready to tune the latest release vehicles. Increase profitability and profit-making opportunities.
This Tool License Renewal Monthly Payment Plan is also available internationally – no matter where you are in the world, provided your bank supports the Direct Debit scheme.  Take advantage of having low-cost monthly payments – giving you the competitive edge.
You In Control
Unlike other Companies, VIEZU will allow you to cancel your payment plan at any time, and we will not charge your bank or card without your permission – guaranteed or your money back in full.
Terms and Conditions apply, please contact your Dealer Account Manager – email info@viezu.com for details.
Flexible Plans You Can Use To Upgrade Protocols
Thinking of upgrading your tool protocols as part of renewing your annual license – let us support you with that too.
Pay 12 monthly payments for the new protocols you require and at the end of the 12 months receive your activation.