Nissan GT-R 35 IPE Exhaust System: The mighty Nissan Skyline GTR 35 is a car that demands respect. A 500hp 4-wheel drive technological masterpiece straight out of Japan.
But with such immense power, handling and all round driveability, the car struggles to stand out from the crowd when it comes to road presence and overall sound quality from the stock OEM exhaust.
Nissan GT-R 35 IPE Exhaust System
With the IPE exhaust system including Y pipe / secondary cat bypass / mid link pipe and rear mufflers, the GTR 35 is transformed from middle-of-the-road sounding saloon, into a fire breathing monster straight out of the land of the rising sun with a roar that could put Godzilla to shame. 
But with this exhaust system you get more than just an amazing sound improvement from the exhaust, you also get the ability to control the exhaust note from inside the car, with the amazing Valvetronic system from IPE. This allows three distinct modes:
CLOSED – for subtle refined driving when you are looking for a lower profile when driving
OPEN – for the full sound quality from exhaust right from idle to the RPM limiter
AUTO –  in this mode the Valvetronic system adjusts automatically in relation to the RPM and throttle load.
Nissan GT-R 35 IPE Exhaust System Images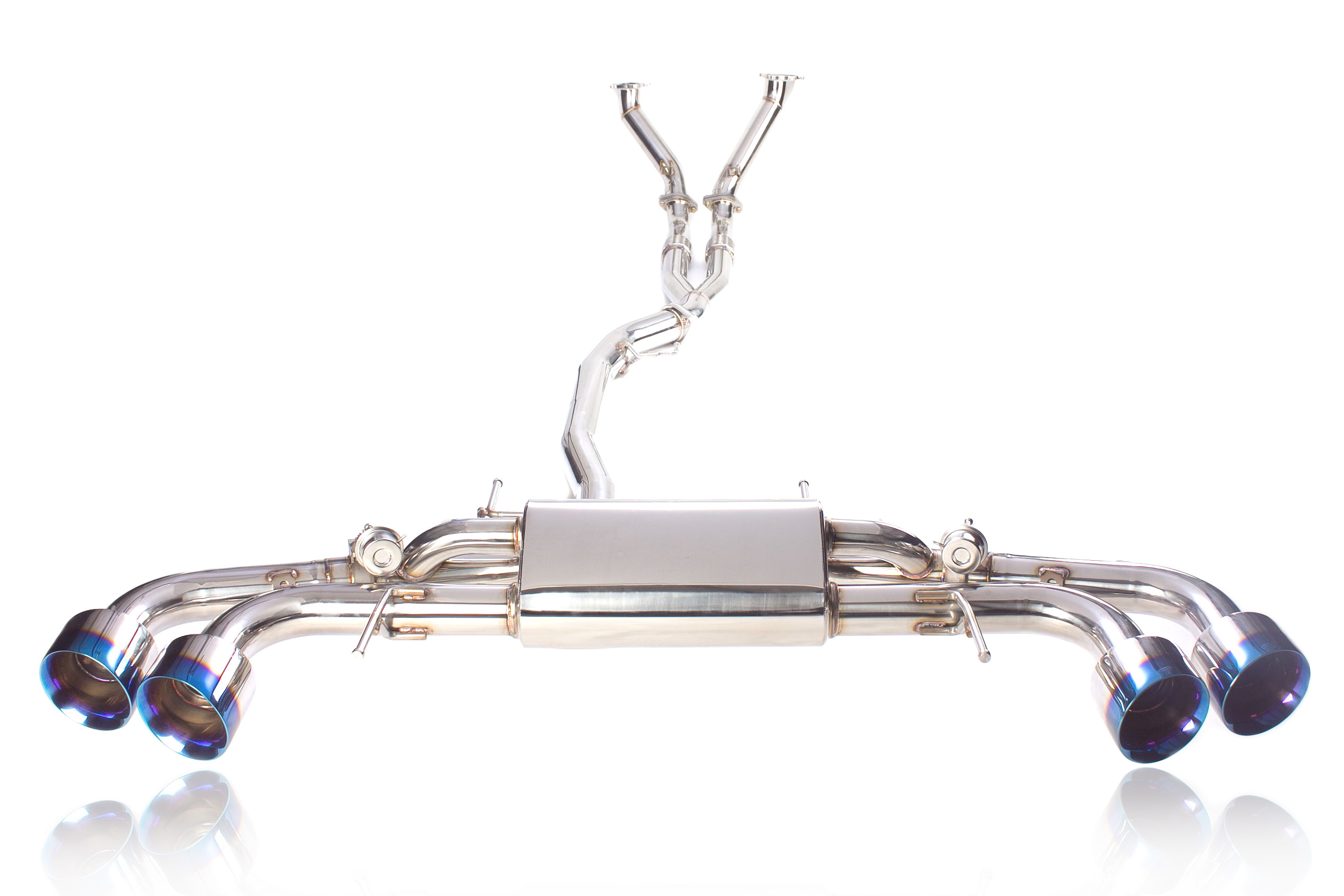 Close Up – Full System – GT-R R35
| | | | |
| --- | --- | --- | --- |
| | | | |
| Cat Bypass | Y-Link Pipe | Mid-Link Pipe | Back Box & Tail Pipes |
Nissan GT-R 35 IPE Exhaust System Videos
Nissan GT-R 35 IPE Exhaust System Prices
Nissan GT-R 35 IPE Exhaust System

R35

4×100 mm (Round Split)

Nissan GT-R 35 IPE Exhaust System  Full System incl. Down Pipes with Cat-Bypass, Y Pipe, Mid Pipe, Valvetronic Muffler, Remote Control Module & Tips

T304 Stainless Steel

£5,495.00

4×100 mm (Round Split)

Nissan GT-R 35 IPE Exhaust System  Cat-Back System incl. Y Pipe, Mid Pipe, Valvetronic Muffler, Remote Control Module & Tips

T304 Stainless Steel

£4,375.00

4×100 mm (Round Split)

Nissan GT-R 35 IPE Exhaust System  Valvetronic Muffler incl. Mid Pipe, Remote Control Module & Tips

T304 Stainless Steel

£3,495.00

4×100 mm (Round Split)

Nissan GT-R 35 IPE Exhaust System  Full System incl. Down Pipes with Cat-Bypass, 90 mm Y Pipe, 90 mm Mid Pipe, Valvetronic Muffler, Remote Control Module & Tips

T304 Stainless Steel

£5,695.00

4×100 mm (Round Split)

Nissan GT-R 35 IPE Exhaust System  Cat-Back System incl. 90 mm, Y Pipe, 90mm, Mid Pipe, Valvetronic Muffler, Remote Control Module & Tips

T304 Stainless Steel

£4,545.00
Nissan GT-R 35 IPE Exhaust System available mail order, (tax free subject to loaction) and full UK fitting service
For more information or for best prices call: Viezu Performance Tuning +44 (0)1789 77 44 44 – or complete the form below