With an iPE Innotech Performance Exhaust system fitted to the Porsche 970 Panamera Turbo 4.8L, it produces an outstanding and aggressive sound that can easily be switched to a comfortably quiet cruise when desired.
C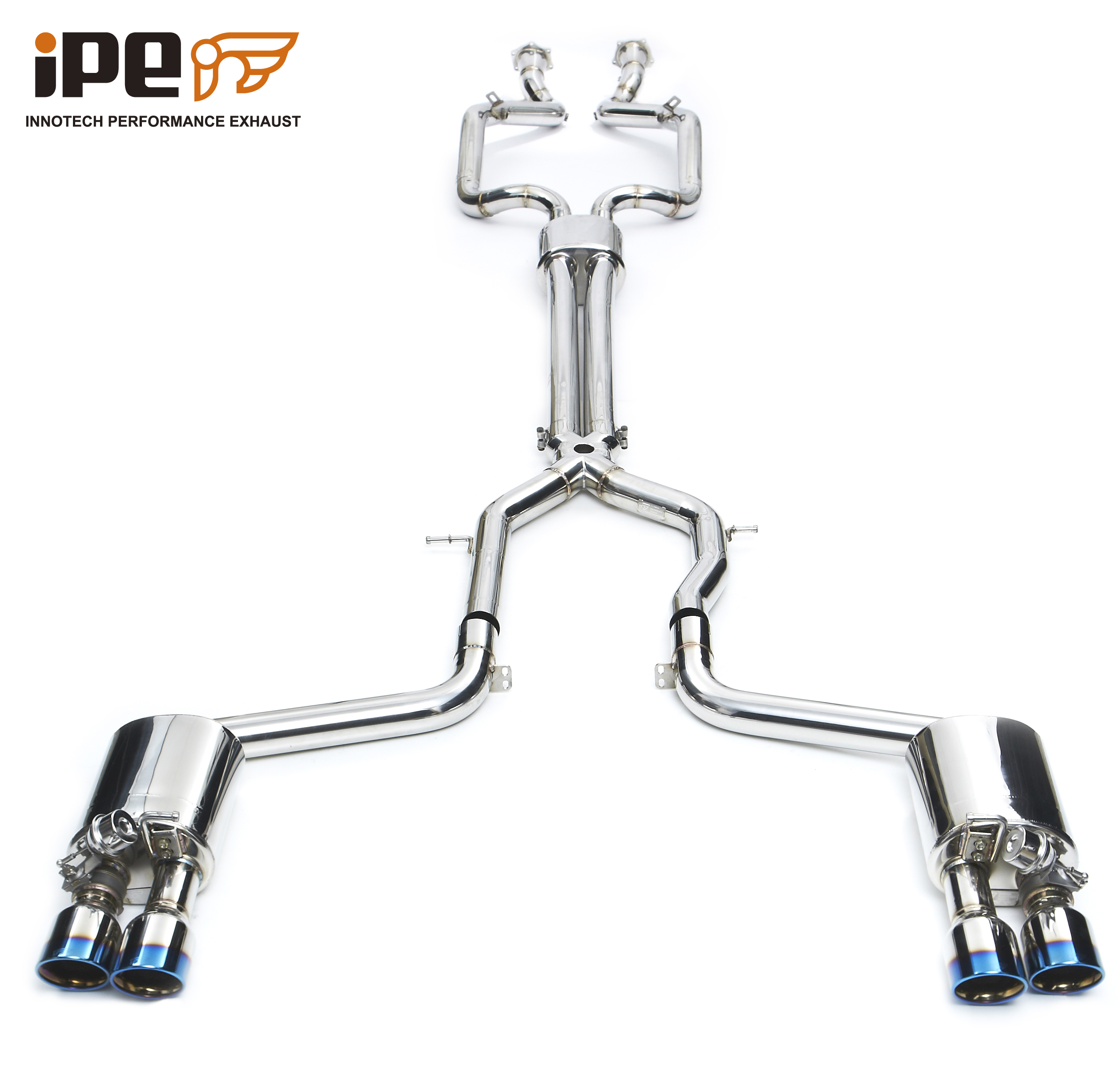 Close Up – Full system inc.Cat pipe, link pipe, Valvetronic muffler, remote control module, non-removable chrome polished tips – 970 Panamera Turbo
| | | |
| --- | --- | --- |
| | | |
| Cat-Bypass | Mid-Pipe | Valvetronic Mufflers |
The Valvetronic exhaust system delivers both power and dynamic valve control to the driver. The full system comes with a remote control module that offers three different modes: on, off, and automatic. When the valves are open in the on position, maximum flow and power is released, creating a stunning, sporting sound with an incomparable clean tone, especially when accelerating. The valves in off mode are closed, and the volume is reduced to make cruises more comfortable. Using the auto mode, the system can know when the engine is running at a certain rpm and to adjust the valve movements accordingly for a dynamic driving experience.
Designed to fit perfectly on the Porsche 970 Panamera Turbo 4.8L, the IPE Porsche Panamera Turbo Exhaust goes beyond the limitations of the stock exhaust, so performance, sound, and driving pleasure can be enhanced significantly.
Prices
Turbo/Turbo S

4×83 mm (Round Split)

IPE 970 Panamera Turbo Exhaust Full System incl. Cat-Pipes with Cat-Bypass, Mid Pipe, Valvetronic Muffler, Remote Control Module & Tips

T304 Stainless Steel

£6,895.00

4×83 mm (Round Split)

Cat-Back System incl. Mid Pipe, Valvetronic Muffler, Remote Control Module & Tips

T304 Stainless Steel

£4,895.00

Facelift 4S 3.0T

4×83 mm (Round Split)

Cat-Back System incl. Mid Pipe, Valvetronic Muffler, Remote Control Module & Tips

T304 Stainless Steel

£4,195.00