Toyota Tuning and Toyota Remapping were long seen as the holy grail,
Toyota tuning was possible but normally only by removing or bypassing the factor ECU with an aftermarket alternative, making Toyota tuning expensive and time-consuming, but that has all changed now, OE ECU Toyota tuning and remapping is now available, so tuning can be conducted on the vehicles own and original ECU – cheaper, quicker and giving access to map changes and tuning I harmony with the vehicles original settings.
OE Toyota ECU tuning first came with the Toyota GT86 tuning, but now nearly the full range of Toyota vehicles can be tuned. At Viezu, we take tuning very seriously, and so much research and development have been done to develop our range of Toyota tuning services and software.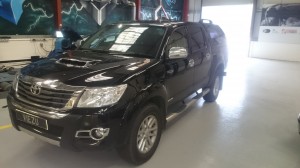 If you want to enhance your Toyota's performance, complete the enquiry form below, and we will contact you to discuss your needs further.