Lamborghini Aventador LP 700 tuning at Viezu 
Custom Lamborghini Aventador tuning and ecu remapping on teh dyno at Viezu
Lamborghini Aventador LP 700 tuning at Viezu Tunings is great fun, and something we at Viezu have a real passion for, we always get excited to have a car on the dyno, there is no exception even after the hundreds and hundreds of cars we have tuned, its always good to hear a car power up on the dyno, but then the are cars and there are CARS! And the Lamborghini Aventador is certainly the later. As far as we know this is the first Lamborghini Aventador tuning and ecu remapping undertaken anywhere – so it's another world first for Viezu.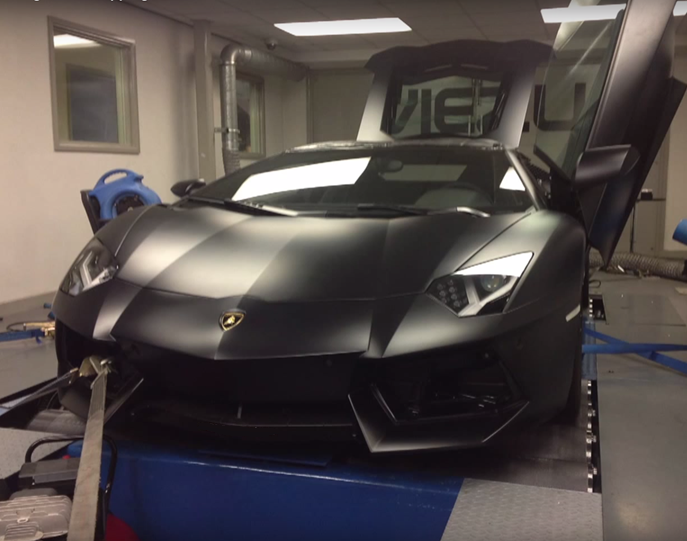 The lines of the Lamborghini Aventador are so striking, sure we have seen them before, but the Lamborghini Aventador dominates the dyno room at Viezu HQ as she is loaded in, this is a seriously huge car and it has so much presents. As the dyno loads up with the Aventador the foundation of the building are shaking, she is pulling some up good power and bang on the Lamborghini claim, but now its Viezu time. First to go is the 155mph speed limiter, it feels supersonic in the confinement of the Viezu dyno room, all cooling, fans and extraction are running, and as the power and speed grow there is nothing else to compare it to than an a jumbo jet engine full pelt inside a small room with no windows, its amazing!
Now the speed limiter is discarded the Lamborghini Aventador runs a sweet and uninterrupted 230mph on the dyno. We can't think of anything to run these numbers before. Once additional restrictors are removed and the Lamborghini Aventador tuning is completed the power is up a significant 62bhp, and now tops out at a very respectable 762bhp.
If you are looking for cat tuning and ecu remapping Viezu can help, we now have over 375 branches operating in over 37 different countries, we also have mail order tuning options, parts and tuning, please mail us at info@viezu.com, or seethe Viezu website for all your tuning and ecu remapping requirements, be it for your Lamborghini Aventador, or whatever else you drive – you're in safe, experienced hands at Viezu.