BMW M3 Brake Upgrade and tuning from Viezu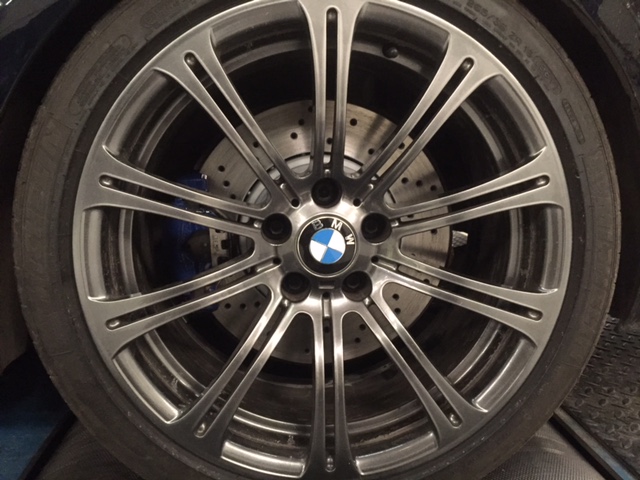 BMW M3 Big Brake Upgrade – if you're going to go faster, you want to make sure you can stop too!  With an already highly tuned engine from the factory, Viezu delivers an additional 17bhp at the wheels and an extra 18nm torque to the BMW M3, increasing its mid-range pull, power and smoothness of the ride.
Complementing the remap – if a car is going to go faster you need to be confident in the braking system, a big brake upgrade was completed to ensure the car's safety.  Viezu undertakes this work at its HQ in Warwickshire. Brake discs were replaced with genuine BMW parts and Brembo pads, offering outstanding performance thanks to a specific friction material that ensures constant friction at all temperature ranges.
Braided brake lines were added, providing superior protection from roadway debris, reducing expansion during pressurisation and adding that 'race-car' look, while improving the brake-pedal feel making it firmer and more responsive.
The brake fluid was also treated to a full fluid flush to replace the hydraulic fluid, removing impurities from the brake system which cause rust and compromise the effectiveness of the braking system.
In addition to the BMW M3 brake system upgrade, a performance K & N panel filter was installed.  Designed to increase horsepower and acceleration as well as provide excellent filtration for a long engine life, the panel filter allows as much air into the engine as possible. This creates more efficient fuel-burn and boosts the engine's performance, really enhancing the performance ECU remap and engine tuning.
Viezu has a fully equipped workshop, from which we carry out performance upgrades, including wheels and exhaust systems, brake upgrades, supercharger and pulley upgrades, as well as ECU tuning and remapping.
To find out more about how Viezu can upgrade the brakes on your car, replace the wheels, exhaust system or any other modifications, as well as our ECU remapping services, please contact +44 (0)1789 774444, email info@viezu.com or visit our website for more information.