Date Added: 29/06/2017
Announcing the launch of our new website - viezu.com
We're excited to share our new and refreshed website. It went live on 29th June 2017 and includes some changes to navigation and dropdown menus. We've taken full advantage of the growing trend in both mobile and desktop web site viewing too.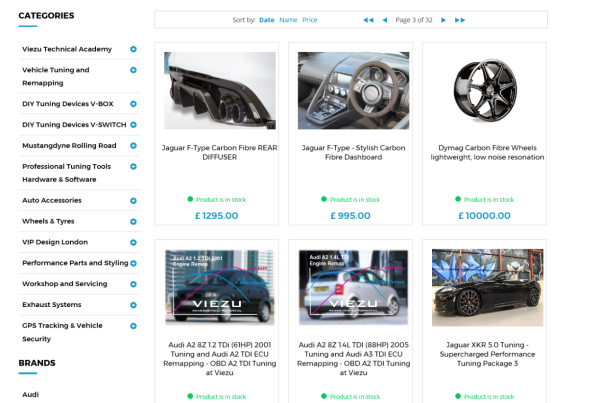 The new Homepage has a Featured Product section so you can quickly see what's new, hot and trending in the automotive tuning and styling scene. It will be regularly updated so visit often!
We've also improved access to the Viezu Shop and the presentation of our products and services, so you'll get more from a quick read and also see suggested products and products that have been frequently purchased together.
Amongst the many new web site features, the new shop contains integrated social media buttons for Facebook, Twitter and LinkedIn to foster improved communication and share the joy.
There's a whole host of smaller and impactful changes too, all to make your experience of the Viezu site that much better.
- The vehicle look up facility has a smart new power gains graph
- You can now Book at Viezu HQ for your remap, service, repairs or performance upgrade needs.
- We can also take bookings for your nearest Viezu Approved Dealer and we will manage your appointment with the Dealer to meet your convenience.
- We've also introduced a Customer Services Desk so you can receive a ticket ID and know someone is looking at and working with your enquiry
- You can also register on the web site to receive the latest news and auto-industry information
Our goal with this new website is to provide our visitors an easier way to learn about Viezu's products, services and fuel saving solutions and also to allow visitors the ability to find Viezu Approved Dealers and contact us more easily.
We will be constantly updating our content with information we hope you will find helpful, including blogs, newsletters, projects, company announcements and client successes in the customer testimonials section.
We hope you find the new website fresh and modern; we worked hard to make sure it contains valuable information to assist you with vehicle styling and tuning needs.
For any questions, suggestions, feedback or comments, please E-mail us at info@viezu.com
Thank You! And we hope you enjoy our new site!