MERCEDES PERFORMANCE UPGRADES BY MERCEDES TUNING SPECIALISTS - VIEZU
Mercedes-Benz tuning and performance upgrades from VIEZU are designed to deliver super smooth fast acceleration, building with strong power and torque through the rev range.  The increase in Mercedes-Benz performance accumulates and delivers epic power, right across the RPM range through to the top end. Enthusiastic Mercedes drivers will really feel the difference and love the new Mercedes-Benz power delivery. Both the Mercedes Diesel and Petrol engines are capable of significant gains in power up to and above 100bhp just from a software upgrade in some cases
Mercedes-Benz effortless driving pleasure and performance, VIEZU takes an already impressive Mercedes and delivers power increases capable of troubling any supercar with half the weight – just drive a VIEZU Tuned Mercedes C63 AMG with 750bhp and you will see what we mean.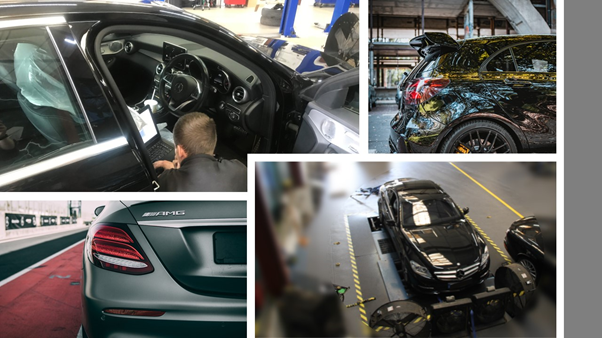 TAKE YOUR MERCEDES's PERFORMANCE UP A GEAR WITH VIEZU MERCEDES-BENZ GEARBOX TUNING
The VIEZU Mercedes-Benz fast shift control upload improves your shift-speed by up to 70%!  If you think your Mercedes-Benz paddle shift is responsive now, you need to try a VIEZU Mercedes gearbox tuning program, it is not subtle, and will have you taking up to 0.4 of a second of your ¼ mile time. Tuned Mercedes-Benz Gear changes are lighting quick.
MERCEDES PERFORMANCE PARTS PACK
A match made in heaven, your Mercedes ECU Remap, and Mercedes Gearbox tuning.  VIEZUs Mercedes-Benz performance tuning package combining Engine Ecu And Gearbox Tuning that deliver stunning perfect harmony.  And, if you are not sure, both elements come with VIEZUs 30-Day Money-Back Guarantee – we know once you feel the new power and delivery you will be grinning from ear-to-ear.  It is a real treat of a driving experience. Your Mercedes-Benz will have substantial gains in torque delivery and smoother power delivery – power gains are model dependant.
MERCEDES ENGINE TUNING SOFTWARE UPGRADE
Mercedes-Benz Epic power and performance – The power and performance gains on many of the Mercedes vehicles after tuning are not to be underestimated, gains of 40 or 50BHp are common on many Mercedes vehicles, and with the twin turbo AMG vehicles performance gains of over 120bhp and more are possible – this is game changing power, with supercar throttle response to match, and midrange pulling power with fighter jet G-Force.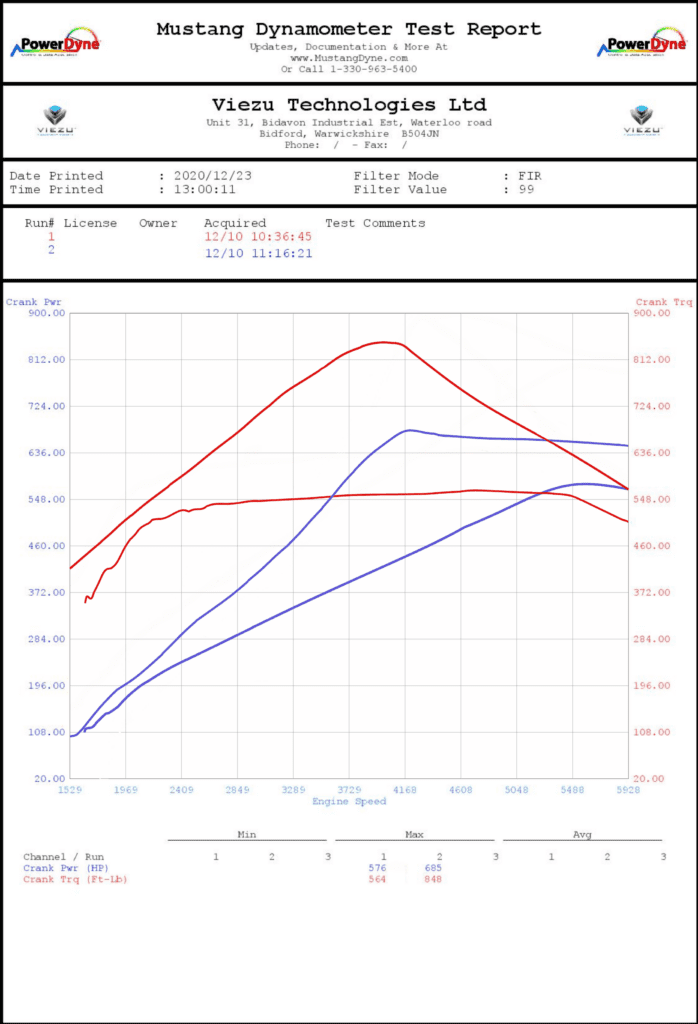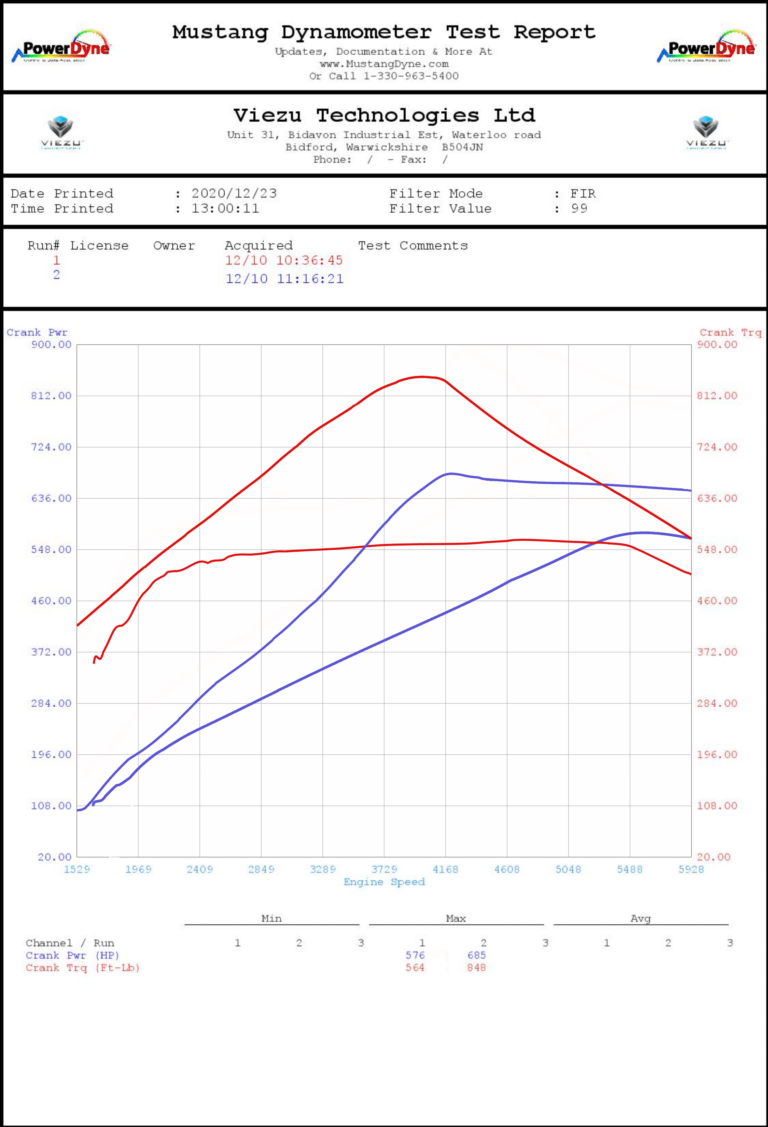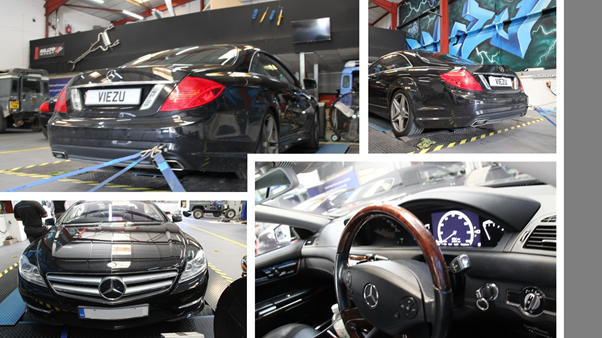 ROLLING ROAD (DYNO) TESTED
All VIEZU Mercedes-Benz hardware and software modification are fully tested and fine-tuned on VIEZU's 3000 BHP rolling road (dyno), getting you the most out of your Mercedes tuning.
MERCEDES TUNING PERFORMANCE ENHANCEMENT CONSIDERATIONS & MERCEDES-BENZ EXHUAUST SYSTEMS
In addition to a Mercedes engine tuning for both petrol and diesel engines, and VIEZUs range of Mercedes-Benz gearbox tuning, feel free to discuss a few more options to get the most out of your drive with our helpful Service Team – info@viezu.com
PERFORMANCE EXHAUST SYSTEMS FOR YOUR MERCEDES
A range of full Mercedes-Benz Exhaust Systems with Valve Control System; controlled via smartphone app, 200 Cell Exhaust Catalytic Convertors, De-Cat Pipes (with PPF delete, for off-road use only) and more are available from a range of leading suppliers.
Choosing a performance exhaust system for your Mercedes will deliver a sportier sound, less restrictive flow of exhaust gases, and increase your performance further too. Choose from stainless steel or titanium exhausts for many Mercedes models, mail order and full fitting service available.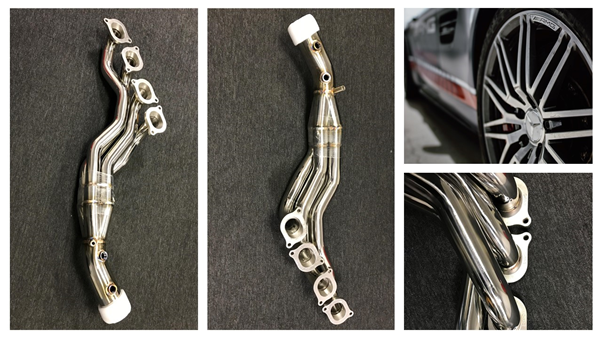 MERCEDES-BENZ EXHAUST SYSTEMS: RESONATED VS NON-RESONATED
A resonated exhaust system is the quieter of the options, the exhaust silencer boxes – are lift in the system, meaning the exhaust quieter. Have all the performance and exhaust tone, just with a mid-range sound, – ideal for keeping the neighbours happy but not for making an impressive head-turning arrival!
A non-resonated exhaust system, this will be a louder exhaust option, often deleting a silencer box altogether, and so will have more of a full-on performance exhaust tone. These Mercedes-Benz performance exhaust systems will often replace the centre silencer box with an unsilenced X pipe or H pipe, ideal those who want to make an impact when they arrive at their destination – 200 cell cats or cat delete pipes may be added too – for that full-on race roar.
If you wish to learn more about the options available for your Mercedes-Benz model – please contact our Service Team – info@viezu.com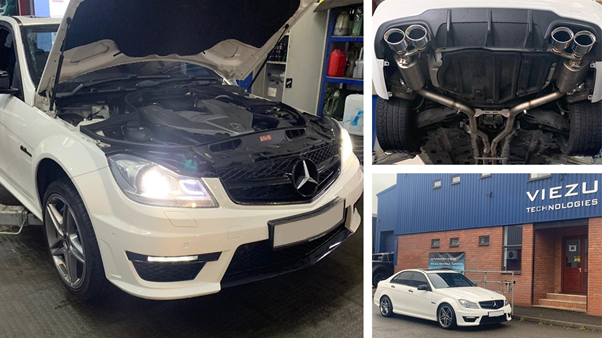 HAVE THE BEST OF EVERYTHING – APP-CONTROLLED PERFORMANCE
Both resonated and non-resonated! Acquire the best of both worlds, with a switchable app-controlled exhaust system (availability will be model dependant) Many of the sports Mercedes models can choose from a range of performance exhaust systems with active valve control, full on race loud when you want it, or with a quick tap on the app to change to a more subtle and sporty, but under cover quieter tone when you need it.
Have the power to control your exhaust sound levels from a handy mobile device app!! Ask for details and availability with the VIEZU Service Team – info@viezu.com
MERCEDES-BENZ SPEED LIMITERS
VIEZU can remove or reset your Mercedes-Benz Speed Limiter – it can be removed completely or, set to a level more in line with your own personal preferences, great for the Autobahn, or the racetrack.
BREATHE EASY
Mercedes-Benz Performance Air Filters – High Performance Air Filters can be fitted to boost your vehicle's performance further and here's why…
Why have a performance air filter at all? – On the surface, you may think a performance air filters will not offer very much. However, when tuning a turbo charged or super-charged Mercedes-Benz, you need to pull in as much air as possible – remember your school-days chemistry classes about stoichiometric ratios! It simply means you get so much more from a Mercedes-Benz Engine Remap with greater air intake afforded by a performance air filter – the air: fuel ratio delivering perfect results.
VIEZUs KNOWLEDGABLE TEAM
It's not what you know ……it's who you know, your Mercedes deserves the very best. You can trust VIEZU's excellent reputation for Customer Service to deliver your exacting requirements.
VIEZU can help you create your own bespoke Mercedes Tuning Parts package – please contact our Service Team – info@viezu.com to find out what we can do for your Mercedes or simply check our lookup for your vehicle.
EXPEREINCED TEAM VIEZU
There are multiple options available to you to achieve the results you want from your Mercedes, be it a Diesel or Petrol, an A Class, or AMG GT. The VIEZU Service Team is highly experienced and able to share their expert advice and recommendations.