2019 RANGE ROVER SVR TUNING CONVERSION
The Range Rover SVR is, in our opinion, the Daddy of the Range Rover Family, or is that the Hooligan? Lol!
Either way, it's a bit of a beast and VIEZU has found more room to squeeze out a significant bit of extra performance & enhance its tone.  In fact, VIEZU has developed some Range Rover SVR tuning & exhaust upgrades to blow your mind!  Just when you thought the SVR could not be any better…
I. AM. STORM.
This extraordinary conversion sees this 2019 Range Rover SVR transform into a roaring beast on the road, with tailormade engine & ECU modifications, all available fully fitted at VIEZU HQ in Warwickshire, UK.
Hear the Thunderstorm rumble:
MISSION: THUNDERSTORM
Range Rover SVR Tuning
Uprated pulley for stronger power and torque
Sports Performance Exhaust for a deeper tone and a bit of rumble (STORMing!)
The above, enhanced with an optimized with VIEZU's Signature Performance Tuning, all tailored to the modifications installed.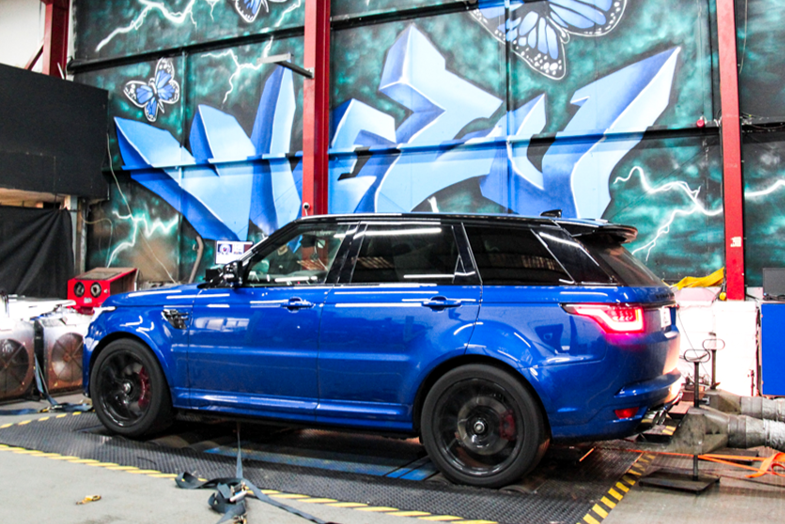 ANALYSIS AND BENCHMARKING…
Pre-Vehicle Checks
Before VIEZU Tech. tunes any vehicle, it's important to understand the vehicles current condition and health. A free health check is performed on every vehicle – even brand-new ones!
Team VIEZU will run your vehicle on the dyno to get benchmark performance figures – BHP & Torque, and a sound test to measure decibels on the original exhaust system to be compared to the after- results later.
BEFORE DATA
This SVR put out a respectable 561 BHP, and 714 NM, and the exhaust resonation test came back at 94 Decibels… Great results, and can be greatly improved….
UPGRADING THE STORM – TIME TO HUNKER DOWN
The Range Rover SVR took to the ramps – the first job, to bring the thunder… removing the original exhaust, and installing the upgraded exhaust system. VIEZU fitted this stunning high-grade, custom made, Range Rover SVR exhaust system..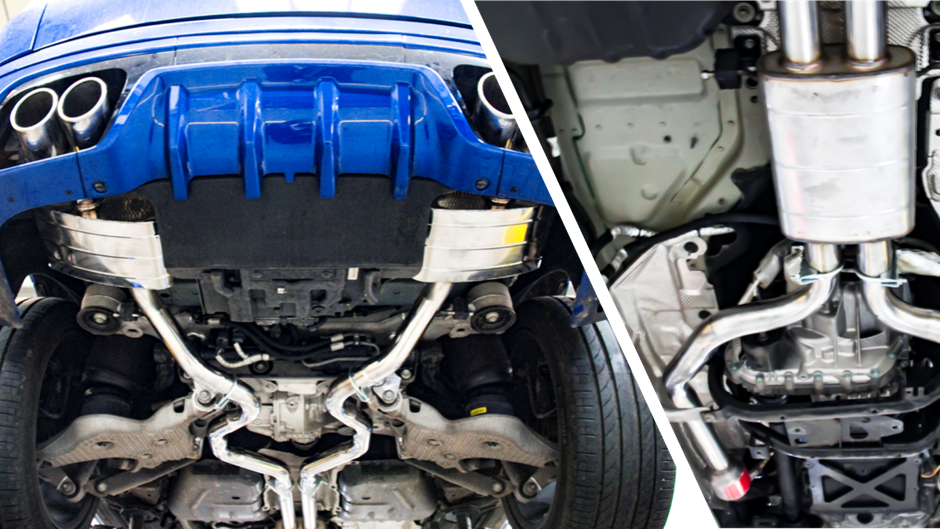 Now, it's time to add whirlwind performance– starting with upgrading the supercharger pulley and developing a fiery tune for the Range Rover SVR to compliment both the pulley and thunderous exhaust tone. Check out the results below……
AFTER DATA
RESULTS – METEOROLOGICAL CHANGES
Once the full conversion is applied – it's time to put it to the test… H-e-l-l-o-w Dyno… Meet STORM!
This Range Rover SVR Tuning put out a respectable 637 BHP, up from 561 BHP, and 816 NM, from 714 NM – that's more torque than a Bentley Continental GT (6.0 W12 biturbo)!!
The sound test came back with a throaty, deep, thunderous, 103 decibels – which is just what the doctor ordered!
VIEZU QUALITY MATTERS – Team VIEZU will re-run your vehicle on the dyno to get the after modifications performance figures and perform the second sound test on the upgraded exhaust system. All works are proven before and after modifications.
Check out the SVR's Dyno Graph for yourself, and if you've not seen a dyno graph before, you can take a look at our guide on reading Dyno-Graph Data here.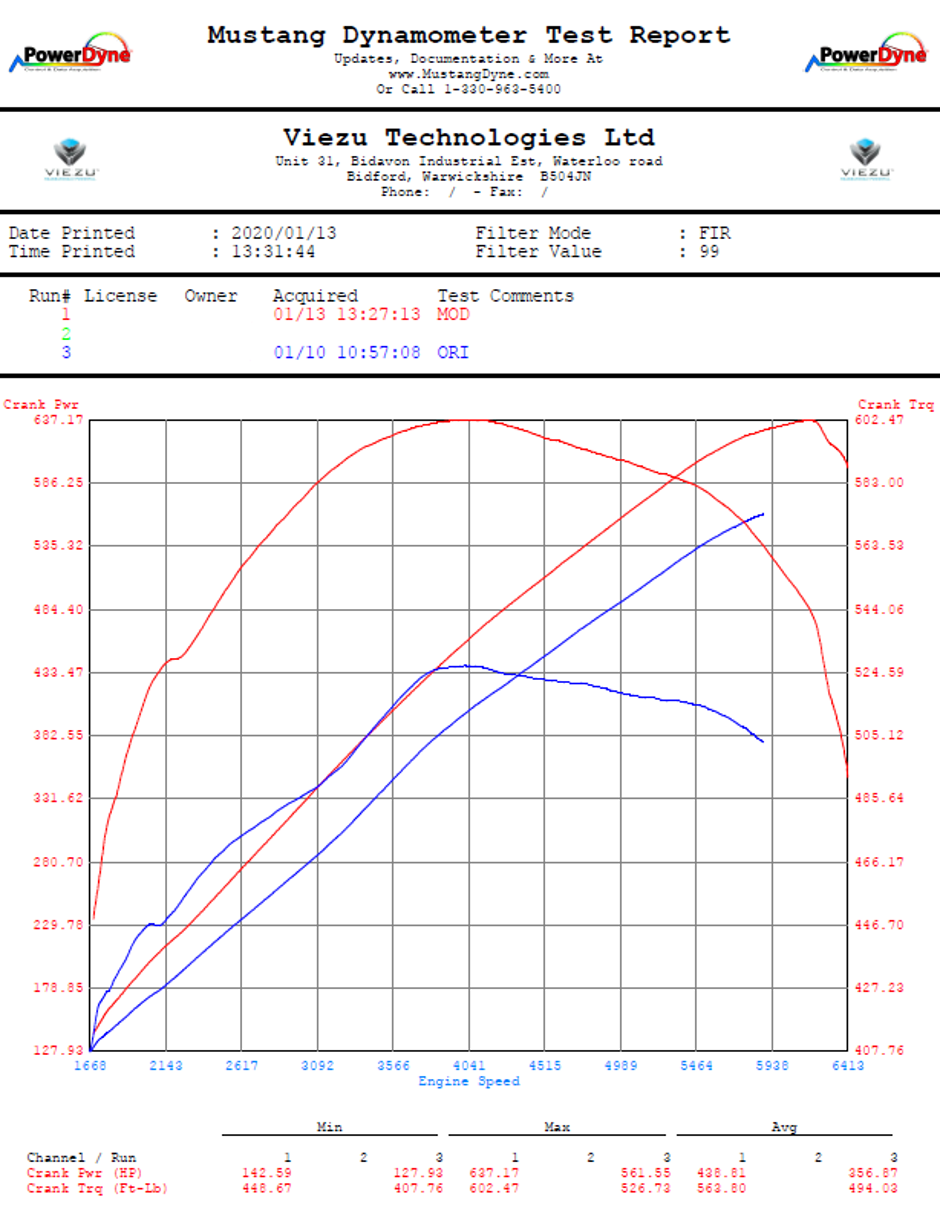 TESTIMONIAL
My new SVR it brings a big smile to my face not only does it sound awesome; it is so fast, it's incredible. I look for an excuse to get in and drive. I'm extremely pleased. Read more.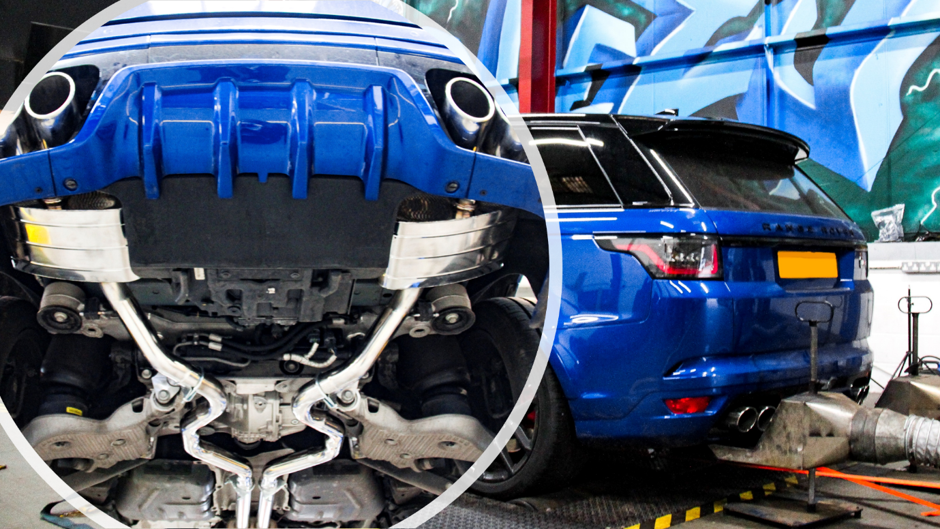 READY TO BRING THE THUNDER TO YOUR RANGE ROVER?
Enhance the tone of your Range Rover and give it a deep and booming, Thunderstorm rumble, with our verified performance enhancements.
Check out the full Conversion for your Range Rover SVR with our performance upgrades and exhaust systems, all available at our HQ in Warwickshire, UK.
You too, can bring the Thunder to your Range Rover with our high-grade stainless-steel exhaust, custom made for you, and our full performance upgrade conversion.
Have the full conversion, like in the case of this customer, we customised their tune to complement their uprated pulley and exhaust, or tailor your Range Rover's transformation to your exacting requirements and mechanical modifications.