Bespoke Car Custom Fabrication And Tuning Parts
As well as the very significant range of off the shelf tuning parts and services from the industry's leading manufacturers and suppliers Viezu can also arrange some very special fabrication services. Special projects of this nature can include items like Exhaust systems, Intercoolers, air induction, manifolds and hoses all designed to your specific requirements.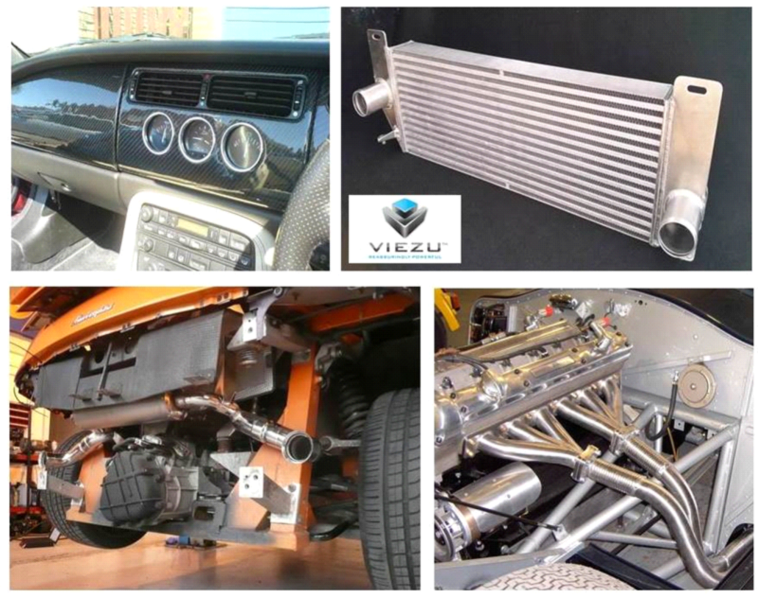 All of these items can be manufactured on a one off single item basis, or small production runs and batch manufacturing ideal for limited editions, or run-out model special versions, interior and exterior trim and styling items can also be developed and sourced, as can custom upholstery, carpentry and tailoring. Including wooden and carbon fibre dashboards etc.
Viezu can arrange for the manufacture of custom intercoolers and pipework of a very bespoke nature, including colours, diameter and layout, rather than some of the mass produces items available, our engineers can produce items often quickly and to very exacting standards, mixing part performance, balance and astatic appearance
Custom fabricated items can be developed and built as single items, or can be supplied and built as part of a package of modifications or upgrades, including items like larger turbo kits, injectors, ecu remapping, supercharger pulleys, exhaust systems, brakes, paintwork, suspension and more either for a single vehicle or a run of limited edition vehicles or group of vehicles.
If you are looking for support with a project or have any custom fabrication requirements, big or small please contact the Viezu team so we can see how best we can assist. info@viezu.com